How do I connect Blog2Social with my Google+ page?
To connect to a Google+ page you should be the admin of the page. If you are, please go to "networks" within your Blog2Social Dashboard.
Here you find an overview of all the networks you can connect Blog2Social with. To connect your Google+ page please click on "+Page".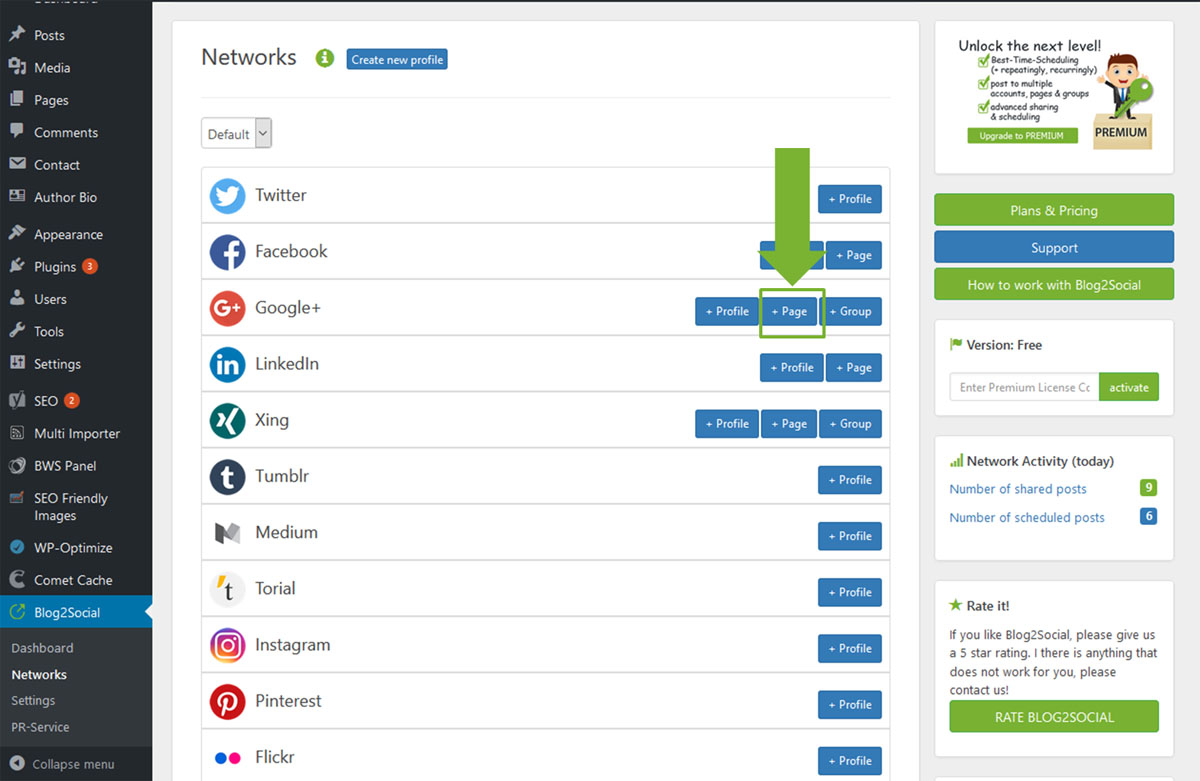 A sepereate window will open and ask you for your log in data. Please enter:

Your username / email

Your password

The exact name of the google+ page you'd like to connect Blog2Social to

The page ID

Click on "authorize"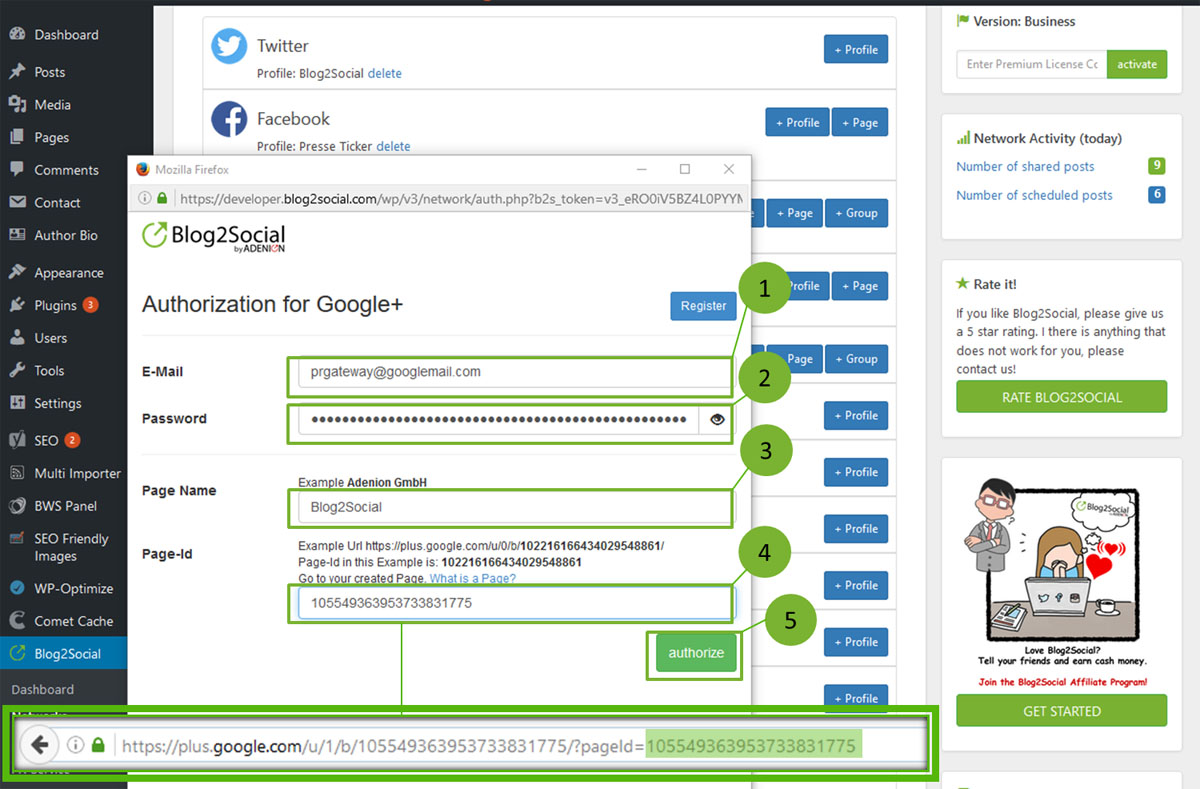 You find the correct page ID in the URL of the Google+ page. Here marked in light green.
Tip: If you are already logged into your Google+ account in another tab of your browser, Blog2Social will automatically connect to your profile, when you click on "+Page".

If you are not sure where to find your page id, you can paste the URL of your Googl+ page into the field "Auto detect Page-Id". Blog2Social will then automatically identify your correct page-id.
After you've done so, you will receive a notification that your authorisation is not yet complete.
Click on the link "Confirm access to Google account"

A seperate window will pop up -  click "confirm"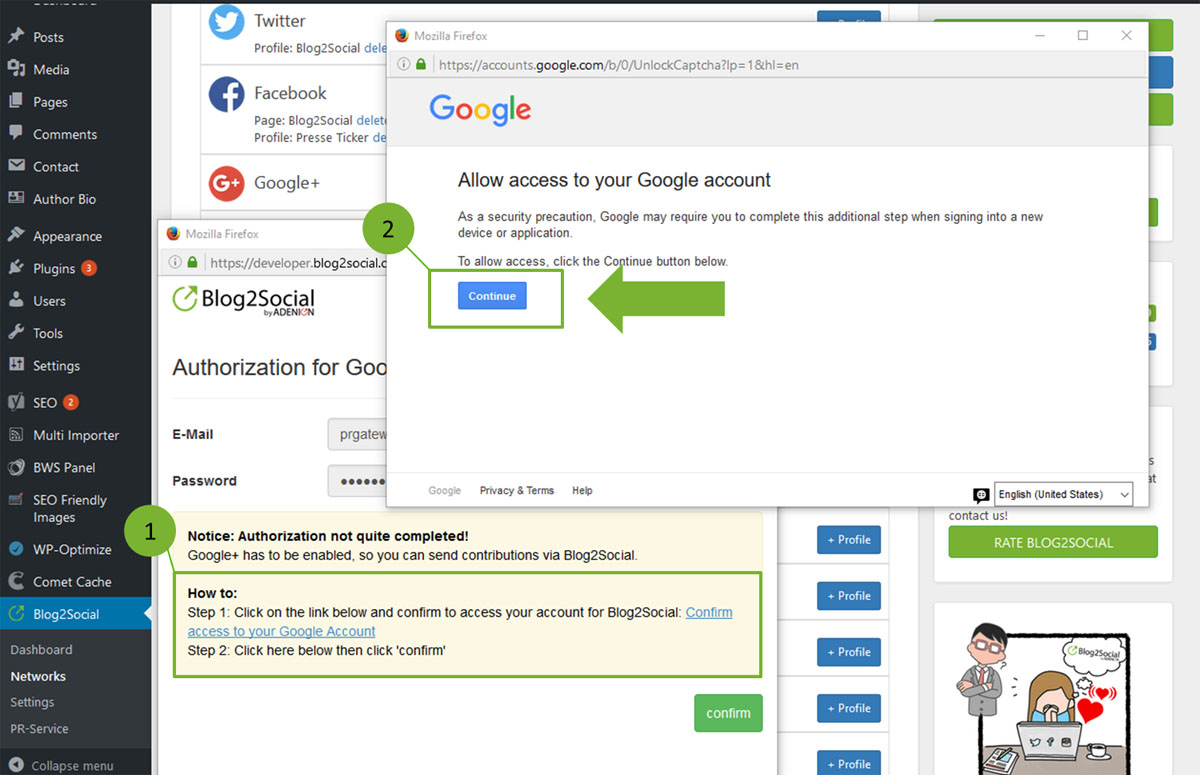 At the end, click "confirm" once more and you are done.
What to do, if the connection to your Google+ pages failed
To successfully conect your page, please try the following steps:
Delete all exsiting authorizations to Google+, including profiles and groups

Check whether you are still logged into your Google account in a seperate tab of your browser. If so, please log out.

Afterwards, log out of your WordPress backend as well

Close your browser

Open up your browser again

and log back into your wordpress backend

Go to Blog2Social - networks and click on "+page" in the Google + section

Enter your username and email

Enter your page ID or URL in the text box "auto detect page ID" and klick on "scan URL"
You should now see the notification "page ID available".

Click on "authorize".


Click on "confirm access to Google Account"

Please log into your Google account by entering your login credentials in the respective boxes of the pop up window and click on "continue".

Close window and click on "confirm" once more.
Now you should be successfully connected to your Google+ page. Happy sharing!