Content Curation: How to share content from any sources with Blog2Social
Content Curation is one of the key strategies used in social media marketing. Sharing third-party content will add more value and variations to your own social media content. Presenting relevant content from other sources will also help establish your social media accounts as a valuable resource for your particular field of expertise.

You can now automatically post and schedule curated content with Blog2Social, in addition to automating the social media marketing of your own blog posts. This way, you can organize your complete social media scheduling right from your WordPress dashboard.
How to share and schedule curated content posts with Blog2Social
Click on "Content Curation" in your Blog2Social Plugin in your WordPress dashboard.


Copy a link from any source into the box. You can share your favorite websites, blog articles and even video-links on social media.
Then click on "continue".
Blog2Social automatically loads the link preview for you to see how your link will be displayed on social media.

Enter a comment to your link and choose whether you want to share it immediately or schedule it for a specific date.
Share on your standard social media account selection or select a preferred Sharing Profile with your pre-defined social media accounts for your content curation activities (You can also customize your current account selection with the Customize & Schedule option below).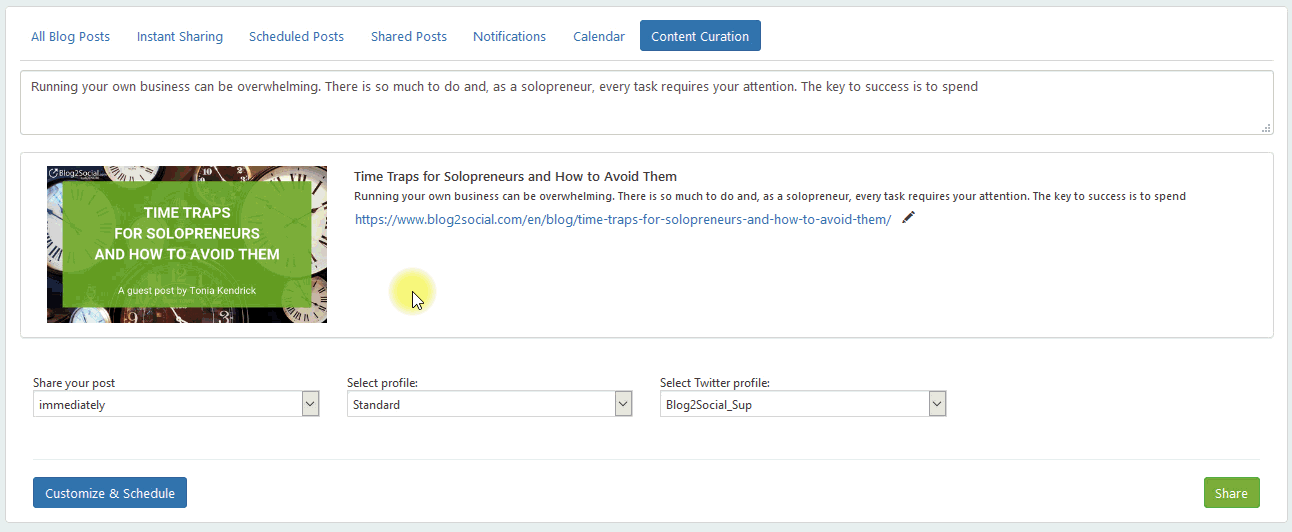 Click on "share" to share your post directly to your social media accounts.
You can also customize and schedule your posts individually. By clicking on "Customize & Schedule" your can individually tailor your post just like you tailor your own blog posts.



Save your curated content as drafts
You can collect and prepare posts for your Content Curation campaigns first and save them as drafts and edit or share them at a later date.
Enter your link in the text field and your text in the comment field. If you want to write your text later, you can also place a placeholder here first. Then click on "Save as draft" to save your curated post as a draft.
Schedule all your content curation posts with Blog2Social to automatically fill your social media feeds with a consistent content mix of your own content and third-party content.