How do I connect Blog2Social with Instagram?
Please log out of Instagram first and then reconnect the network to Blog2Social. Please note that you must be logged out of both the Instagram app and the browser before reconnecting.
Please note: Two-factor authentication must be and stay disabled so you can use Instagram with Blog2Social.
To connect Blog2Social to your Instagram profile, please go to "networks" within your Blog2Social Dashboard. Here you find an overview of all the networks you can connect Blog2Social with. 
To connect your Instagram profile please click on "+ profile".
A separate window will open and ask you for your log in data. Please enter:
Your username / email
Your password
Click on "authorize"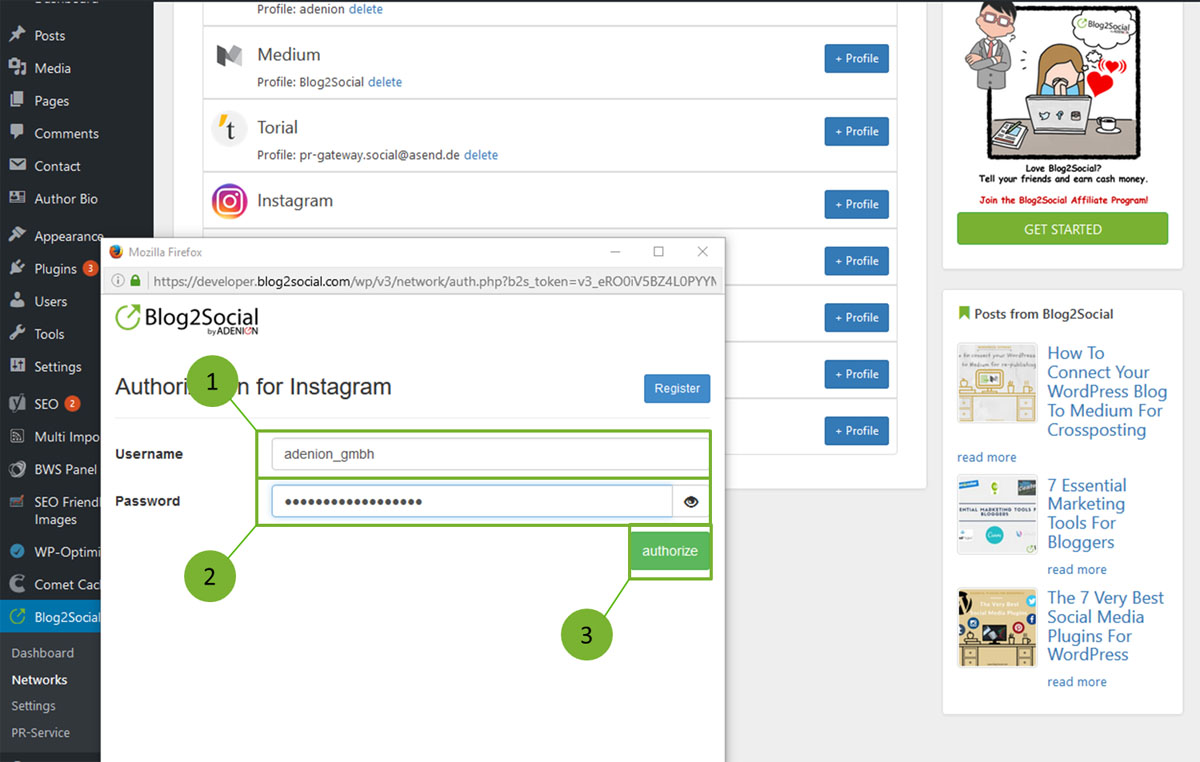 After you've done so, please confirm that Blog2Social may post to your profile.
Another window will open and ask you to confirm your account. And, Instagram will automatically send you an e-mail with a security code.
Please check your e-mail inbox.
And, enter your code.
Your authorization is complete and you can share your blog posts and images with Blog2Social on Instagram.
If you don't receive the code, please note that the email with the code is sent out by instagram. Please check your email in the instagram app to see whether it is the right one. Make sure that your email is verified and you can receive other emails from instagram. Please also take a loot into your spam folder to see whether it might have landed there.
You can
auto-post to Instagram
, whenever you publish or update a post, or you can 
select individual images for Instagram, edit your comments and schedule your post.  
To do so you have two different options. When you are done with editing your blog post, you can click on "Custom Sharing and Scheduling" in the right sidebar of your WordPress editor.
Or you can go to your Blog2Social Dashboard, select "Posts & Sharing" and select your blog posts you want t to share.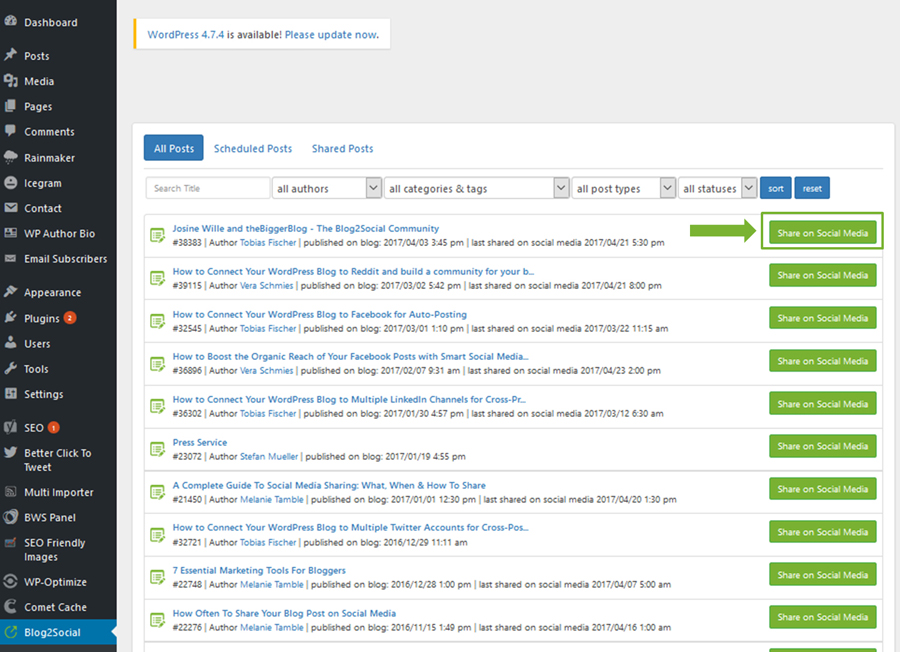 Both options will lead you to the Blog2Social one-page preview editor, where you can customize your posts for each network, select individual images for each post and schedule your social media posts.
To change the featured image and select an individual picture to go with your blog post, simply click on the images frame and a pop-up window will open.
Depending on your Blog2Social license you can choose between the following options:
Select one of your blog posts images
Choose your selected as an individual images for this particular social network
Choose to apply this image selection for all connected social networks
Select and upload an image from your media library
Find out more about connecting your blog with Instagram and other social networks in this video:
 Troubleshooting guides for Instagram
More tips for Instagram