How do I connect Blog2Social with Instagram?
To connect Blog2Social to your Personal Instagram Profile, please go to "networks" within your Blog2Social Dashboard. Here you find an overview of all the networks you can connect Blog2Social with. 
Before you connect your Personal Instagram Profile to Blog2Social, please log out of your current Instagram connections first. Please make sure you are logged out on all your devices, both the Instagram app on your phone and in the browser (you can log in again afterward).
Please note: Things to check, before connecting to Instagram
Your Instagram account is validated and your profile is complete (with your bio, name, and a valid email address and phone number) according to the Instagram community rules.
The two-factor authentication is disabled in order to connect and use Instagram with Blog2Social.
To connect your Instagram account please click on "+ Personal".
A separate window will open and ask you for your login data. Please enter:
Your Instagram username (not your email address!!!)
Your password
Click on "authorize"
Please note: Make sure you login with your Instagram user name and password (not with your e-mail address and password or your Facebook credentials when you connect Instagram with Blog2Social). Please make sure to enter the Instagram username and password by hand, do not copy it.
If you have an Instagram Business account and you use the same credentials for both your private and your Business account, create a separate password for both accounts to make sure Blog2Social can connect the correct account.
After you've done so, please confirm that Blog2Social may post to your profile.
Another window will open and ask you to confirm your account. And, Instagram will automatically send you an e-mail with a security code.
Please check your e-mail inbox.
And, enter your code.
Your authorization is complete and you can share your blog posts and images with Blog2Social on Instagram.
If you don't receive the code, please note that the email with the code is sent out by Instagram. Please check your email in the Instagram app to see whether it is the right one. Make sure that your email is verified and you can receive other emails from Instagram. Please also take a look into your spam folder to see whether it might have landed there. Some email systems like Gmail send an Instagram notification automatically to the "Social Media Promotion" folder.
You also may get the notification that Instagram might report that a server from Germany in the Cologne area is trying to access your account. This is a normal security notification due to the fact that the Blog2Social server is located in this area. This is an automatic process that is necessary to establish a connection to Blog2Social. Rest assured, that this is a common and regular security notice to make sure the access is safe.
Solution: Click on "This was me" to continue connecting to Instagram.
If you encounter any other error messages or notifications and can't connect Instagram as shown here, please check our troubleshooting solutions for connecting to Instagram connections and follow these steps. 
Convert to an Instagram Business account
You can also consider converting your Personal Instagram Profile into a Business Account in order to benefit from many additional features in Instagram. The only requirement is a Facebook Page to which you can connect your Instagram Business account.
The following guide will show you, how to convert your Personal Profile: >> How to convert your Personal Instagram Profile into a Business Account.
Connecting a Facebook page can be done from within Facebook or directly in Instagram. The following guide will show you how to easily connect your Instagram Business Account with your Facebook page step by step:>> How to connect your Instagram Business Account with your Facebook page.
After you have checked and configured these two requirements, you can now connect your Instagram business account with Blog2Social. You can find out how to do this in the guide: >> How can I connect Blog2Social to my Instagram Business Account?.
Auto-Posting to Instagram
You can
auto-post to Instagram
, whenever you publish or update a post, or you can 
select individual images for Instagram, edit your comments, and schedule your post.  
To do so you have two different options. When you are done with editing your blog post, you can click on "Custom Sharing and Scheduling" in the right sidebar of your WordPress editor.
Or you can go to your Blog2Social dashboard, select "Posts & Sharing" and select the blog posts you want to share.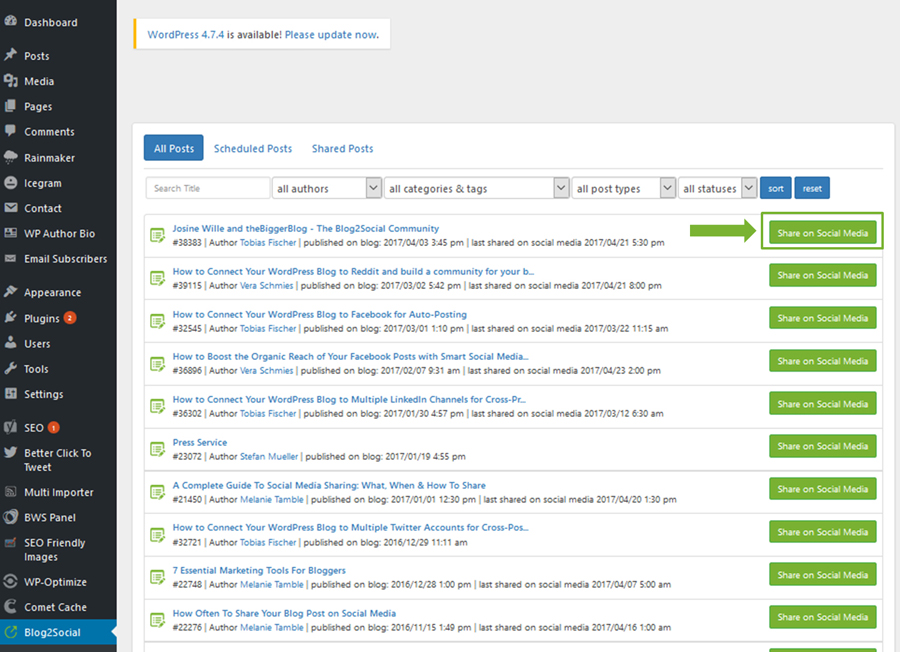 Both options will lead you to the Blog2Social one-page preview editor, where you can customize your posts for each network, select individual images for each post, and schedule your social media posts.
To change the featured image and select an individual picture to go with your blog post, simply click on the images frame and a pop-up window will open.
Depending on your Blog2Social license you can choose between the following options:
Select one of your blog posts images.
Define your selected image as individual images for this specific social network.
Apply this image selection for all connected social networks.
Select and upload another image from your media library.
 Troubleshooting guides for Instagram
More tips for Instagram