How to use the URL Shortener Rebrandly for your Social Media Strategy
What is Rebrandly?
Rebrandly is a URL shortener that was introduced to Blog2Social with version 6.1. As the name suggests, it generates a short link from your blog post URL that is automatically integrated into your social media posts.
URL shorteners like Rebrandly or Bit.ly offer many benefits for your social media management. 
First of all, they keep your posts short and simple. URLs tend to make your posts long and hard to read. Short URLs eliminate that problem. On networks like Twitter, they take up less of your valuable space and give you more characters for your message, add hashtags or tag users. 
Another big benefit of URL shorteners is that they will provide you with detailed stats and analytics. Using a URL shortener like Rebrandly or Bit.ly enables you to track your traffic and collect information like CTR, geographic locations of viewers, the social networks they come from and much more.
You can review these stats for free and use them to improve your social media strategy. On the Rebrandly website, you can connect your own domain to Rebrandly. If you do so, you can generate customized short links with your brand name in them. When you connect your Rebrandly profile to Blog2Social, Blog2Social will also share your posts with your own branded links. If you do not have a domain yet, you can create a new one on the Rebrandly website. Here's how to create branded links on Rebrandly: Connect a Domain to Rebrandly
How to connect Rebrandly with Blog2Social
1. Go to your WordPress dashboard -> Blog2Social -> settings.
2. Click "authorize" next to "Rebrandly".
3. A pop-up will open. Login to your Rebrandly account or create a new account by entering the necessary information.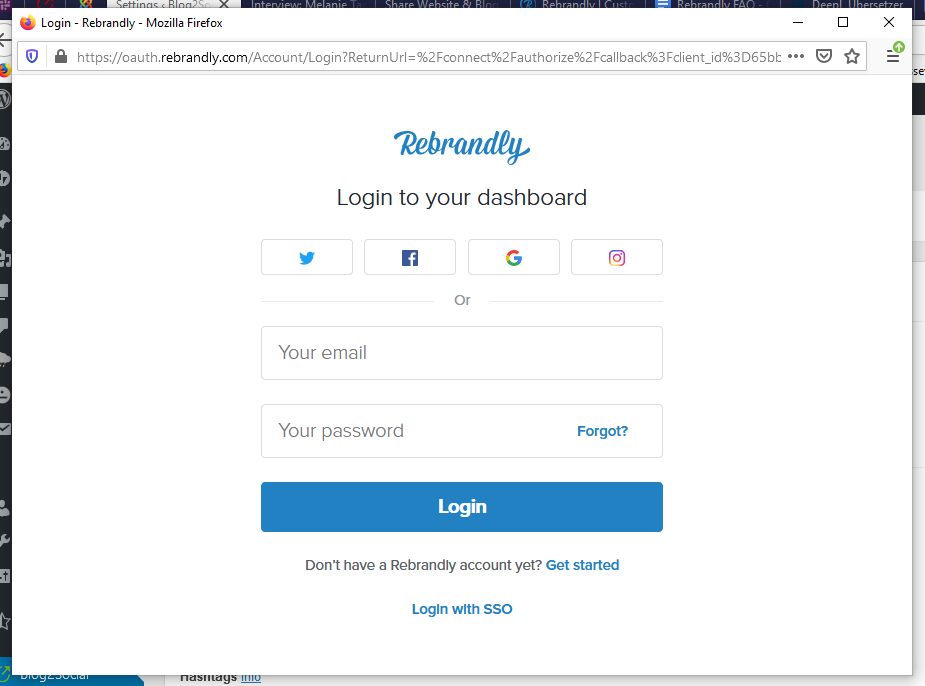 4. If you are already logged into your Rebrandly account, you will be asked to authorize Blog2Social. To do so, click "Authorize app".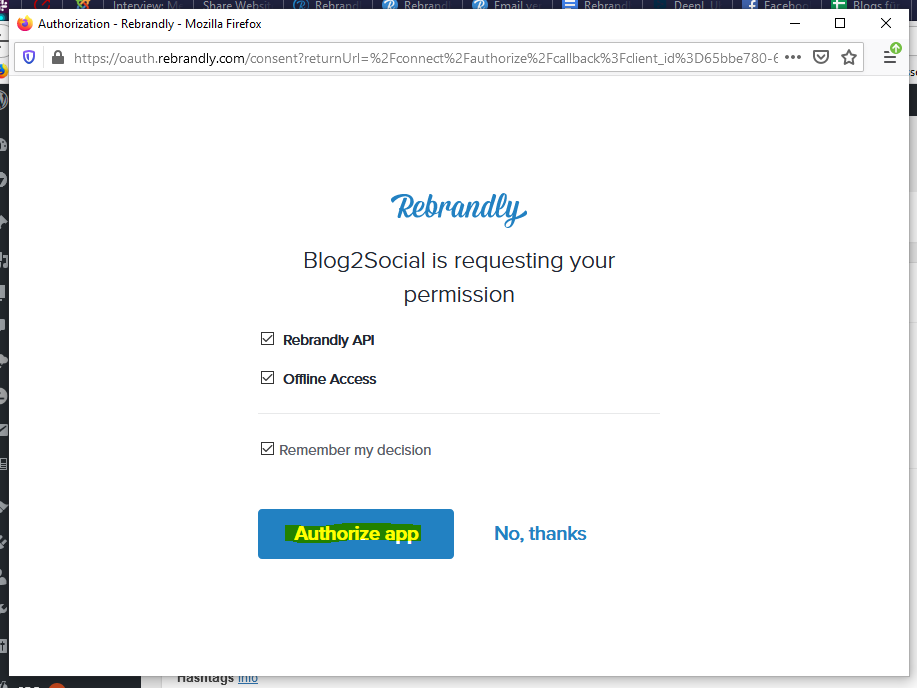 How to use Rebrandly for your Social Media Posts with Blog2Social
1. Make sure you selected Rebrandly in Blog2Social-> settings -> Url Shortener
2. Create a post with Blog2Social. Choose a blogpost from your blog and customize as much as you like. Share or schedule your post as you usually would.
3. A shortened link will automatically be added to your published post.
Please note: Due to network-specific policy changes, links on Pinterest are published unshortened.
4. To see the analytics for your link, go to Rebrandly.com and log into your Rebrandly account. Click "Links" to see an overview of the links you created and click on a link to see it's stats.
Make the most of using Rebrandly
In the following guide you can find a detailed overview on which social media networks support Rebrandly: Supported social media networks overview
Rebrandly also has some great features for creating customized short URLs. Find additional info on what else you can do with Rebrandly here:
How to shorten an url and showcase your brand with Rebrandly
How to tag your custom shortlink (video tutorial)