Team options: How to manage license keys and social network accounts for multiple users
Do you manage a blog or website with multiple users and social network accounts? Whether you share your blog with multiple contributors, work with a blogging or social media team, or with a social media agency - working as a team is now easier with Blog2Social.
Activate Blog2Social Premium for multiple users (all versions)
You are now able to manage the licenses for other users in your WordPress backend. This way you can activate and manage license keys for all blog users with minimal effort. There will be no need to disclose license key information to new users because they won't need to enter the key themselves.
How to activate Premium for multiple users:
1. Go to your Blog2Social dashboard and click "Upgrade Licence" or "PREMIUM".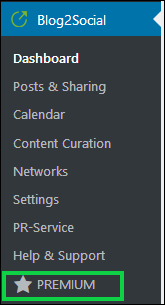 2. At the top of the page, you'll find a field with your name. Click on it.

3. The pop-up "Search for blog user" will open. Enter the name of the user whose license you want to upgrade.
4. After selecting a user, enter your license key.

5. Click "Activate Licence".

6. Ask the user to log in to check if their WordPress user account has been correctly activated. The user might need to refresh the page in their browser to complete the activation process.
Share Social Media Connections (Business)
When you share a Blog2Social license with multiple users, you can now assign social media connections to others. Assigning social media connections to users enables you to share the work of promoting posts on social media. New users won't have to create a new connection anymore, this saves time for the setup and protects personal accounts as well as sensible login data. You will always be able to update and delete the assigned connections. Additionally, you can also assign forums (for XING groups) and pinboards (for Pinterest).
How to share network connections with other users:
1. Go to your Blog2Social dashboard and click "Networks".

2. Now you see an overview of your connected networks.

3. Next to every network you will see three little gray icons, one of them looks like a person's head.

4. Select the connection you want to assign to another user and click on the little icon.

5. The pop-up "Advanced Connection Preferences" will open.

6. Select the blog user you want to assign the connection to under "Assign the connection to other blog users".

7. Click "assign".
8. Repeat with as many network connections as you'd like.
9. If you want to delete an assigned network connection, select the connection and click delete next to the user's name.
Of course, users can still set and save their own best time settings for the assigned connections and use their own individual social media profiles and pages. This is especially important for business networks like XING or LinkedIn.