How to use Zoom to join a support session
If your support case requires more in-depth assistance, you have the possibility to schedule a one-on-one session with your Blog2Social Supporter. The Blog2Social support team uses Zoom to provide you with detailed guidance.
Zoom allows you to easily and quickly share your desktop screen for remote support. With Zoom, your Blog2Social Supporter can temporarily monitor your actions and provide you with assistance via a voice chat function. Please make sure that you either have a headset or a microphone and loudspeakers readily available.
Here's how a video session with Zoom works:
1) First, we will send you a Meeting ID. The ID will be a 9, 10 or 11-digit number.
2) When you are ready to start the session, go to www.zoom.us/join or just go to "join a meeting" on the zoom website.
3) Next, you will be asked to enter your Meeting ID. In order to join the support session, enter the Meeting ID we sent to you and click "Join".
If you already have Zoom on your computer, there will be a pop-up asking you to launch it.  If you have not downloaded Zoom yet, you will be asked to do so. You can download and install it in just a few seconds.
If you don't want to download Zoom, you can launch it in your browser as well.
4) Once you joined the session, you should be able to hear your supporter and your supporter should hear you. If your supporter cannot hear you, please check your microphone symbol to make sure you have chosen the right audio source and your microphone is not muted.
5) If your Blog2Social supporter asks you to share your desktop, simply click the green button at the bottom of the window and choose the screen you'd like to share.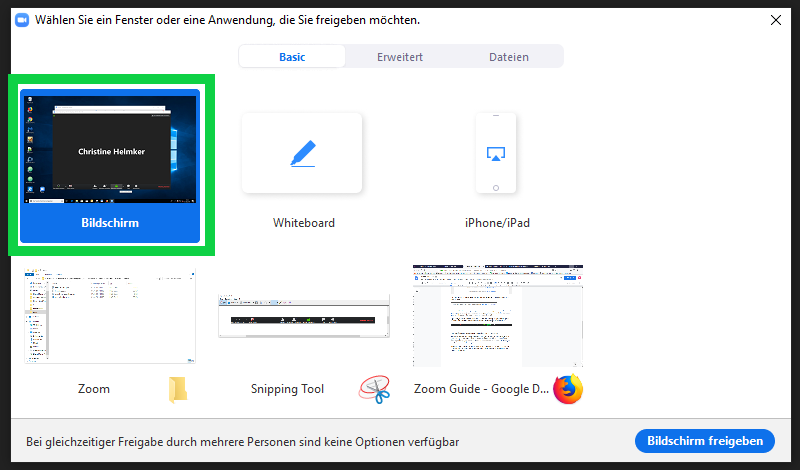 Now your supporter is able to view your actions and give assistance.
The Zoom software will only give access to view your desktop, but not to any files on your desktop or computer. However, please note that you should be careful with opening and displaying confidential data on your desktop since every activity on your desktop will be shared during this session.
When you are done sharing your screen, just click the red "Stop Share" button at the top or bottom of your screen. At the end of the meeting, click "Leave Meeting" in the bottom right corner of your screen.