How Can I Use Imgur for Sharing My Images?
Imgur is an image sharing community "where you'll find the funniest, most informative and inspiring images, memes, GIFs, and visual stories served up in an endless stream of bite-sized fun".The Imgur network counts more than a hundred million users. Imgur is an addictive platform. The average Imgur user, also called "Imgurian" spends about 10 hours per week on the platform. Meanwhile, Imgur reaches more than 300 million people per month.
How to harness the power of Imgur for your blog and business
On Imgur, you can find images for various topics. In addition to funny photos and videos, you will also find relevant content from blogs and businesses. We show you why Imgur can be valuable for your blog and your business and how to harness its power:
Tip 1: Humor
Humor is one of the key elements of Imgur. If you post funny content, you will have a good chance to generate a lot of views for your posts. Many of these posts make it to the top of the most popular posts.
Tip 2: Memes
Memes work very well on Imgur. Using memes make your business more likable. Memes attract attention as they are typically humorous in nature and make your content unforgettable. Use major statements and citations from your content to create memes.
Tip 3: GIFs
Besides photos and memes, you can also post Motion GIFs you have created yourself. The short videos can help you to present important facts or visualize processes to simplify your content.
Tip 4: Backlinks
On Imgur, you can generate backlinks to your product, your blog or your website in your posts. That makes it easier for your visitors to guide them to your website and show them your exciting content. For example, many eBay sellers use Imgur to draw attention to their products.
Tip 5: Tags
Hashtags also increase the visibility of your posts. Users will find your posts easier when you use specific tags. This helps you to define the search keywords. For example, if you post content about "social media", the tag "social media" makes your post more likely to be found by the right audience.
Example of a "social media marketing" post on Imgur
How to sign up on Imgur
Go to the Imgur homepage and click the green "sign up" button which you can find in the right-hand corner. You can create a new account with your e-mail address or sign up with your Facebook-, Twitter-, Yahoo- or Google-" account. For both options, you'll need a correct phone number to verify your e-mail address and complete the registration.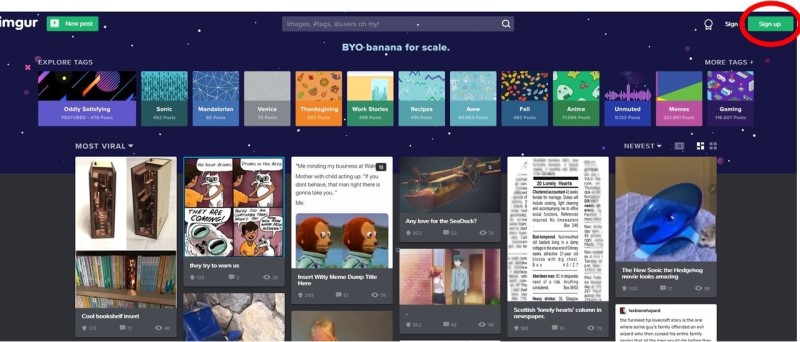 First steps on Imgur
When you login to your account, you'll see the most popular posts. You can decide if you want to see the most popular, the newest, the most random or the best images and gifs. 
There is a search bar in the middle of the screen, where you can search for tags, users or pictures. Users can also vote for the published images with the up and down icons. The voting procedure is comparable to the popular Facebook like button. 
You can also save images you really like as your favorite posts and look at them whenever you want. There is another nice feature. Every picture on Imgur has its own link you can share with your friends even if they don't have an Imgur account. You can interact with other users on Imgur and react to an image using the comment function.  To take a closer look, you can click on the image to enlarge it on the screen. The other posts from the homepage are displayed in a smaller size in the right column. 
What can I post on Imgur?
Imgur allows you to post image files like JPG, PNG, GIF, TIFF, APNG and video files like MP4, MPEG, AVI or WEBM. You can upload image files of up to 20 MB and video formats of up to 200 MB with a maximum duration of 60 seconds. Complete your posts with up to 65,000 characters, which allows you to create very long blogposts.
Convert videos to GIF
Imgur allows you to convert a video file into a GIF file. When you click on "New post" to create a new post, the following window will open:
The Imgur-Meme-Generator
The Meme Generator is a nice feature, you can create your own memes with. If you want to create a new post, the following window will open:
If you click on "Meme Gen" at the bottom of the page, you can start creating your meme.
When you finished your new meme, GIF or image you can save it into your own WordPress library. Please check the Imgur guidelines before you post any Imgur content to your social media, your website or your blog.
Via the Blog2Social section "Social Media Posts", you can create social media posts. To create your post, simply upload your images, add a caption and share them to all your social media networks. For example, use the GIFs you have created with the Imgur GIF-Generator to share them automatically with Blog2Social to Facebook, Twitter, XING, LinkedIn, Pinterest or Reddit.
With the Gutenberg-Editor you can also upload images from Imgur directly to your blog posts.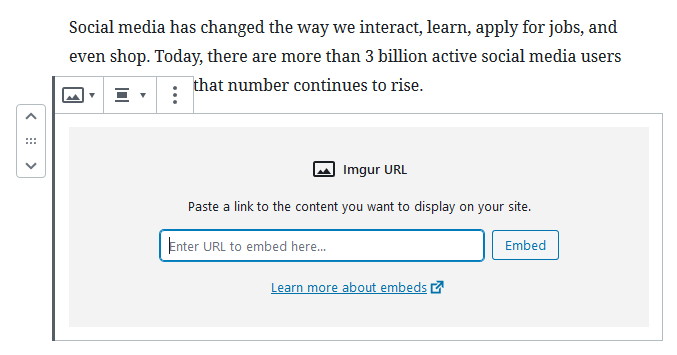 How do I connect Imgur to Blog2Social?
To connect Blog2Social to your Imgur account, click "networks". Next,  click the blue button "+Profil" which you can find on the right-hand side next to the Imgur icon. A new window will open in which you can enter your Imgur credentials. Please click "Authorize" To complete the process. Blog2Social will automatically connect your Imgur account.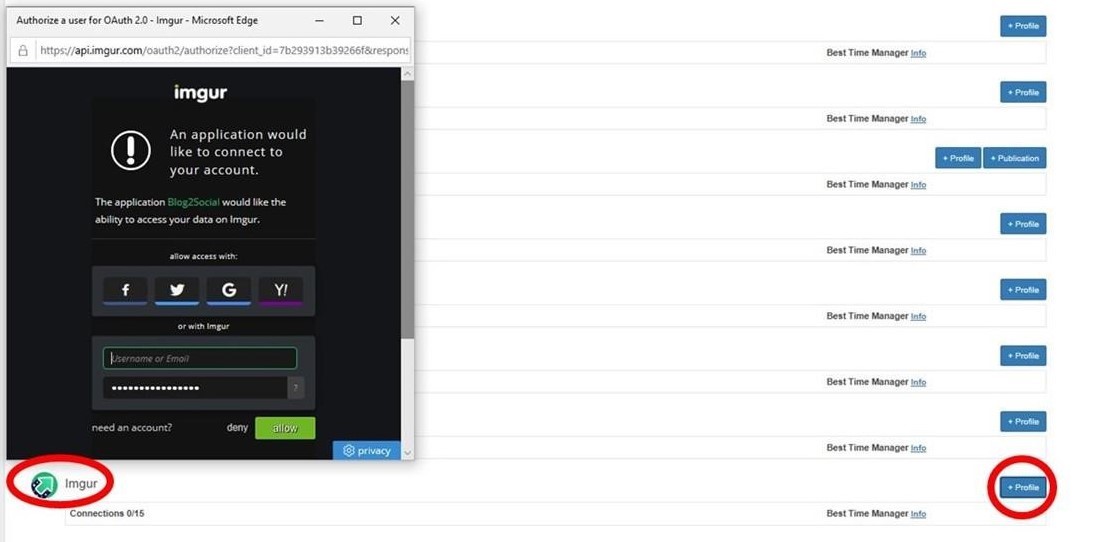 How can I post my content on Imgur via Blog2Social?
After you have successfully connected your Imgur account to Blog2Social, you can select "Posts" from the menu on the left-hand side. With a simple click on the button "Share on Social Media", you will be forwarded to the arranged article preview. Now you can prepare and your first post or schedule it for the future.
You can insert or create  a headline, write a description and choose up to five tags if you want to. To post content on Imgur, an image is an obligatory element. On the right-hand side of your screen you can see a black Blog2Social menu bar, that shows the social media accounts you have selected for your post. The green checkmark indicated a valid connection to your account. In case you have selected multiple social media accounts, it's possible to select and deselect the the accounts per click on the menu bar.
Now you can share your post on your networks or save it as a draft. It's also good to know that you can change your text any time, even if you already shared it.
What else is good to know about Imgur for your posts?
With Blog2Social you can harness the full power of Imgur for your image posts. The pre-defined post format for your Imgur posts provides you with a comment field for up to 65,000 characters as well as 5 fields for your tags. This gives you enough space in the caption for your texts and also for links back to your website.
Further reading tips:

How do I auto-post and auto-schedule blog posts on social media with the Social Media Auto-Poster?  
Tags:
imgur
,
social networks