How Do I Use Emojis on Social Media?
Who doesn't know the little yellow faces and colorful symbols? Emojis have become an integral part of online communication. The former emoticons with colons and brackets quickly developed into a new trend that became a viral hype and has since become indispensable. Nowadays there are more than 3,000 various emojis for almost every emotion.  
90 % of internet users worldwide use emojis and send about 10 billion emojis per day. Emojis are not only used everywhere but also understood by everyone. Not only film producers, but app-developers and merchandisers have adopted the funny icons too. Also, the advertising industry has already recognized the great potential for spreading emoji messages.
Why can emojis be helpful for bloggers and businesses?
Using emojis can be very helpful in many ways. On the one hand, nearly every internet user knows and uses them and on the other hand, they offer you a lot of possibilities. 
Communicating with emojis even allows us to overcome cultural and language barriers because they are globally understood. Emojis can trigger emotions very easily. Several studies show that a message can be positively reinforced by the use of positive emojis. For instance, a laughing face has a bigger effect than a written "haha". Emojis can also create more attention for your posts and your business communication. 
As emojis overcome language barriers, they can reach international followers as well. With emojis, you can show human emotions and build trust for your business. With the help of Emojis, you can simplify the complexity of facts. Your reader's brains can process visual messages much faster and will remain in their memory much longer than text. In times when our attention span is getting smaller and smaller, it is important to leave a lasting impression. A study of emojis in social media showed, that emojis in Tweets increate the engagement rate by more than 25 %. Emojis in Instagram postings can increase engagement even more than 47 %.
On which networks can I use emojis?
Emojis are very popular and most commonly used in social networks like Twitter and Instagram. You can use them for your posting caption or integrate them into your stories. The comment function also allows you to react on other postings with emojis. You can use emojis on the following social networks: Twitter, Facebook, LinkedIn, XING, VK, Tumblr, Medium, Instagram, Pinterest, Flickr and Google My Business.
How do I use emojis?
There are different ways to integrate emojis in your social media communication. An emoji at the end of a sentence will stress your statement. 
If the concept of the emoticon is clear and understandable, words can even be exchanged for pictures. Test and experiment a little with emojis. For instance, build a posting description of emojis. 
It could also be funny to create an emoji quiz. Present a song or movie title and let your followers guess what you mean. By integrating emojis in your social media communication, you can double the engagement with your followers and the traffic to your site.
How to share postings with emojis with Blog2Social
To post and share an emoji with Blog2Social, just start to create a new post as usual. To do this, select your post and click the blue button "share on Social Media".
The post window will open and you can enter your text:
If you want to use an emoji for your caption, click the emoji you can see in the description field.

An extensive list will open from which you can select the emojis you want to use in your message. You can also browse the different categories or search for a specific emoji in the search bar.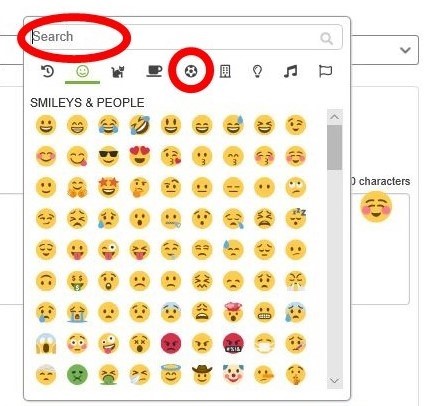 How do I use animated GIFs for my Social Media Posts?
Tags:
emoticons
,
smiley
,
smileys