How do I customize my social media posts individually?
Every social network is different and every social community reacts differently to contents, post formats, personal comments, and post frequency. Tailoring your social media posts for each network and each community will help you to increase your reach. 
Blog2Social provides you with multiple options to customize and tailor your posts, individually and automatically for each of your social network accounts and communities. 
How to customize your social media posts individually
To customize your social media posts individually, go to your Blog2Social Dashboard and click on "Site & Blog Content". You will then automatically be taken to "All Blog Posts", where you can see all the website-posts you' have created so far.
Select the posts you want to share by clicking on "Share on Social Media".
You will now see a post preview editor for all your selected social media channels and you can now customize your post for each network individually in the preview editor: add custom text, @-handles, and hashtags, change pictures, and define posting times.
Here you can:
Select and deselect the networks you want to post to
Use the automatically generated comment
Insert a personal comment
Insert @handels and #hashtags
Insert the full-text or delete it
Choose to post according to the Best-Time-Scheduler
Choose to post according to your own time settings
Post immediately or decide to schedule for one specific time or choose a recurring scheduling scheme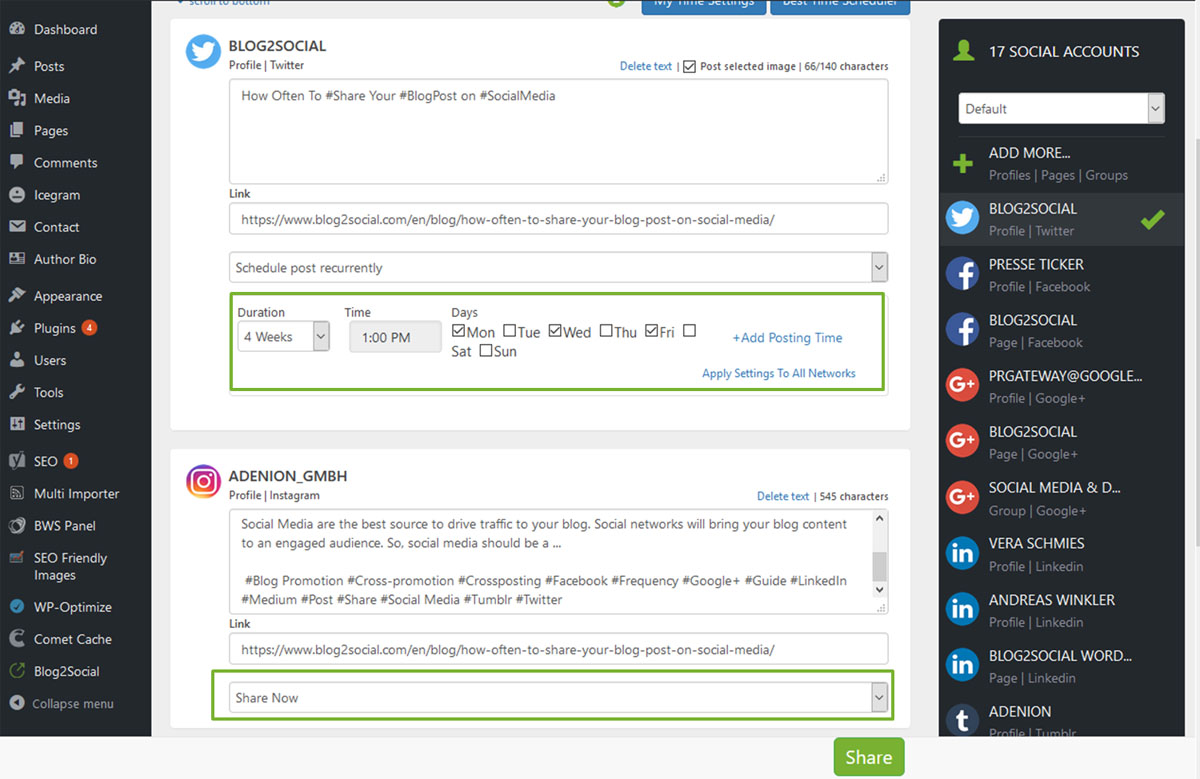 You can change all of these settings individually for each and every network.
The editor automatically adapts your comment to the available character count of each network and suggests automatically generated #hastags (from your keywords, see How to automatically add hashtags to social media posts?) or tags added to your posts.
Twitter Tip
Twitter restricts accounts in posting the same or even substantially similar original content to one or multiple accounts. This limitation applies regardless of whether the Tweets are published at the same time, or are scheduled for future publications. With this change of rules, customized content becomes essential for posting on Twitter. By using Social Media Automation Tools like Blog2Social you can customize your tweets and optimize your Twitter-Marketing according to the newest Twitter rules.

Find out what these new changes mean for your social media marketing.
Save your customized posts as drafts
After the individual customization of your post, you can save these as drafts. All of your customizations, as well as your network selection and scheduling times, will be saved in your draft.
If you are happy with your settings, click on "Save draft".
Please note: When you try to save a draft for a WordPress post or page with an already existing draft, you will be notified that saving your draft will overwrite the old saved draft. Please make sure that you are okay with this before you proceed.
After saving your social media post customizations you can edit and share them later. This saves time that you can spend on other things like creating valuable content or engaging with your community.
More tips for customizing social media posts
Tags:
customizing