Version 4.5 - Enhanced Social Media Calendar, Improved Scheduling, Post Format for Google + and Hashtags with WP Tags
Update your Blog2Social now to version 4.5 and benefit from a major range of new features to improve your scheduling options, choose your preferred post format for Google+ and automatically add hashtags to all networks that support them.
Social Media Calendar: Sort and add scheduled posts - all in one place
The enhanced Social Media Calendar now makes it much easier for you to keep an overview of your scheduled posts:  
Sort all your scheduled Social Media posts by network and accounts. Know exactly what's happening on your social feeds and when best to add a new post, to keep your followers entertained.
With Blog2Social 4.5 you can now keep track with your editorial plan and manage your entire scheduling in one place:
Easily fill empty slots in your editorial plan by adding new posts with a simple click on the empty space in your calendar. Choose the blog post you'd like to add to your editorial plan from the selection of posts and pages, published or scheduled for publication on your blog, in the pop up window. With a click on "Share on Social Media" you will then be forwarded to the Blog2Social preview to customize your Social Media posts with individual comments, images, hashtags and handles.
New Calendar Button in the Preview Editor
We have also added a "Calendar" button to your Blog2Social Custom Sharing preview editor. When you customize and schedule your posts with the preview editor, you can click on the new "Calendar" button, which will display all scheduled social media posts. The Calendar view makes it easier for you to see how many posts are scheduled for a certain day and take this information into account when setting up your customized scheduling schemes.

Improved Scheduling for recurring posts: Schedule each week, each month or in your very own, preferred rhythm
We have improved  your options to set up recurring scheduling schemes to match your specific needs. You can now choose whether you want to repeat your evergreen content every week, every month or according to your own chosen interval.
To do so simply select your preferred interval in the drop-down menu of your Blog2Social preview and choose the weekday and time at which you'd like to post. For a more in depth explanation and step-by-step guide, take a look at our FAQ: How do I publish blog posts on a recurring scheduling scheme?
Select Link Post and Photo Post Formats for Google +
To increase the impressions, interactions, likes and shares on your Google+ postings Blog2Social has now added the option to choose post formats for the Google network.

You can define your preferred custom post format for Google + in your Blog2Social settings by selecting the tab 'network settings' and choose to either post a link post or photo post.
Link Posts:
The link post format displays the post title, link address and the first one or two sentences of the post. The biggest advantage of this format is that your followers will be redirected to your website or blog right after clicking on the link preview in your Google+ feed. PLEASE NOTE: To have your preferred image displayed in your Google + link post, make sure you select an image from your blog post image gallery.  

Photo Posts:
A photo or image post displays the image you've selected in the Blog2Social preview along with your comment. Blog2Social automatically adds the link to your website to your comment. The main benefit of photo posts is that your image is uploaded to your personal gallery and, thus, generates long-term visibility.
Turn your WP tags into hashtags for more engagement
Blog2Social 4.5 will automatically turn your WordPress tags into hashtags and add them to your comments
in your social media posts for all networks with hashtag-support. You can activate this feature in your Blog2Social settings, 'General', By filling your comments with valid hashtags, your social media posts will be turned into searchable content and are easier to find for potential readers.

For example,  the tag "Social Media Automation" will be turned into #SocialMediaAutomation and will help you to increase your posts outreach, visibility and to address new target readers.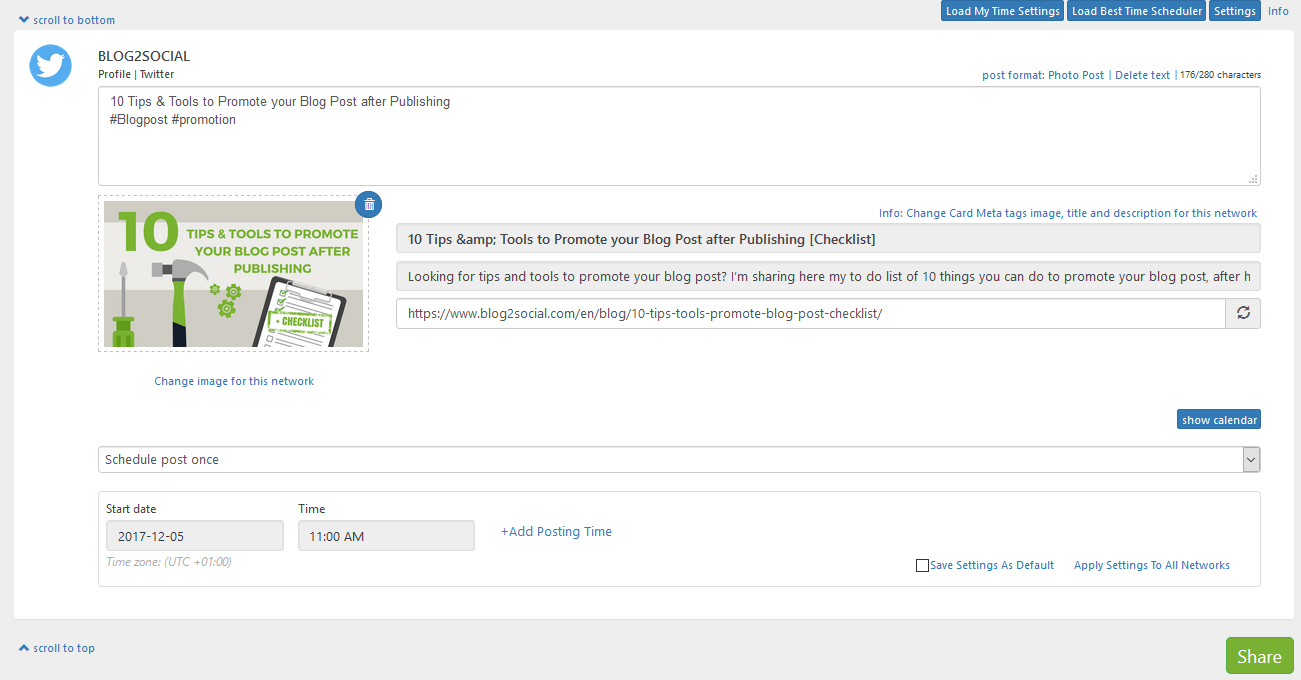 For further information, check out our FAQ: How to Automatically add Hashtags to my Social Media Posts?

Furthermore, Blog2Social 4.5 includes a variety of usability updates to provide you with a hassle-free experience to support your social media marketing.