New dashboard
We have re-engineered the dashboard in Blog2Social. Faster than ever you'll find answers to the popularest faq and an overview about all features Blog2Social provides.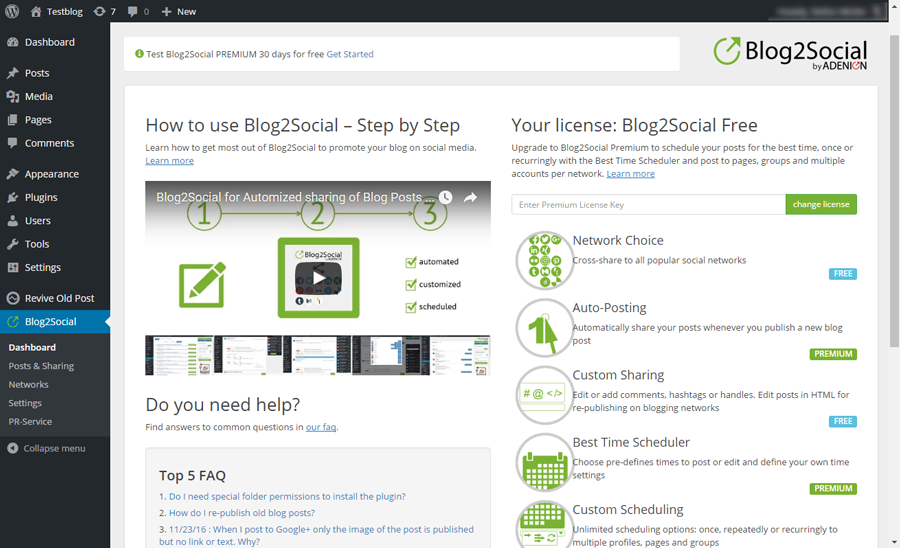 If you have just upgraded to PREMIUM or registered for the trial, you'll find the entry field for you license key to unlock PREMIUM.
New pages and plugin structure
Apart from the dashboard we gave Blog2Social a new structure to lead you to the desired features.
Recurrent scheduling up to one year in advance (PREMIUM)
Your evergreen-content deserves more than one post. Schedule your post for up to one year in advance. Just choose your favorite frequency for sharing and the time. Blog2Social cares for the rest.
Better overview in your post list
If you use more than the ordinary posts (e.g. custom post types) and if you publish your posts in multiple categories, you'll love the new filter feature.
Filter by:
Categories
Post Types
Publishing status
Standard board for Pinterest

Blog2Social will now remember the board you used for sharing your content on Pinterest. 
Updated character counts
We posted for several times how important it is to consider the recommended character counts, not only in Twitter. Blog2Social now prepares your posts with the latest recommended character counts:
Facebook: 120 characters (profiles, pages)
Google: 442 characters + hashtags (profiles, pages and groups)
LinkedIn: 239 characters (profiles, pages)
XING: 239 characters (profiles, groups)
Pinterest: 300 characters + hashtags (profiles)
Instagram: 240 characters + hashtags(profiles)
Diigo: 200 characters (profiles)