As an entrepreneur, you naturally want to attract many visitors to your website. The more the better! More visitors increase the likelihood of a slower website. Various studies show that a slower site has a negative effect on user experience and conversion rates. We can help you ensure your WordPress website functions quickly nevertheless and that the user experience of your website visitors remains optimal. We are therefore sharing the 5 most important tips for a fast site with you.
1. Choose a quick theme
WordPress offers many options when it comes to themes. There is a huge choice of both free and paid themes. And that does not make it particularly easy to choose. When making a choice, do not only consider the design. To keep your website fast, it is best to opt for a theme that only offers the functionalities you need. Each extra functionality (such as a slider or contact form) slows your website a little more. Read more about this in our 'How do you choose the best WordPress theme?' whitepaper.
You get a good indication of the speed of a theme by testing themes with Webpagetest.org or Google PageSpeed Insights. Compare different themes in respect of the number of CSS and JavaScript files and the total size of the page. The fewer CSS and JavaScript files, the quicker your website is displayed.
Would you like a free and fast WordPress theme? We have already tested the 30 most popular free WordPress themes in respect of speed.
2. Limit the number of plugins
Plugins are very handy for adding functionalities. But before you know it, you end up with dozens of plugins that all slow your site down. It is therefore important to assess your plugins critically a number of times a year and to decide whether you really need them all. As with the functionalities of a theme: only use those you really need.
3. Optimize your images
Optimising your images makes your website load more quickly. Do not use images that are too large. The Shortpixel plugin reduces your images so they are saved in lower quality. The differences after reduction are not visible to the naked eye, certainly not for small images. Reduce the images straight away to the dimensions in which you want to display them on your website. That offers the greatest gains in terms of speed.
4. Keep your database cleaned up
Keeping your database cleaned up has a positive effect on your website's loading time. For example, by deleting superfluous data from plugins, you avoid this slowing your website down. WP-Optimize is a plugin that assists with this. This tool deletes unnecessary data. Always make a back-up so you have access to your previous database in the case of an emergency. Finished cleaning up? Remove WPOptimize again once you have finished using it.
5. Choose a fast hosting provider
It is not always easy to choose the best hosting provider. There are numerous factors you need to consider. Is a fast website important to you? Then ensure your hosting provider offers the following:
Varnish caching
Caching describes saving things you need often in an easily accessible place. This is comparable to a plumber who keeps frequently used couplings and pipes with him in his van. In many cases, he can get by with the material in his van without having to return to the workshop. Previously requested pages can be loaded more quickly with Varnish caching. This is because Varnish knows web pages are identical for all visitors. The web server does not need to be burdened, because the page can be loaded directly from working memory.
HTTP/2 support
HTTP/2 is a new technology that makes websites faster via a secure connection. A secure website with an SSL certificate is thus faster (and more secure!) than a website without SSL.
These tips make your website faster. Need help? Savvii does its utmost to make your WordPress sites super-fast by looking at what solution best suits your website. Since a fast website depends on an interplay between your website and our hosting, we can check your site ourselves. Visit our website or contact us directly.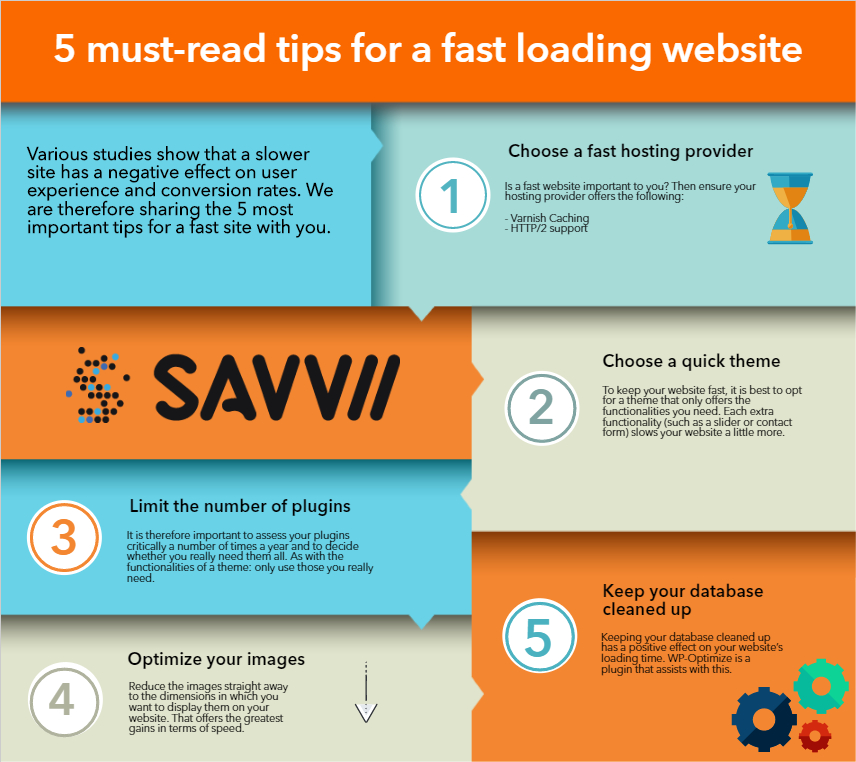 Milou de Kleijn is junior online marketer at Savvii Managed WordPress Hosting. She is responsible for the German market, content creation and social media.
Savvii is one of the first providers for exclusive hosting of WordPress in Europe and is doing everything to make your WordPress pages fast and secure.