Content curation is one of the most powerful strategies in social media marketing. Sharing third-party content from relevant sources helps to turn your social media channels into valuable content resources for your audience. Content curation has many benefits. Find out why content curation can work out for you, and learn how to integrate content curation into your content marketing strategy to boost traffic and engagement.
Social media are the most important sources to draw attention to your content and to engage with your audience. If you have a content marketing strategy in place you will aim at filling your social media channels with a consistent flow of blog posts, news, videos, infographics or background articles. But do you always succeed in keeping up with the speed of producing fresh and relevant content?
What is Content Curation?
The term Content Curation describes the practice of sharing other people's content (third-party content) on social networks. Beth Kanter describes content curation as "the process of sorting through the vast amounts of content on the web and presenting it in a meaningful and organized way around a specific theme."
Content curation in content marketing means to provide a selection of relevant resources on a very specific topic or theme. This involves collecting, sorting and sharing content that is important to a specific community.
In fact, content curation has a long tradition in social media. Social media users have long since shared posts, photos or videos that they particularly like from their peers and followers and thus make them visible for friends and followers.
Followers will regard every post you share as a "recommendation". If they like what you recommend, they will react with likes, comments. In the best case, they will share your posts with their followers and this will extend the reach of your posts.
EXKURS: Types of Content Curation
Content Aggregation:
Aggregation is the most common form of content curation. It refers to the simple collection of content in a single place. With content aggregation, you reiterate current and relevant information on a specific topic. This provides a consolidated stream of information from relevant sources that are dealing with the topic. For Example https://www.socialmediainformer.com/
Content Chronology:
Alternatively, you can also present curated content in a timeline or a chronical order. This approach is particularly suitable to reflect the evolution of an idea or to show the development of fast-moving trends. You can show to your readership that you are both up-to-date and have sound background knowledge of historical facts and developments in your industry.
Content Distillation:
Content distillation means you not only share information, but you also summarize your curated contents. By creating a distilled summary of the content you bring the content into a more simplistic format to get down to the basics of the information and highlight core statements.
Content Filtering:
By filtering content, instead of simply aggregating content, you share only content from those resources that are most relevant and valuable. Filtering content can also be used to draw attention to specific news and events in your industry. If there is a study with new, interesting results, you can also curate this information as "snack-size" content, f.e. as share pics or memes.
Content Elevation:
Like with content distillation, content elevation refers to a more analytical and sophisticated approach to curation content. You not only share content, but you provide an extract of information with a mission to identify a larger trend or insights in the information cluttered world.
Content Mashup:
Another popular type of content curation is the mashup. In a mashup, like distillation, you summarize the basics of your curated sources. But you not only research different perspectives on a specific topic, but you also draw a conclusion and add your own point of view. This method is a good way to start a discussion with your followers on a controversial topic.
Why is content curation valuable for your blog or business?
Valuable content that attracts your target audience is the key to a successful social media strategy. Content that
informs your customers
offers solutions for pressing issues
answers questions
or simply entertains
Your posts should stand out from the crowd, convey your messages and hook followers to your social streams.
Offering valuable content to your followers will bring more followers to your streams. People who like what you share will like and share your content. And so, your content will reach more people to see and follow your posts. Retweets and shares will add to your social trust score and reputation that will help to increase your ranking.
However, do you manage to come up with solid gold content every day of the week? Even if you work with a whole bunch of savvy content writers, you will be somehow limited in fresh ideas, time or budget. The average Facebook user creates 90 pieces of content each month. Can you hold up with this amount?
Shared content does not necessarily have to be your own. Content curation is a good way to fill in the gaps of your own content production.
Especially small or medium-sized companies and bloggers often lack the necessary time or resources to provide in-depth surveys or analyses of their industry. Content curation can help to bridge that gap and refer to articles, studies, or statistics from reputable sources and experts in their industry or niche.
Content Curation in Corporate Communication
For brands and organizations, content curation can help to capture attention for information on a specific area of expertise. In the era of information overload and content shock, people tend to look for sources of information they can trust. A well-curated content stream can help to provide the most relevant information your target audience is looking for and thus become a trustworthy resource, they are likely to follow and engage with. Content curation can thus help to establish a brand reputation and thought leadership.
In corporate communications, Content Curation can be used as an essential element in creating a valuable content mix for customers and followers. The key principle of becoming a good curator is knowing your audience, identifying a specific area of interest, and consistency in providing fresh and relevant content.
Content curation does not necessarily have to be an extra task in your everyday corporate communication but can also be a good basis for interesting discussions and engagement with your followers.
8 Benefits of Content Curation
Content curation can help marketers overcome some of their greatest challenges:
1. Content curation fills your editorial calendar
Creating high-quality content for your blog and social media channels on a daily basis is most challenging for every business. Curating relevant content from various valuable sources in your industry will provide a content consistency of fresh content for your social media channels.
By curating third-party-content you can increase the frequency of publishing content while at the same time alleviating the pressure of creating original content with your own resources. You can stay in touch with your followers even when you don't have any original content in stock. Curating content is not as time-consuming as content creation so there will be no need for allocating extra resources for this task.
A social media channel with a consistent flow of relevant content and up-to-date news will ensure a better engagement with your followers.
2. Content curation establishes credibility and thought leadership
Content curation helps you to turn your social media channels into a go-to web resource. By regular posting the most relevant articles, infographics and videos on your topics you will develop your social media channels into an interesting resource for know-how and information. This will improve your credibility and trust.
You can provide value by filtering the most relevant information for your readers, add your own ideas and conclusions and provide different points of view. By not only aggregation content, but filtering, distilling and a mash up of relevant information you can offer orientation in an otherwise information cluttered web.
3. Content curation builds brand awareness
The social networks can significantly increase the reputation of a company, a brand, a product or a person.
Content curation helps you to draw attention to your business or brand by sharing relevant information on current developments in your industry and position yourself as a trustworthy expert or company with expertise and know-how.
By adding your own perspective to quality content from a variety of sources, followers will associate your channels with valuable insights and attribute this expertise to you, even if you haven't created the information yourself.
A perception as an expert and thought leader will increase your reputation. Your fans and followers will trust your statements and opinions in the information cluttered social media world.
4. Content curation increases content variety
Social media content is not supposed to be only about you. Corporate communication that is self-focused will not engage followers.
One of the top reasons people unfollow brands on social media is too much promotional content. Even if your content genuinely adds value, people can get annoyed by hearing only your brand's voice. Curation content from a diversity of valuable sources will ensure a variety of contents, formats, and opinions. A diversity of content allows you to provide different perspectives and thus, make your timeline more interesting and engaging for your followers.
5. Content curation is influencer marketing
Sharing is caring. By sharing content from other, you show that you care about their expertise and opinion. Curating content from established opinion leaders and Influencers in your industry will help to spark influencer relationships. By sharing social media posts from influencers, quoting and crediting them by including @handles, you can draw their attention to your person, blog, brand or business. This will help you to engage with them. Promoting influencer posts can be a starting point to establish a long-term beneficial influencer relationship.
6. Content curation lets you experiment with content
By means of curated contributions, you can analyze which topics, formats and types of content work best for your community. If a curated post gets a particular amount of likes, comments, and shares, this will show you what your community specifically likes and is most likely engaging with. This will give you valuable ideas on topics you can follow up or formats you can adapt for your own content.
The analysis of your communities engagement with curated posts can be a valuable source of inspiration for your own content creation and will help you to produce even more engaging original content.
In any case, curated contributions are an exciting test field for you and offer inspiration.
7. Content curation helps you grow your social media channels
You get new contacts, fans, and followers through interactions of your community. High-quality curated contributions from third parties can, therefore, help you to get more fans and followers and build your social media channels. A larger community means more activity on your channels, which increases the visibility and reach of your social media. A positive spiral that you can accelerate with Content Curation.
8. Content curation adds to your internal skills and know-how
Content curation not only bridges gaps in your own skills and knowledge, but it has also an educating effect.
By researching, reading, sorting, distilling and commenting on curated content, you will add to your internal knowledge base of insights in current trends and industry know-how. This will keep you and your team informed on latest trends and helps to add value and ideas to your own content creation and production process.
From each curated piece of content, you will take-away at least bits of information and know-how about innovations, other opinions, and different perspectives. Thus, content curation will automatically help you grow your own expert knowledge and always keep you up to date.
Still Skeptical towards Content Curation?
Despite these key benefits, some bloggers and content managers stay cautious and skeptical towards content curation. They worry that "promoting" posts from other sources will draw attention to these sources and drive followers away from their own channels.
However, these worries are serious considerations worth exploring.
If all you ever do is sharing links and titles from other sources, then you will not display your own expertise and knowledge, but only those of your curated sources. Your channel may then still be regarded as a good resource of aggregated content, but it will lack your personality and originality.
Content curation actually covers more than just sharing information. It requires "shared value" by providing a context to the shared piece of content, by commenting on it and adding your own thoughts and perspectives, praising or criticizing the author, or by highlighting a core statement.
By mixing your own original content with posts from a variety of sources you add a diversity of information and perspectives to your topics. Commenting on your curated posts will not divert your followers' attention but encourage them to share their own thoughts and perspectives and thus, stay or come back to your streams.
Sharing posts from influencers will increase chances that they will return the favor sooner or later and thus, increase the reach of your own original content.
8 Key Elements of an Effective Content Curation Strategy for Blogs and Social Media Marketing
The core attribute of a successful content curation strategy is that you have a deep understanding of your target audience. A good content curator provides a selection of the best content that matches their interest and adds value to your own original content. So, always think before you share. Do a thorough research on how your audience reacts and engages with different contents and formats. Provide context for the curated content and present a variety of formats such as text, blog posts, images, infographics, videos, and presentations.
1. Curate quality content
The main purpose of curated content is not just filling your editorial gaps. Content curation aims at presenting a selection of high-quality information that gets to the essence of what your followers really want to know. Select your sources carefully. Assemble the top content you can find on your topics. Comment on your curated posts to give context. Add your own thoughts to engage your community.
2. Use the right social media channels for content curation
Curated content is not a "one-size-fits-all" for all of your social media channels. The type of content and method of content curation that suits your content strategy and channels depends entirely on your individual situation and on what works best for your blog, business or brand.
Let's take a look at a general approach on the following social networks:
Facebook
Facebook thrives on curated content. Content curation works on private profiles, on pages as well as in groups. On Facebook, content curation is simply a mandatory strategy.
Twitter
The microblogging network has even invented a new term for content curation: Retweeting. With a retweet, you share tweets in your channel.
LinkedIn
Curating content from and for your peers, clients and business partners is also common practice in the international LinkedIn business network. You can also curate foreign language articles.
Instagram
On Instagram, you can add other Instagramer's posts to your story with a single click. Always remember to use #hashtags in Instagram posts, even for curated posts.
Pinterest
Pinterest mainly works on content curation. You can collect and pin posts from other Pinterest users and sources on your pinboards.
Reddit
Reddit gives you the best of the internet in one place. By curating quality content you increase your Kharma to get a better visibility and reach for your own original content.
3. Add context and comments to your curated posts
By adding your own comment and perspective, your curated content will become an integrated element of your own content strategy. Tell your followers why you are sharing this piece of content and why you think it's worth reading. By praising or even contradicting the shared ideas you show your expertise on the topic. Personal comments will make your curated posts more engaging for your followers to comment and share their own opinion.
4. Credit the sources of your curated posts
In many social networks, crediting is quite simple by including a via @handle in your comment. By tagging and crediting the source, the author will be informed of your post. Everyone likes to see that their posts are shared and many will react with a like, a thank you, or by actively participating in the discussion. Thus, crediting important influencers in your industry can be a good starting point for beneficial influencer relationships.
5. Content curation for your blog
Content curation does not only work for your social media marketing, but also for your blog. Leveraging third-party content can add value to your own original blog post and fill gaps in your editorial calendar in times of lacks in creativity or a writer's block.
6. Curate at the best times to post on social media
Every network has its own rush hour for traffic and engagement. In order to reach as many readers as possible across different networks, it is advisable to schedule your posts at the best time to post on each network and each community individually.
Share your content at the times your target audience is most likely to be active and engage with your posts to get more reach.
Your targets will not be at the same time in every network, so scheduling your posts at different times across multiple networks increases your chances to reach more targets and get more likes, shares, and comments.
7. The perfect content mix
For the best content mix on your social media channels, you can follow the 5-3-2 rule.
With every 10 posts you should share:
5 pieces of curated content: third-party content that is relevant to your audience and relates to your topics.
3 pieces of created content: your original and even promotional content.
2 pieces of personal content: these can be fun and entertaining contents or also very personal comments and statements.
8. Schedule fixed times for content curating
Content curation is like sports. You know you should do it, but you will always find an excuse due to a lack of time. However, consider content curation as a vital element of your content marketing strategy. Content curation can boost your marketing success. Allocate time for your content research and digestion on a weekly or daily basis. This will ensure to fill your social media channels with a consistent flow of fresh and relevant content.
How to find the best content for your content curation strategy
Researching the best and most relevant content from a variety of sources can be a big challenge. In order to find top trending topics and news on a regular basis, you can use the following tactics and tools to save time and effort.
1. Research on social media
The best sources of relevant content for curation are the timelines of your peers and industry influencers in the social networks. Follow the most influential opinion leaders and industry media to get valuable content directly delivered into your own feed.
Subscribe to newsletters and push notifications from blogs you read and follow. Most blogs offer you a blog subscription to get update notifications.
2. Use tools to find relevant posts
Nuzzle
Nuzzel provides industry news and media intelligence by scanning thousands of media sites and hundreds of thousands of news that are distributed on social networks every day. In the Nuzzel dashboard, you can collect, feeds and stories on a specific topic. By connecting your social media accounts, you will also see, what your followers subscribed to. So, the friends-of-friends feed can surface news that is buzzing on the outer edge of your own social sphere.
Feedly
The news aggregator Feedly is available for various web browsers and mobile devices with iOS and Android and as a cloud-based service. Feedly compiles news feeds from websites you subscribe to.
Pocket
The former "Read-Later" app Pocket was founded in 2007 and allows you to store articles, videos, and other contents you find on the net. Any content can be sent to your pocket lists from your smartphone, tablet or computer – even per email. The Pocket browser extension helps you to quickly collect and save what you stumble upon. You can save articles to read and curate later.
Scoop.it
Scoop.it makes it easy to find and curate interesting content by specific topics and keywords. With Scoop.it you can add your own sources via URL or RSS feeds.
Bloglovin'
With up to 8 million active users and 750,000 active bloggers, Bloglovin' is the leading online platform for readers from North America and Europe. Bloglovin' was first launched in 2007 as a blog reader offering a wide range of topics from fashion, beauty, and lifestyle to interior design and healthy eating.
Blog2Social Social Media Poster Extension
The Blog2Social Social Media Poster can be integrated into Chrome and Firefox and allows instant sharing of web content to Facebook, Twitter, and LinkedIn. You can also add a comment to your posts.
If you want to collect, schedule and customize your curated posts, you can transfer the posts via the browser extension to the Blog2Social WebApp, save them there and customize, comment, schedule, and post your curated content with more advanced options for each of your social media channels. Blog2Social connects to the most popular social media networks. You can share on personal profiles, pages, and in groups.
3. Subscribe to RSS feeds
An RSS feed is a news service that allows you to receive the latest news on a regular basis. You can subscribe to various RSS feeds via an RSS reader. This saves searching for current information on the various websites. News sites, blogs, and corporate websites usually offer RSS-feeds to provide their readers with the latest news and keep them up-to-date via this service.
To subscribe to an RSS feed, you need to know the URL for the news feed.
For example, the feed URL of this blog is: https://www.blog2social.com/de/blog/feed/
With tools like Inoreader, Digg, Feedly or Pocket you can collect and organize your selected RSS feeds and your selected posts for your content curation activities.
How to automate content curation for your blog and social media channels with a single tool
Despite the many advantages, content curation still takes time to:
Research content from a variety of sources
Select the best and most valuable posts for your target audience
Add comments (e.g. hashtags and handles)
Schedule (which network, which release date)
Monitoring of interaction and communication (comments)
However, content curation does not have to become a full-time job, there are helpful tactics & tools that can help you to save time and work. I have already introduced you to several tools for content research in the previous section. Once you have found and selected and distilled your posts, the real curation work begins: customizing, scheduling and sharing across multiple channels.
Don't panic, even for the following steps, there are tools that help you with your tasks to save time and work. Content curation features allow you to customize your posts easily, to schedule and share your curated posts, to mix them with your own content, and to keep track of your shared posts.
Let's take a look at the Blog2Social social media automation tool. Blog2Social helps you organize your complete social media content planning, customizing, scheduling and sharing directly from your WordPress dashboard. This includes customizing, scheduling and sharing your own blog posts as well.
Blog2Social provides you with multiple options:
Content curation via RSS
We remember: RSS feeds provide you with current updates from websites or blogs. If you want to curate content from RSS Feeds on your blog, you can do this easily and automatically with the help of RSS-Feed Plugins. With RSS plugins you can define settings for your selected RSS feeds to publish content automatically on your WordPress blog.
Blog2Social lets you schedule and share these imported posts on your social media accounts automatically. Define to share your posts immediately after publishing or according to your specific time settings.
The key benefit: With only a few basic settings, you can fill your social media channels with fresh and relevant content from your favorite RSS-feeds.
Content curation with individual links from any source
Blog2Social now also allows you to share curated content from any source directly from your WordPress backend on your selected social media channels. This allows you to share any content from any source that you have researched or stumbled upon. Any content that you feel worth sharing with your community. You can share posts from your favorite news sites, web articles, images and video-posts with your selected social media communities.
New: Content Curation with Blog2Social directly from the WordPress Dashboard.
Click To Tweet
Just copy the URL of the selected post into the "Content Curation" section.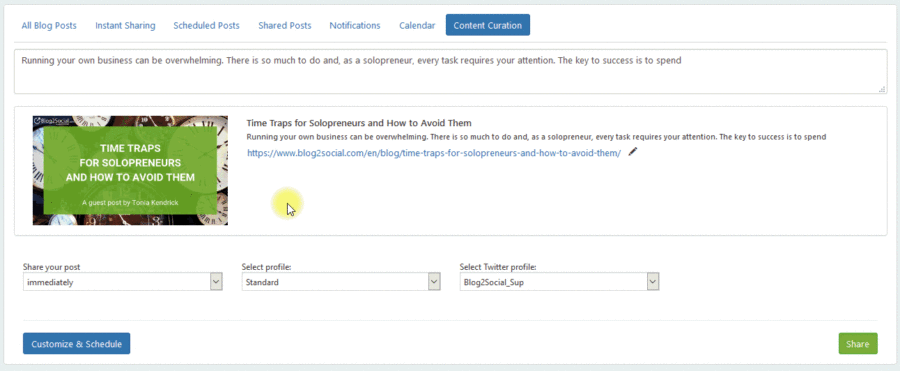 Blog2Social automatically loads the link preview for your post to see how your link will be displayed on social media.
Enter a comment to your link and select whether you want to share your posts immediately or schedule them for a specific date and time.
Share on your standard social media account selection or select a preferred Sharing Profile with your pre-defined social media accounts for your content curation activities (You can also customize your current account selection with the Customize & Schedule option below).
Share immediately or customize and schedule your curated posts with more advanced customizing options. With the "Customize & Schedule" option, a one-page-editor will display a preview of your post for each of your selected social media accounts. You can add an individual comment, select a post format, change the images, and schedule each post individually for each network and community. This option will turn your curated post into even more personal and engaging posts adapted for each social community.
Social media automation of blog posts and curated content right from your WordPress dashboard
With the new content curation feature, Blog2Social provides a complete social media automation suite for promoting your blog post and your imported and curated content. You can automatically share and schedule your own and your curated content automatically across multiple social networks. This lets you easily organize and manage your social media content within a single application right from your WordPress dashboard.
Blog2Social is available as WordPress Plugin, as WebApp and as Browser-Extension for Chrome and Firefox:
Wrap up:
Boost the success of your blog and social media marketing with content curation
With Content Curation you can reap from the following core benefits:
Keeps your social media channels filled with a consistent stream of relevant content
Establishes your channels as go-to web-resources on your topic and increases your reputation, brand awareness, and opinion leadership
Ensures content diversity from a variety of high-quality sources, formats, and voices
Sparks influencer relationships and active networking with industry leaders
Content curation is an essential strategy to supplement your own blog posts and promotional content for social media communication. Curating content from a variety of reputable sources will help you to increase your reputation and the reach of your social media channels. By growing your social media community you will increase attention for your own content and drive more traffic to your blog and business. Social media automation tools will help you to save time to fill your social media timelines with a consistent stream of relevant posts for your followers.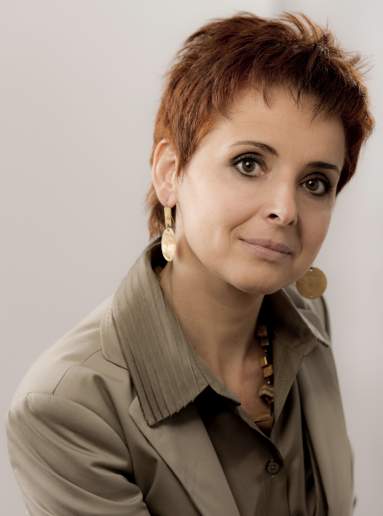 Melanie Tamblé is co-founder and co-CEO of Adenion GmbH. She is an experienced expert in content marketing and social media.
Adenion GmbH specializes in online services and tools for bloggers, businesses and agencies of any size to support their online marketing and content seeding tasks on the web.
Blog2Social as WordPress Plugin and WebApp enable fast and easy auto-posting, scheduling and cross-promotion of blog posts, articles, links, images, videos and documents across multiple social media sites.
Social media posts will be automatically turned into a customized format for each social platform and auto-scheduled for the best time. Social media post can be previewed and tailored with individual post formats, images or personal comments – all in one easy step.