Social media channels have a broad impact on the branding and promotion of your business. This is why your social media marketing strategy should not only include what you post on your social media channels but also how you present them on your website. Over the last two decades, social media has grown tremendously, and so has your chance to brand and promote businesses on them.
Fortunately, WordPress has several plugins to take care of your social media for your websites. So, feel lucky if you have had your website built on WordPress already. And today, we will tell you about some of the WordPress social media plugins that take care of your social media buttons on websites, encourage social shares, and help you strategize your social media activities.
Additionally we will cover everything from WordPress social media & social share plugins and placing them on your website to managing social media activities smartly right from the WordPress dashboard. So, without further ado, let's go straight to the main part.
What are Social Media Buttons and Share Buttons?
You might not find any difference between social media buttons and social share buttons in their look. But they are quite different in the way they work, and you can recognize them based on the places they are set.
Social media button: A social media button takes your visitors to the particular social media channel of your blog or business. For example, A social media button of Twitter will take visitors to your Twitter handle homepage.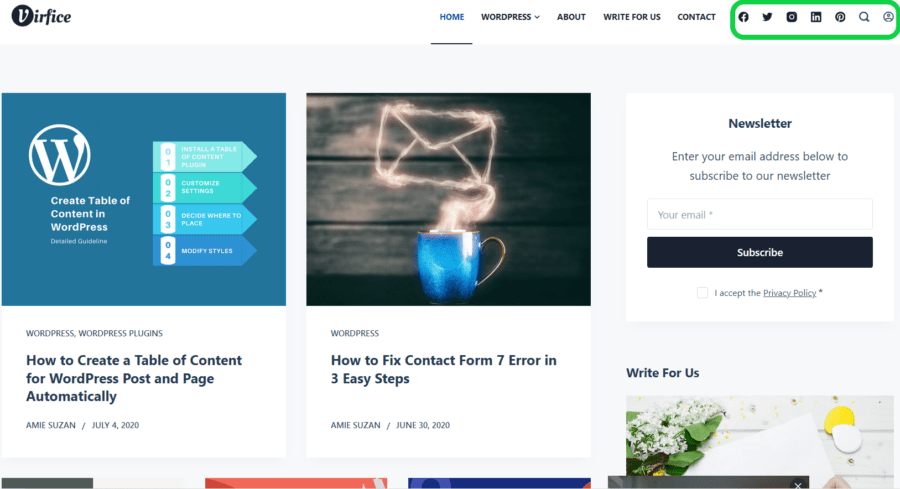 Social share button: A social share button, on the other hand, helps your visitors share your content on a particular social media channel. Such as a Facebook social share button that takes your visitors to their Facebook wall and helps them share the content right away.
You can place both of these types of buttons in different places on your website. The nature of the content and placement of the buttons will help visitors understand the difference. Furthermore, it will help visitors be sure about the action they intend to take with them.
Benefits of social media and share buttons
The benefits of having social media and sharing buttons on your site are immense. Social media buttons help your visitors find your brand on social media and get connected to it. Social share buttons are your first step towards making your content viral. Besides that, there are other benefits too. Some of the most crucial ones are listed below:
Social media buttons increase your business brand exposure.
Like newsletters, social media buttons are the gateway to getting returning visitors once they follow your brand on social media.
The social media appearance of your brand/blog builds trust in the visitors' minds. Social media buttons are the ways to showcase that.
Social share buttons help your visitors share your content on their network and drive new traffic to your website.
They are your gateways to a newer audience, which you would not have reached with other marketing strategies.
Where should you place social media and social share buttons on your website?
When you understand the importance of social media & share buttons and decide to place them somewhere on your site, you must figure out the suitable places to have them. You can set your social media and share buttons on different places on your WordPress site with your WordPress theme and social share WordPress plugins.
Places to have social media buttons on:
The most common place to have your social media button is on the left side of your menubar. Because of being easily accessible to visitors, this is where most websites place their social media buttons on, except that you can place them at the top of your website sidebar. You can place them in the footer section, under any special section somewhere on your site, and many more.
You can have social media buttons in groups in the places mentioned above. Alternatively add a single like and follow buttons on the sidebar or somewhere inside posts or pages with different Gutenberg blocks. People usually use a like button for a Facebook page and follow button for a twitter account.
Places to have social share buttons on:
You can place your social share button on different places of posts, pages, and custom post types. While placing social share buttons, you have to bear in mind that these do not negatively impact your site. Such as, if you place them over and over again, visitors on your website might be bored.
Best WordPress social media and social share plugins
If you search the WordPress plugin directory, you will find a lot of WordPress social media and social share plugins. But, all of these plugins are equally useful. They are different in the way they offer social media icons/buttons and social sharing buttons on your WordPress sites. Some of them come with better customization facilities, placements, and more,
Considering the required options for you in WordPress social share and social media plugins, we have made a list with some of the best ones. The plugins we have picked are:
Social media management plugins for WordPress
Having social media icons/buttons on a noticeable place and social share button on posts and pages is not everything about social media exposure. You could do even more to take your blog or business to a new height.
Did you know that you can manage your social media activities right inside your WordPress dashboard? Yes, with a powerful WordPress plugin called "Blog2Social: Social Media Auto Post & Scheduler," you surely can.
You can auto-post your blog post on social media channels. Cross-promote, schedule, and automatically share your blog posts to social media channels like Facebook, Twitter, Google My Business, LinkedIn, Instagram, Pinterest, and many more.
How management tools for social media can help you
You might think, "why would I need such a tool for social media in the first place?". You already have known how social media exposure is vital from your brand, but doing it in the right way is what puts you ahead of the competition. A management tool for social media posts can help you achieve this in various ways.
With a tool like Blog2Social, you can post and schedule your blog articles all from a single place. You don't have to go to all social media channels to post your articles there. It can help you as a virtual social media manager who posts things on your behalf.
How can social media tools help you save time?
Using a social media tool can surely help you save a lot of time. Imagine posting a newly published article on sixteen different social media channels manually. Think about the time it would require even if you are logged in beforehand. And if you are not logged in on all of them, it would take ages to finish up the task.
That's why a management tool like Blog2Social is a real time saver. You can save time from publishing manual social media posts and focus more on other productive tasks.
How can they boost your engagement?
The promotion of your content on social media is one of the keys to boosting engagement. Social media helps you increase the reach of your posts and take them to more potential readers. Using a social media management tool, your chances of engagement are much higher as it can help you auto-post, schedule, and reshare your posts.
The best tool to automate social media strategy on WordPress
When it comes to automating social media strategy on WordPress sites, Blog2Social will always come first. You can auto-post, cross share on all social media, customize social media posts, pick a social share image, schedule, and automatically share your blog posts to social media channels.
Blog2Social has got some staggering statistics that would blow your mind. This WordPress Social Media Auto Post & Scheduler is trusted by 50,000+ users and has been downloaded more 1,159,682 times. A whopping 1000+ users raved about it on the WordPress plugin directory.
Without a doubt, any WordPress users having a clear understanding of its features would pick Blog2Social.
Conclusion
Social media has been a great way to promote your brands nowadays. It's hard to find people without being connected through social media channels. Therefore it becomes an opportunity for brands to reach a large number of audiences on social media. Placing your social media buttons in the right place and a group of social share buttons on posts and pages will increase engagement and help you grow as a brand. But having all your social media channels would not be meaningful without managing your social media posts skillfully. Be smart in managing your social media and stay ahead.
A WordPress enthusiast and Content Developer at Virfice. Amie loves to talk about WordPress related subjects and wishes to travel the world with her family.