Read the latest feedback and reviews from enthusiastic Blog2Social users
"Blog2Social saves your time and prevents you from this sharing-pain", like Chris Abraham says. And it does so much more for you. Curious now? Start sharing today and test Blog2Social Premium for free.
Interested in reading more reviews? Check out what others think about Blog2Social or leave a rating yourself.
WordPress.org Facebook Google Business Profile G2Crowd
Capterra OMR Reviews Trustpilot Crozdesk
---
On this side we do not want to share our view on our social media tool, but give our users and friends the opportunity to do so. Here you will find a selection of reviews.
---
Blogposts
---
"That's the type of set-and-forget automation you want with social media, leaving you more time to engage with people who comment on your social content."

David Hartshorne from wpsuperstars.net
Learn more about David Hartshorne's experience with Blog2Social.
---
"This plugin has made my life easier, at least as far as social media is concerned. Not only it is easy to use plugin for your WordPress, but it also allows you to simplify, automate and speed-up the process in promoting your blog. Iwould highly recommend that you give Blog2Social a try, you probably don't need to upgrade to the premium version. Maybe just try the free one first. If you like the results you get, then maybe consider upgrading."

Maurice Willie from lifewatch.site
Read more about Maurice Willie's experience with Blog2Social.
---
"Overall, Blog2Social is a really convenient way to manage the social media marketing for your WordPress site. [..] So, if you're intrigued, give it a try and see if it works for you – you're not risking any money."

Colin Newcomer on WP MAYOR
Read more about Colin Newcomers' experience with Blog2Social.
---
"I can definitely recommend Blog2Social to everyone who's looking for a way to improve the Jetpack's Publicize effectiveness in terms of Social Media sharing. The great thing about it is that you can use them both, as they nicely complement each other: in case you need the Blog2Social advanced features – scheduler, all-in-one sharing, multiple accounts per network, integrated reporting services, sharing networks among different WordPress users and so on – you'll most likely end up with a paid plan, as it's definitely worth the price."

Ryan from ryadel.com
Learn more about how Blog2Social is used at ryadel.com.
---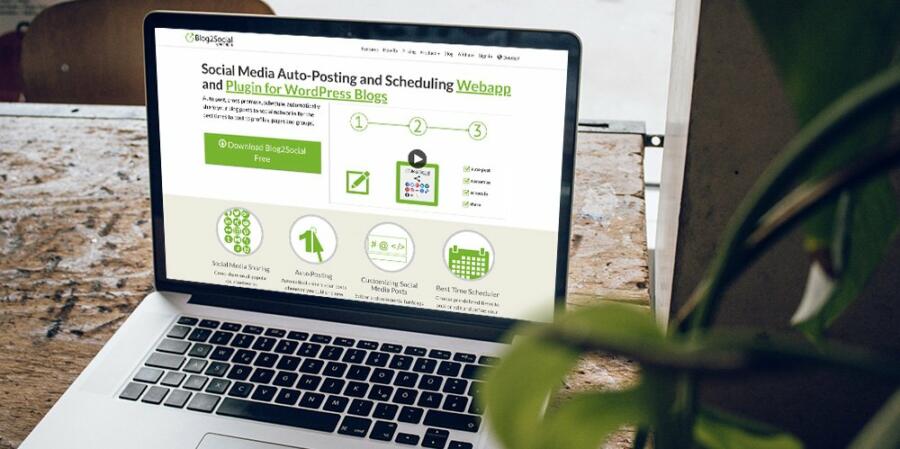 "Blog2Social can automatically share your posts to the networks you specify, using your desired settings. This cuts the time you spend just getting the word out about your content down to almost zero. All you need to do is concentrate on creating quality posts, and when they're published all of your followers will know right away."

John Hughes from WPEXPLORER
Read more about John Hughes' experience with Blog2Social.
---
"Blog2Social is a plugin for WordPress that gives us the provision to automatically share our blog posts on our social media profiles, pages, and groups, absolutely scheduled and fully customized for each and every network. This plugin is free to start, and its features are quite promising to make it the best social media auto-post plugin for 2017."

Mudita Jha from hellboundbloggers.com
Learn more about Muditha Jha's experience with Blog2Social.
---
"Even more exciting is that Blog2Social will even place [hashtags] into your Instagram and Google+ posts as well, inline, at the end, just like all the cool kids do."

Chris Abraham from biznology.com
Read more about how Blog2Social is used at biznology.com.
---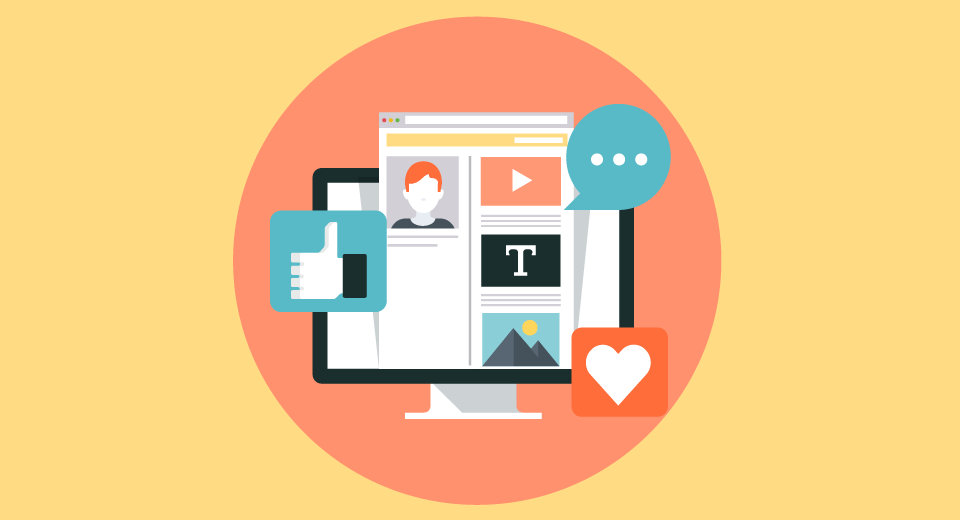 "Blog2Social is one of the most comprehensive auto-posting solutions for WordPress. Not only does it enable you to share your content to most major social media platforms, it also lets you schedule posts for specific time windows."

John Hughes from elegantthemes.com
Learn more about John Hughes' experience with Blog2Social.
---
"You know all the hell I go through every time I publish a blog post? The hell I will go through after I hit submit on this post? The process I go into in great depth on If you post it will they come (to read your blog)? Well, I have it all automated now, at least over on my RNNR.us blog (and this is a very low-traffic vanity blog that's brand new, is not monetized, and I am no fitness star, so when you look at the traffic spikes, keep everything in perspective).
I really wish that Blog2Social were already installed on Biznology right now because after I hit Publish I have at least another 1/2 hour of promotional work to do before I can move onto my next task for the day."

Chris Abraham from biznology.com
Read more about how Blog2Social is used at biznology.com.
---
"Blog2Social is the most elaborate social media plugin that I have tested so far. I purchased the premium license, and I can only recommend it."

Andreas Hecht from noupe.com
Learn more aboute Andreas Hecht's experience with Blog2Social.
---
Videos
"Autoshare WordPress Posts to Social Media" by Webys Traffic on YouTube:
"It's fantastic! I guarantee you, this is going to really change your life!"
---
---
24-minute video with a look into the tool and explanation of all features of Blog2Social by Jerry Banfield on YouTube:
"This is giving me thousands of extra impressions on my blog every day. This is why I've taken the time to show this to you. – I just signed up for this. I found it really helpful. So I thought to make a tutorial."
Source: https://youtu.be/TknuQYnmHEU
In his latest video, Jerry reveals even more of his social media strategy and shows how he uses Blog2Social to promote his YouTube videos and increase your reach: https://youtu.be/pJuGiJymBEY
---
---
Gurpreet Singh from buzzingneighborhood.com:
Explain how to set up and work the Blog2Social plugin
---
Quotes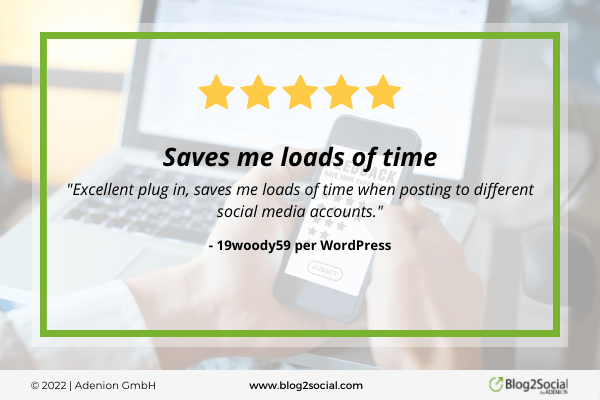 ---
---
---
---
---
---
---
---
---
---
---
---
---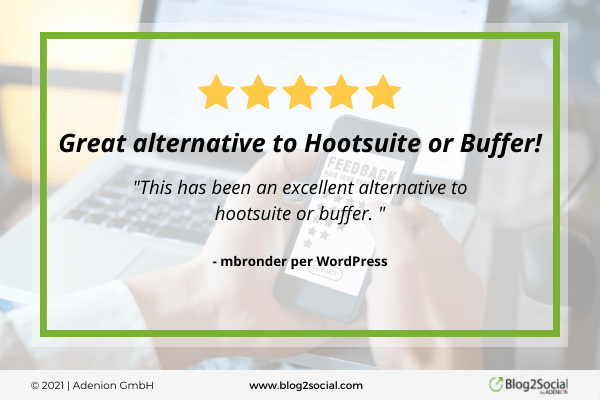 ---
---
More reviews and listings
avada.io: "Last but not least, the one and only – Blog2Social: Social Media Auto Post & Scheduler. This WooCommerce social share plugin provides you the ability to publish to social networks like Twitter, Facebook and Google My Business. The great thing about Blog2Social is that it not only allows you to post to Instagram and other photo-sharing sites like Tumblr but also automatically uploads your material to social media and produces social media posts for you."
"Blog2Social is an essential plugin for personal blogs, corporate blogs, and agencies of any size. It helps increase readership and awareness. It's also a great way to draw more traffic to your social media pages and your blog."
12 Best Social Share Plugins in WooCommerce for your inspiration
Source: https://avada.io/woocommerce/docs/best-social-share-plugins.html#blog2social-social-media-auto-post–scheduler
---
Klara R. on hostinger.com: "Blog2Social helps users save time and effort by automatically posting content on multiple social networks at once. Moreover, your posts' size and layout are automatically adjusted depending on the social media platform to ensure consistency."
Source: https://www.hostinger.com/tutorials/wordpress-social-media#2_Blog2Social
---
Mark Adams on webdesignledger.com: "
Blog2Social lets you customize the posts to be tailored to each network."
Tool Review: These WP Plugins Will Make Your Site Better in 2018
Blog2Social is a time-saving WordPress plugin that offers solutions to social media workers and marketers, small business owners, agencies, and others who look for ways to cross-promote and share blog posts on social media websites including Facebook, LinkedIn, Instagram, Google+, and others.
Source: https://webdesignledger.com/these-wp-plugins-will-make-your-site-better-in-2018
---
Bogdan Sandu on designyourway.net: "
This all-in-one suite of tools enables you to promote and share your blog posts directly from your WordPress dashboard."
Tool Review: Top WordPress Plugins: What to Install in 2018
With Blog2Social, it's easy to auto-schedule publishing of your social media posts. It also enables you to individualize posts, which adds a personal touch to every message. Thanks to Blog2Social's Social Media calendar, managing the timing of post will be a breeze.
Source: http://www.designyourway.net/blog/wp/top-wordpress-plugins-2018/
---
David Hartshorne on iag.me: "
If you want to automatically share your blog posts from WordPress to social media, then Blog2Social is your best option."
Tool Review: Blog2Social vs CoSchedule
Blog2Social is a relatively new WordPress plugin. It's continually adding more automated functionality to make scheduling your blog posts to social media as painless as possible.The built-in Best Time Scheduler is a powerful time-saver. Even if you haven't created your preferred schedule, you can use the predefined best times from Blog2Social.
---
Kristel Cuenta on socialmediaexaminer.com: That's where the Blog2Social plugin comes in. It lets you automatically schedule and share your new blog posts to your social media channels. You can customize your posts for each network if you want and schedule them at optimal times for each audience.
8 Social WordPress Plugins to Improve Your Blog : Social Media Examiner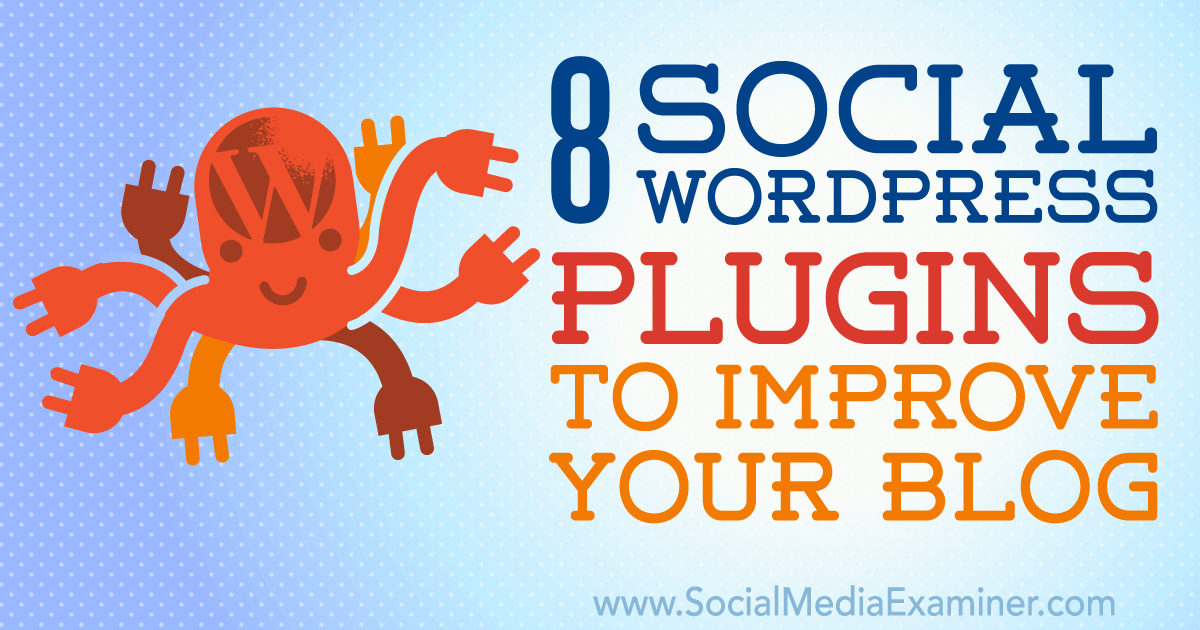 Do you want to make your WordPress blog more social media-friendly? Discover eight easy-to-use plugins to socialize your WordPress blog.
Source: www.socialmediaexaminer.com/8-social-wordpress-plugins-to-improve-your-blog
---
Anish George on justmychoice.com: "The Blog2Social plugin solves this time availability problem by allowing you to schedule the sharing of the posts to all of your social media profiles so that they are automatically posted when you want. Once the posts are written, you can dictate when and where the blogs are posted."
8 Best WordPress Social Media Plugins To Maximize The Potential of Your Blog
Here are the Best 8 WordPress Social Media Plugins to increase the exposure and traffic of your blog posts with minimum effort.
Source: www.justmychoice.com/8-best-wordpress-social-media-plugins-to-maximize-the-potential-of-your-blog/
---
Susan Gilbert on susangilbert.com: "This great plugin posts to places like Facebook profiles, Pages, groups, Twitter, and LinkedIn. Add hashtags and include excerpts or entire posts quickly and easily."
4 WordPress Plugins to Improve Your Blog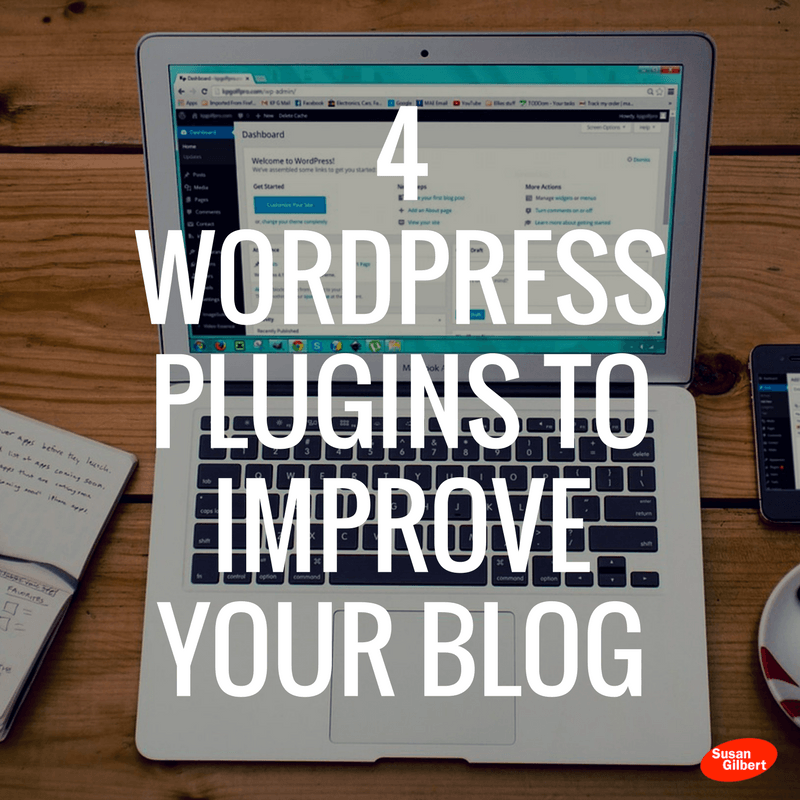 Adding the right plugins to your WordPress blog will help bring in more visitors and subscribers. As a business owner you want your content to get noticed.
---
Reviews in other languages
Blog2Social has 70,000+ users worldwide. We are happy about every review, no matter in which language. Therefore, we would like to show you these reviews as well:
---
Curious now?
Start sharing today and test Blog2Social Premium for free.
---
WordPress.org Facebook Google Business Profile G2Crowd