Explore 28 essential social media plugins to connect your blog or website to your social sphere and help you to get more followers, likes, shares, and drive more traffic to your blog or website.
Social media networks are the most important sources to drive traffic to your blog. In order to drive more readers to and from your social media channels, share your posts and content regularly on your social feeds and also in your communities. Once your readers visit your site, you need to hook them to your site and to your social media channels, encourage them to share your posts and images, and regularly drive them back to your site. For all these tasks, you might need some smart tools to help you.
Social media plugins will assist you by integrating some smart features directly into your WordPress website. However, there are tons of options to choose from. There are plugins for enabling your readers to follow your social streams, to like, share, pin, and comment on your posts, and others to schedule and share your posts on all your social media accounts.
Social media follow and share icons and buttons can be complemented with more features to make it easy for your readers to follow, like, share and comment. For example, if you provide outlined quotes and facts in shareable Twitter boxes. Or, if you show your social streams on your blog or website. This will encourage visitors to follow you because they can actually see your activities on social media.
If you provide give-aways on your site, like downloadable checklists or whitepapers, you can collect your visitor's email address, or you can make them pay with a social media action, like a share, follow or like to get more engagement and endorsement for your content.
Social media automation will save much time for scheduling and sharing your posts. However, when choosing social media automation, make sure you use tools that allow you to cross-promote by tailoring your social media posts for your communities to make them look like a human and not like a robot.
Besides these 3 basic plugins, there are several more nice-to-have features that will help you to connect your website and your social media channels. For example, by providing sharable quotes or memes or infographics, or by displaying social media streams and social discussions.
We have structured our list into
Essential social media plugin features for your website
Follow buttons for your social media channels
Social media share buttons for your posts and pages
Share icons for your images
Shareable quotes and facts on Twitter
Social media automation plugins for scheduling and sharing your posts
Streams for your social media feeds to display current updates on your site
Social comments for sharing discussions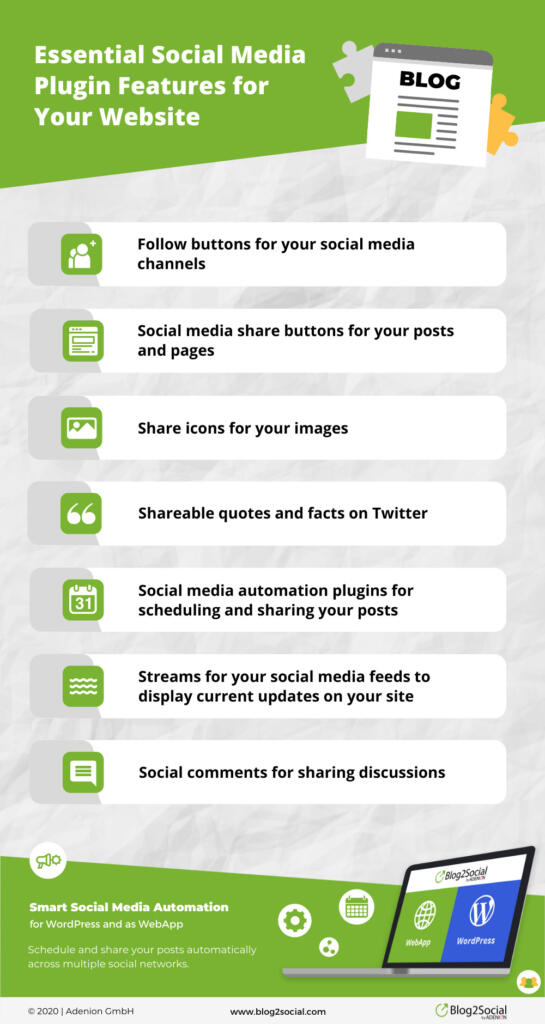 In this blog post you will find many essential WordPress plugins, which you should definitely have a look at to be successful with your website. Most of them are free, some of them are paid or offer paid premium features, but they are worth the money for the value you will get.
The very best social media plugins for your blog or website
The best WordPress plugins for social media follow buttons
First of all, you need social media buttons on your site. Your website visitors are your most likely fans. Once you get people to visit your blog or website, you need to hook them to your site. You can do this by asking them to subscribe to your blog or newsletter, but many people are reluctant to leave their e-mail addresses these days.
So here is our list of the very best social media plugins for your blog:
Turning website visitors into followers is the best way to keep them updated and make them return to your site.
Make it easy for them to follow your social media profiles to get them hooked on your social streams. Placing social media follow buttons on your site will help you increase the number of followers on your social profiles. Social media plugins for follow buttons help you to encourage your website visitors to follow your social media accounts.
The Simple Social Icons plugin created by Studiopress is a very simple and basic plugin to display social media follow buttons on your site. It's free and very easy to use. It will display social icons on your site that will take your visitors straight to your social profiles and make them follow your streams.
You can choose which profiles you want to link to, such as Twitter, Facebook, LinkedIn, Instagram, Pinterest, and RSS. The plugin options let you customize the color and size of your icons as well as align them to the left or right. You can choose all the settings from a simple widget form. And, you can also add these icons to your header right section, your sidebar, or even your footer widgets with a few clicks.
Get the social media plugin Simple Social Icons for your blog.
Social Media Follow Buttons Bar (free)
Creates a simple button bar for your website. You can choose the size of the icons, open the link in a current or new tab. You can also have the Social Media Follow buttons automatically added to the bottom of all posts and/or pages and position the link buttons with either a widget, shortcode or template action hook.
Monarch (ElegantThemes membership bundle at $ 89 including 87 premium themes and six premium plugins)
Offers elegant looking social media follow & social media sharing buttons. You can add buttons from 20 social networks, add it as a widget at any place on your blog. It offers floating bars, image icons and automatic pop-up and fly-in triggers.
The best WordPress plugins for social media share buttons
Next, you need social media share buttons on your site to encourage your website visitors to share your content. There are practically hundreds of plugins for social share buttons to choose from. Hardly any other function for WordPress offers more choices for plugins than social media share buttons.
With more than 200.000+ active Installations and more than 4,463 5-star the Ultimately Social Media Share Buttons & Social Sharing Icons is one of the most popular social share icon plugins. You get 16 stylish design styles for your social share buttons for Facebook, YouTube, Pinterest, LinkedIn, RSS in the free, and more networks in the premium version. Place the share buttons before or after posts, floating, via widget or shortcode, or define the location on the page. Define several actions to one share buttons, add animation or counts.
The premium version is available for $25 and offers additional advanced features such as click tracking, and sharing statistics.
Get the Ultimately Social Share Icons & Social Share Buttons for your site.
The best WordPress plugins for social media share icons for your images
In addition to general social sharing buttons on your posts and site, you can encourage users to share your images. You should do so especially for your infographics and other pinnable images. With the help of a simple plugin, you can increase social shares for your images.
Visual content such as photos, infographics, and videos can have a tremendous impact on the attention you get for your content. There are many sites and search engines just for image and video searches, such as Pinterest, Flickr, and Instagram, not to forget Google image and video search which is directly displayed in the regular search index. If your images are shared, they will drive additional traffic from all these sources.
Whenever your blog post is shared on social media only your featured image will be shared. But most blog posts have more than just one image. Social Sharing Buttons for your images make it easy for your website visitors to share your images separately from your post. This is most important if you display infographics on your site.
Some of the general social media sharing button plugins also offer buttons for your images. However, it's worth looking for a plugin to take special care of your images.
The plugin adds social icons to each image in your posts, with different animation effects to attract the attention of your visitors and make them want to use the icons for sharing your posts.
The plugin supports popular social networks such as Facebook, Twitter, Pinterest, Reddit, Linkedin, Tumblr.
You can select different styles, sizes, and positions on the images as well as hover effects and CSS3 animations.
When a user hovers on the images, they will see the social media icons which they can use to share those images.
You can also define a minimum size for images to prevent the icons to be displayed on small images, not suitable for sharing. The plugin can automatically reduce icon size if the panel does not fit in the image.
Get the Cool Image Share social media plugin for your site.
AddToAny (free)
One of the many plugin solutions that offer a universal hover over buttons to share on a large variety of networks and email sharing. You can choose between several different icon sizes, custom styles and places for showing the button, including a shortcode to place it anywhere. The drawback is the use of external scripts which redirects users and may impact page speed.
Share This Image (Code Canyon premium plugin from $29)
Simple and flexible options to share your images on the 11 most popular social networks. It has a powerful admin option to customize and see all the settings on one page.
The best WordPress social media plugins for tweetable quotes (click to tweet quotes)
Twitter is one of the most popular social networks. Click to tweet plugins make your post easily shareable for your readers. By placing ready-to-share, "tweetable" quotes on your site, you can create micro-content into your blog post that makes your content more shareable and brings extra traffic from Twitter. The tweet will have a link to your page or post.
My plugin tip: Better Click To Tweet (free & premium from $29,99/year) – ready to use tweets for your readers

In order to encourage your readers to share your posts, you can add ready to use Twitter boxes to your posts or pages.
The plugin is very easy to use, fully customizable with CSS.
The link to your post will be automatically added to the tweet text. You can define your Twitter handle and choose whether the plugin will use the full page URL or a shortened one. The "via" and URL can be easily removed from the resulting tweets, and links can be turned into nofollow links.
The plugin uses the official shortcode API for better security and compatibility.
Here is an example of how the Twitter boxes will look on your post. Just give it a try, click and share this post on Twitter:
28 very best #socialmedia #plugins for your #Wordpress #blog
Click To Tweet
Get the Better Click To Tweet plugin for your site.
ClickToTweet.com (free)
Allows inserting different texts in the quote box and in the tweet in order to shorten some quotes. You have to fill in the link (or shortened link) manually, as well as a Twitter handle, next to the tweet text. So if you want your tweet to have a link to your post, you have to edit it to make sure what the page URL will be.
TweetDis (premium plugin from $37)
Provides 16 design templates for quote boxes, which can be adjusted to match the style of your site. The plugin can make any part of your text and your images tweetable. Just prepare the text you want to quote in your editor, select it and click the TweetDis icon.
Inline Tweet Sharer (free & premium from $25.99)
Allows you to share links to memorable quotes and shareable facts on your WordPress website. You can also add prefix and suffixes, as well as attribution to Twitter users. By default, the links are styled as links on your site, but the style is customizable with CSS.
The best WordPress plugins for social media automation
Don't wait for other people to share your content. Use every opportunity the social media world provides for sharing and promoting your content yourself. Cross-promoting your post on multiple social networks will help you to drive a consistent stream of traffic to your site. There are many social platforms, special groups, and communities, where you can share your posts. Sharing your content manually every time you publish a new post can become quite tiresome and time-consuming, especially if you publish regularly. Social media automation plugins can help you to automatically share your post, whenever you publish a new blog post to save time and work. There are multiple choices for tools and plugins for auto-publishing your posts. However, social media automation can boost or bust your valuable work, if done wrong. Don't just shoot and forget. Careless automation can turn your social media accounts into a lifeless robotic content stream.
Each social network offers different options for promoting your blog post. Each network is used for different purposes and at different times. And, the communities react differently to post formats. Hashtags work fine for Twitter and Instagram, but they perform less on Facebook and LinkedIn. On Facebook short comments perform better. You may also need to address your LinkedIn business contacts differently than your Facebook friends.
To effectively cross-promote your blog post, don't just cross-post the same message on every social network. Use tools that help you to optimize your social media posts to fit each social media platform and community.
My plugin tip: Blog2Social (free & premium from €5,75 per month) – schedule and share your blog posts to social media
Blog2Social is a very powerful dashboard application for WordPress with a whole bunch of options to schedule, share and cross-promote your blog posts across multiple social media channels at once. The plugin allows you to auto-post and to customize your posts individually, and to schedule your posts for the best times on each network.
Blog2Social supports 16 popular social networks, such as Facebook (profiles, pages), Twitter, Imgur, Telegram, LinkedIn (profiles, pages), XING (profiles, pages, groups), Instagram, Flickr, Pinterest, Tumblr, Medium, Torial, Reddit, Bloglovin, Diigo and VK.com for auto-publishing your posts, as well as your images.
The plugin automatically turns your blog posts into an adapted format for each network with pre-filled comments and hashtags. You can edit all social media posts with individual comments, hashtags, handles or emojis, select specific images for your posts, choose link post or image post formats, define Facebook OG and Twitter and many more.
The premium version provides more options for scheduling and sharing your post with custom formats.
A social media calendar allows you to keep track of your scheduled posts and re-arrange or add scheduled posts per drag-drop. You can schedule your posts for one-time or multiple-time postings or schedule your evergreen content recurrently for up to one year in advance.
You may also re-post your old post and pre-schedule your scheduled post for auto-posting.
This plugin really saves a lot of time and legwork every time you publish a new post and helps you to get more outreach for your post in less time. It helps you to create human-looking, engaging social media posts to attract your followers for more likes, shares, and comments.
Blog2Social is free for sharing and customizing your social media posts, but you might also find it worth to try the premium version for advanced scheduling and sharing
Get the Blog2Social social media management plugin for your blog
Facebook Auto Publish (free)
Lets you publish posts automatically from your blog to Facebook. You can publish your posts to Facebook as a simple text message, a text message with an image or as an attached link to your blog. The plugin supports filtering posts based on custom post-types as well as categories.
WP LinkedIn Auto Publish (free)
Lets you publish posts, custom posts and pages automatically from WordPress to your personal LinkedIn profile or your LinkedIn company page. Enables simple text-based sharing or more advanced sharing with your featured image. You can set up a default share message format for all your posts, filter items to be published based on categories or post formats, but posts cannot be scheduled.
JetPack (free & premium from $7,50)
A simple automatic sharing on Facebook, Twitter, LinkedIn, Tumblr, Reddit, and WhatsApp is integrated with the JetPack plugin package which also provides you with several other free and paid tools for your site, like subscription and contact forms, security features and widgets, site stats and analytics, and more. It provides auto-posting, but no customizing or scheduling.
The best social media plugins for social streams
Social media follow buttons are important means to turn your website visitors into followers. However, for new visitors, they might feel like buying a "pig in a poke" because they don't know what to expect from your social media updates.
Social feeds are an easy way to share your social networking updates on your site to attract your website visitors to your social media accounts. You can do this by implementing social feed widgets for each of your networks into your sidebar or your content. However, if you manage multiple social networks, your sidebar might burst with a whole bunch of widgets. You have to choose due to lack of space for too many widgets on your sidebar.
A social stream combining multiple social feeds can be a better alternative for your blog to show off all of your updates and contents in a single lifestream. Social stream plugins collect, optimize and present your entire variety of content from social networks in a more organized manner. It displays your status updates along with items that you've shared like links, images, and videos. Some social streams even display your social engagement with your followers.
Social Stream Designer is a powerful plugin that streams all social media posts together on one page. It supports 14 popular social networks such as Facebook, Twitter, Instagram, Pinterest, YouTube, Vimeo, Tiktok, and so on. This plugin contains 6 astonishing layout styles to showcase the social media feed in an appealing format.

Moreover, the Social Stream Designer contains fancy box interaction that makes social stream feeds more engaging. It has 40+ options available in layout settings to customize the look & feel of social feeds. It also allows users to get the latest feeds by auto-refreshing API. It is a translation-ready and fully responsive plugin that is compatible with all devices.
Flow Flow Social Streams (free & premium from $39)
Aggregate and stream social feeds in a customizable responsive social media wall on your WordPress website. You can select any combinations of social feeds from multiple accounts, connected with the same single stream. Your website visitors will be able to observe all of your latest network updates in one social flow without slowing down your site. You can display social media counters like comments, likes, views and sharing buttons to increase user engagement, users can sort and search networks on top of your stream.The admin settings provide a drag & drop card builder or you create your own grid style.
Feed Them Social (free & premium from $30)
Create Social Feeds of any or all your photos and videos from Facebook Pages, Groups, Album Photos, Album Covers or Events from Facebook, Instagram, Twitter, Vine, Pinterest, etc. Add as many social feeds as you need, implement with shortcodes. The premium version provides customizing options to choose how many posts, pictures, tweets, or videos for each individual social feed!
TwineSocial  (free & premium from $29/month)
Allows you to display your latest social content from Facebook, Twitter, YouTube, Instagram, Pinterest, Vine, Tumblr, Flickr, and LinkedIn on your site. It provides a customizable, stylish presentation for your photos, videos, and text. You can organize your feed by accounts, hashtags, multimedia, or you can include or exclude another variable you prefer. It also supports short links, permalinks, a responsive grid, infinite scroll, video player, custom CSS, multi-languages, analytics, and more. It's free for 3 data feeds, the premium versions offer more options for data volume and customization.
Feeder Ninja (free & premium from $3,19/Month)
Create embedded feeds out of RSS feeds and your social media content from Facebook, Twitter, Tumblr, YouTube, Vimeo, Pinterest. It's free, but you need to sign up before you can embed it into your WordPress website.
Instagram Feed (free & premium $49/Year)
If you are opting for Instagram only, Instagram Feed allows you to beautifully display your recent Instagram photos on your WordPress blog. You will need to generate an Instagram access token. You can then use the available shortcodes to display the feed anywhere on your site including posts, pages, or sidebar widgets, as well as create multiple feeds for multiple Instagram accounts by customizing shortcode parameters.
The best social media plugins for social comments
Social media plugins for social comments allow your visitors to log in with their social media credentials in order to comment on your posts. The comments appear both on your site and on social media streams. This can help to expand the reach of your site and increase overall engagement.
My plugin tip: wpDiscuz (free & premium from $11)
The wpDiscus plugin is a fully customizable real-time comment system, with a lot of great features.The plugin uses the WordPress comment system with all managing functions and features, secure and anti-spam features. Fast loading and responsive system based on AJAX. Allows lazy load on scrolling or AJAX "Load more" buttons.
The plugin provides forms and fields for native WordPress comments that will be kept in your database. Adds interactive comment box on posts and other content types.
Commenting can be allowed/disallowed on posts and other content types. Comment lists can be sorted by newest, oldest and most voted comments.
The plugin fully integrates with social network login plugins to log in to their Facebook, Twitter or WP credentials.
The plugin allows admins and users to create a new discussion thread and reply to existing comments and to edit comments. It provides multi-level (nested) comment threads, with many setting options and custom comment forms with custom fields.
Allows shortcode for rating and voting posts via comment custom field [wpdrating] with a lot of attributes.
Get the wpDiscuz social comment plugin for your site.
Jetpack Comments (free & premium from 7,50€)
If you are using Jetpack you can replace the default WordPress comments with the Jetpack Comments module, that has an integrated social login ability. It's easy to use for your visitors.
Super Socializer (free & premium from $5,99)
The social sharing buttons plugin also includes a module to enable users to comment on your website using their Social Media credentials, such as Facebook, Google or Disqus accounts. The comment shows up on your blog as well as on in their news feed. Users profile data and email addresses are saved in your database for easier communication.
Social (Facebook) comments WordPress (free & premium from $10)
If you are opting just for Facebook integration, the Facebook comments WordPress plugin is great. Visitors can log in with their Facebook accounts to leave comments. You can also import the Facebook Comments box to your website and customize designs to your liking.
Wrap-up
We hope you enjoyed our list of essential social media plugins for your WordPress-Website.
As you can see, using the right plugins for your WordPress blog or WordPress website can facilitate your social media workload immensely. You will further generate more traffic and engagement on your networks and make your content more visible.
Your favorite plugins didn't make the list? Feel free to tell us which other top WordPress plugins deserve to be included here. Are you a developer yourself? Go ahead and introduce yourself and your plugin. We are looking forward to your comments and emails.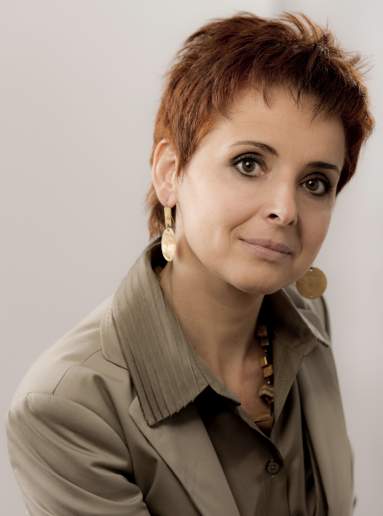 Melanie Tamblé is co-founder and co-CEO of Adenion GmbH. She is an experienced expert in content marketing and social media.
Adenion GmbH specializes in online services and tools for bloggers, businesses and agencies of any size to support their online marketing and content seeding tasks on the web.
Blog2Social as WordPress Plugin and WebApp enable fast and easy auto-posting, scheduling and cross-promotion of blog posts, articles, links, images, videos and documents across multiple social media sites.
Social media posts will be automatically turned into a customized format for each social platform and auto-scheduled for the best time. Social media post can be previewed and tailored with individual post formats, images or personal comments – all in one easy step.