Instagram has grown into one of the most popular social media networks out there. Its 2 billion monthly active users spend 11 hours per month on average on the platform. So, Instagram has become a major tool for businesses and brands to connect with their target audience. A whopping 90% of Instagram users follow at least one business. Getting in touch and engaging with your audience has never been easier, and Instagram proves to be an ideal social network for that.
To be successful on Instagram, you need to to understand how the platform works. Instagram has recently made changes to its algorithm, or rather algorithms. In 2022, the focus was on video, messaging, and creator monetization. The focus shifted to engagement, connection, creativity and discovery in 2023. How that looks exactly, and how you can use it to grow your audience, we're going to show you in this article.
Table of Contents
Understanding Instagram's Algorithms
The Instagram algorithm(s) is a system of rules and signals that ranks content. It does so by taking into account metadata such as captions, hashtags, location and engagement metrics. That way the algorithm determines which content shows up on Feed, Stories, Explore or Reels. Each of these parts of Instagram have their own algorithm. Each one works to show you the content that you will most likely enjoy and interact with.
To achieve that, the Instagram algorithm doesn't only look at the content that's being posted. It also analyzes each users' activity, preferences, previous interactions and engagement respectively. That way it ensures that the content they see aligns with their interests. The goal is, ultimately, to give users the best possible experience on the app. And this is where the different algorithms come into play.
Each of Instagram's algorithms' goal is to provide you with content relevant to your interests. But their purposes are different. People look for their friends in Stories, they use Explore to discover new things, and Reels to find entertainment. So in each of these parts, you find exactly what you are looking for: content catered specifically to the purpose and interest of your inquiry.
But how do these different algorithms work, and which signals do they look at to rank content?
The Instagram Feed Algorithm
The feed is your unique "home base". This is where you end up upon opening Instagram and where, arguably, the most of your activity happens. It shows content from accounts you follow, recommended posts, and ads. Posts on your feed are ranked based on the following factors:
Your activity and interaction history. The Instagram algorithm looks at your past activities and interactions to understand which content you have engaged with. It considers what you liked, commented on, shared or saved. Other signals include the amount of times you scroll the app, session time, and how often you interact with how many posts. Another aspect that factors in is how interested you are in a particular account by analyzing whether you engage with their posts.
Information about the post. How popular is the post? How many likes has it and how quickly did it receive likes, comments, saves and shares after being posted? But also when was it posted? Information about location and post type (carousel, video) factor in as well. For videos, their length is another signal that informs the algorithm.
Information about the account that posted. How many people have interacted with the account in the past few weeks? How often does it post? Do other users comment and like the posts often? These signals help the algorithm determine how interesting the account might be to you.
Based on these factors, the Instagram algorithm makes predictions about which posts and accounts might be interesting enough for you to interact with. The higher the chance that you might engage with the content, the higher it is ranked and so shows up higher on the feed.
The Instagram Stories Algorithm
The stories of every account you follow show up at the top of your feed. Stories create a space for interactive engagement through polls or questions. They allow businesses to get in touch with their audience easily while driving engagement. The ranking system in Stories works similarly as in Feed. The Instagram stories algorithm then looks at these signals:
Your viewing history. Stories from accounts you view often are prioritized as the algorithm assumes those are the ones that you wouldn't want to miss.
Your engagement history. This signal considers how often you engage with an accounts' stories by either liking them or even sending a DM response.
Your closeness to the creator of the story. This signal looks at your overall relationship to the story's account. It then determines how likely it is that you're interested in watching their stories.
Based on this information, the algorithm then predicts which stories you are most likely to view and engage with. It puts these further up the story line-up at the top of your feed.
The Instagram Reels Algorithm
The reels feed mostly includes reels from accounts you don't follow. This allows you to find new creators and content that's interesting and entertaining to you. For reels, the focus is on entertainment. The most important aspect that factors into ranking them is how likely it is that you're going to watch a reel until the end. For that the Instagram algorithm looks at:
Your activity. Which reels have you liked, commented on, shared and saved in the past? This information helps the algorithm understand which reels could be relevant to you.
Your past interaction with the account that posted. As mentioned, the reels feed consists mostly of content from accounts you don't follow and may have not heard of before. The algorithm looks at your past interactions with content from individual accounts. It then determines how relevant to your interests their posts are.
Information about the reel. The algorithm considers markers such as audio track and the content of the video based on the caption and hashtags, as well as overall popularity.
Who posted it: Does the account that posted the reel have a constant (high) level of engagement? How many followers do they have? Signals about popularity factor in as well to allow the algorithm to find a variety of content for you to enjoy.
The Instagram Explore Algorithm
The explore tab is where you're shown photos and videos from accounts you don't follow (yet). It is thus not only the best place to find new content but to also gain new followers for your own account. To decide which content to show you, the Instagram algorithm takes into account your past activity and interactions. It then ranks the posts by how likely it is that you will engage (by liking, commenting, sharing or saving) with them. In particular, the algorithm considers:
Information about the post. How many people like the post and how quickly do people engage with it after being posted? Simply put: is a new post popular? Such signals weigh far heavier in Explore than they do in Feed for example.
Your niche and engagement. The algorithm looks at what kind of content you've interacted with most in the past by liking, commenting, sharing or saving it. It also considers what post type (photo, video) you tend to engage with more and then tries to show you more of that.
Your history with the account that posted. For the most part, Explore shows you accounts that are new to you and that you don't follow. But if you have interacted with an account before, it helps the algorithm understand what kind of content is compelling to you. It then might push more from that account if it fits your interests.
Information about the account that posted. These signals also look at, for example, how many people have interacted with the account over the past few weeks to gauge if the content they put out engages people.
As you see, engagement is the driving force behind the Instagram algorithm. The more people interact with your content, the better it gets ranked across all of Instagram and the more people see it. This is how the algorithm works and what you as a marketer need to understand to use it to your advantage.
But how do you get more people to see your content to start working the algorithm in your favor? Let's take a look at what you can do to optimize your posts and grab the attention of your target audience.
Set Your Stage
Instagram SEO
Like with search engines, you can influence the ranking system by optimizing your social media content with SEO. It helps the algorithm categorize your content and show it to your target audience. Using Instagram SEO for this is the first step to help your posts get delivered to the people you want to reach.
Keywords & Bio
First things first, though. Start by selecting five to six keywords that define your niche and the content that you create. Then optimize your Instagram bio by including these keywords. This not only helps the algorithm but also new users who visit your profile. Your bio is the first thing they see. Using keywords helps them quickly understand what you're all about and what they can expect from you.
Copies
Next, use this set of keywords in your copies much in the same way you would use them for a SEO'd text on your website. Be descriptive and accurate when crafting your captions. This ensures that the Instagram algorithm understands your content quickly. That's why keyword optimized copies help you widen your reach and visibility, and why such posts tend to perform better.
Tip: Keyword-optimized copies don't only give you an edge on Instagram but on all other social media networks as well. However, crafting compelling social media SEO content takes time and effort. Cross-sharing your content helps you to extend the reach of your valuable work.
Social media automation tools like Blog2Social can help you cross-post your content to all your social networks at once. Simplify your workflow by keeping your social media marketing in one single place: your Blog2Social dashboard. Adapting your already keyword-optimized copy for each of your networks is easily and quickly done in one single workflow. This saves you a lot of time.
Alt Text
Add an alt text to your images. Now this feature in Instagram is not actually meant to boost your post's visibility. It's a function for accessibility that helps visually impaired users understand your images. It's unclear whether it will increase visibility (within the algorithm) on your post. Still, by adding an alt text, you're making your post accessible to everyone on the network and that's always a plus.
Hashtags
Optimize your hashtags. Although hashtags aren't as relevant for finding (new) content on Instagram anymore, they help in categorizing your posts. However, if you decide to rely on hashtags, be sure to use them smartly. Use three to five hashtags per post and avoid using the same ones every time. Instead, find a few niche hashtags fitting your content that have between 30,000 and 300,000 entries, and add those. You can use "big" hashtags, too, of course. Just know that the likelihood of being discovered through them is far less than using niche ones.
Build Your Instagram Content Strategy
Adam Mosseri, CEO of Instagram, conceded that Instagram overfocused on video in 2022. He stated that Instagram has since course-corrected, focusing equally on video and photo. Still, videos remain the most popular type of media on Instagram. They get three times more engagement than single image posts in both likes and comments.
However, this doesn't mean that you have to churn out one video after another while disregarding image posts entirely to be successful on Instagram. As with everything else, quality is the most important factor here. And let's be honest – not everything works as a video. Which is why it's important for you to look at your own branch. Reels work way better for e-commerce or comedy. Carousels and image posts are better for educational content.
Before we take a closer look at the advantages of videos and carousel posts respectively, let's talk about what kind of content works best on Instagram and what you need to focus on to capture your audience's attention to get ranked better.
What type of content should I post?
In December 2022, Adam Mosseri addressed some of the changes that would come to Instagram in 2023. He explained the network would focus on engagement, creativity and discovery. The goal is to create value for people. Be it by letting them discover something new every time they use the app, or by bringing them together over things they love to create connections.
So focus on creating engaging content that drives interaction and conversation. It will boost your posts and your growth on Instagram. The cherry on top is that you build a relationship of trust with your community, and this trust will drive your revenue.
Usually the best performing content belongs to at least one of these categories:
Entertainment
Education
Inspiration
Thought-provoking content
You can combine two, three or even all of them if you can but be sure to include at least one. When you create content, always have your target audience in mind. What entertains them? What inspires them? Which helpful and unique tips can you share with them that can help them solve a problem? Challenge their perspectives with thought-provoking ideas and invite them to engage with you on it. Always consider that your audience should stand to gain something from your content.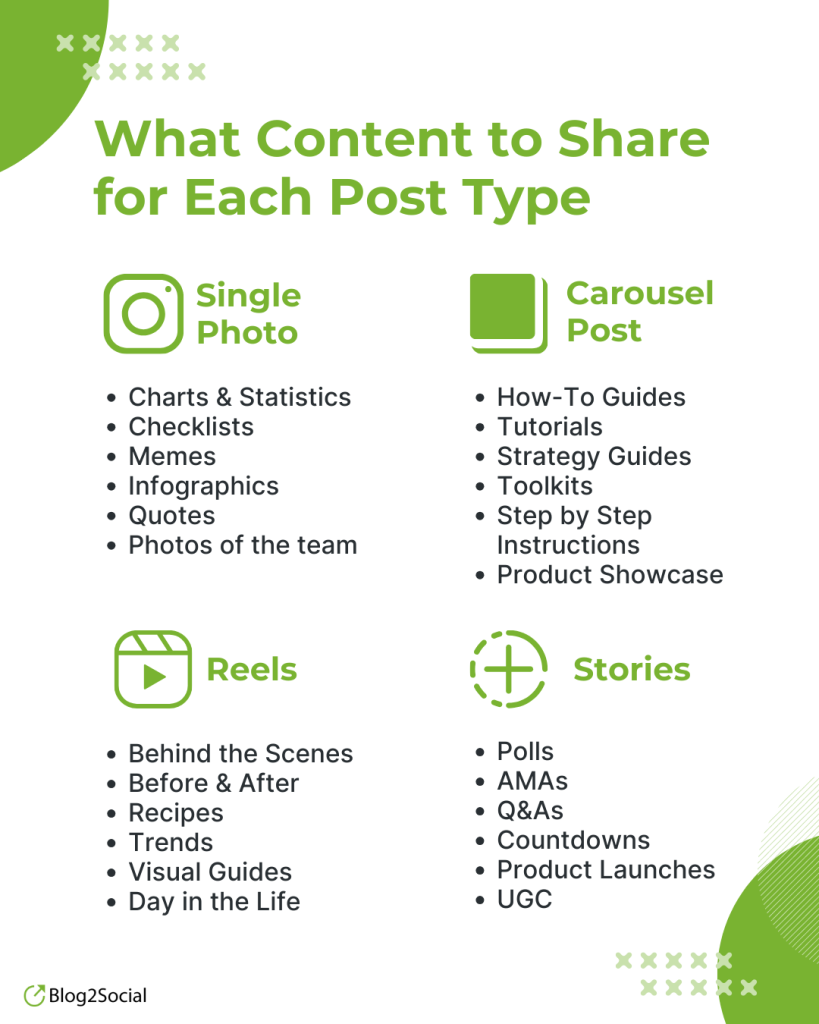 Videos
There are different video types on Instagram that you can use to engage your audience:
Stories. Stories can be a maximum of 60 seconds long. If they are longer, Instagram will automatically split them up into 60 second installments. They work best to drive engagement and interaction with your followers. You can conduct polls, do AMAs or use any of the other interactive features that stories allow.
Live videos. You can go live for up to 4 hours at a time. Live videos allow you to interact with your audience in real time. Instagram allows you to invite up to 3 people to participate in your live. This gives you the chance to conduct real time interviews with collaborators, for example. Make it interactive by allowing questions from the viewers. You can save live videos for later use as well.
In-feed videos. In-feed videos can be as long as 60 minutes. Whether you want to release long-form videos on Instagram is up to you. Keep in mind that there are better platforms out there for such types of video. Instagram users prefer short, snappy videos.
Reels. As of July 2022, every video that is under 15 minutes long is posted as a reel. However, your reel is only eligible to show up in Explore or as a recommendation if it's 90 seconds or less. Reels are the most popular type of video on Instagram which is why we're going to take a closer look at them.
Tip: Instagram isn't the only social network that allows you to upload short, vertical videos. Do you want to share your video on TikTok or as a Short on YouTube?
Find out how you can share your (vertical) videos to all your social media accounts at once. Reach more people, increase your visibility and save time on your video marketing with minimal effort.

Reels
Short form videos such as reels work best to drive lead generation and engagement. As mentioned, reels that are 90 seconds or less are being pushed to a wider audience by the Instagram algorithm.
Reels between 3 and 15 seconds can help boost your visibility. Short reels will be looped and each loop counts as a view. This does not only signal to the Instagram algorithm that your video has been watched all the way. It also signals that a user watched it many times.
Of course this doesn't mean that you shouldn't create reels that are longer than 15 seconds. Try out different lengths to see what your audience responds best to. Then use these results to craft your reels. Be sure to make the first 3 seconds of your reel as captivating and compelling as possible so as not to lose viewers.
On-Screen Captions
Another way to improve the performance of your reel is by adding on-screen captions. 92% of viewers prefer to watch social videos without sound. So including on-screen text will help them understand the video regardless. Videos with on-screen captions perform better (in impressions, views and likes) than those without.
Video Quality
Make sure to upload your videos in the best possible recording quality. Your video should have a resolution of (at least) 1080 x 1920 px. Be sure to remove any watermarks of other networks from your video if you are reusing it. Instagram decreases visibility for videos with low resolution or watermarks.
Reels Trends
Instagram offers creators a nice hack to find new ideas and get inspired for new reels. In your professional dashboard, go to Reels Trends to see currently trending hashtags and sounds. This helps you jump on the trends as they're happening and allows you to use their impact to boost your reach. Now you don't have to painstakingly research what people are currently enjoying. Instead use this neat trick to save yourself a lot of time and energy.
Carousels
After reels, carousels is the post type that gets the most engagement on Instagram. They're a great way to deliver educational content, tips and tricks, or comparisons, to name a few examples.
Carousels provide the unique advantage that your post is shown twice to a user. If the user doesn't engage with your carousel the first time it appears on their feed, then Instagram will show them the second slide the next time they're online. So when you create your carousels, make sure that your first two slides show attention-grabbing content to draw your audience in.
Image Size
Instagram offers different image sizes for your posts. However, it's best to use the portrait format (4:5 or 1080 x 1350 px) for your carousels (and single images). That way, your post takes up more space on the users' screen and thus is visible for a longer time. It allows your content to grab your audience's attention more easily. Be sure to place your text and graphics in the middle of the canvas as the typical Instagram grid previews posts as squares.
Caption
We've talked about optimizing your caption for Instagram SEO. But this isn't the only thing you can do to give your posts a boost.
Start your caption off with a strong, irresistible hook that stops viewers from scrolling past. Using emojis can help with that as well. Users clicking on "read more" to see your full caption help you get ranked better. It signals to the algorithm that readers are interested in your posts.
As for length, captions perform best when they're either short with up to 20 characters, or very long with over 2,000. But as with reel length, it's best to experiment to see what works best for your own posts. A longer caption for reels can help boost your rank. When a user reads your copy, the reel is being looped in the background in the meantime. This signals the Instagram algorithm that your video is being watched all the way through many times.
Which Content Works Best in Your Niche
The Instagram algorithm doesn't only help you get your content out and seen. It also helps you understand what kind of post type works best for your audience and your niche.
Your explore feed is the best place to start. Search for one of the keywords you have picked out as part of your Instagram SEO strategy and navigate to the "For You" tab. Study the feed: which types of posts is it predominantly made up of? Single image posts, carousels, videos?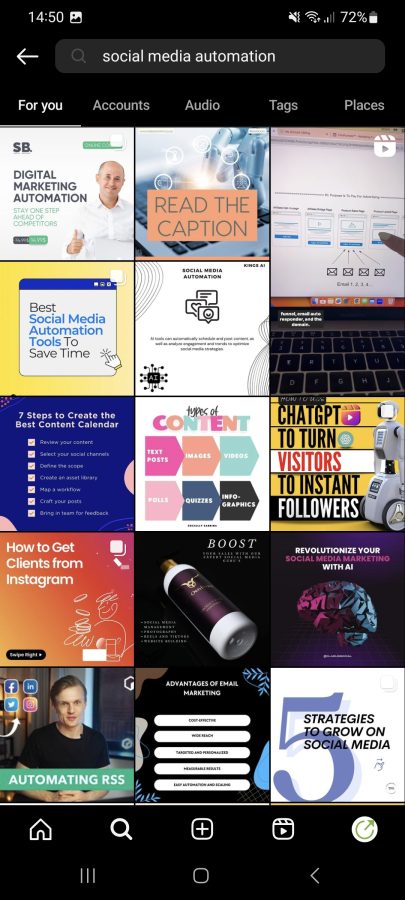 If it is mostly made up of reels, focus your Instagram strategy on reels (with occasional image or carousel posts if need be). If it's carousels, focus on crafting compelling carousels. Either way, don't forget to adapt your content for each post type specifically to ensure it's exactly what your audience is looking for.
Take a closer look at the posts in your "For You" tab as well. What hooks work for your niche? How are the captions structured; how long are they? If there are videos in there, how long are they? Check all this information and take it into account when you create your own content. This will help you understand your niche and your audience better. It helps you to tailor your posts for maximum exposure on Instagram.
As with reels, check if there are current trends or popular memes. Then use them for your own posts as these will give your visibility and reach another push.
How and When to Post to Instagram
There are varying opinions about how often you should post on Instagram. For ideal growth on Instagram, however, you should post at least four times a week.
Still, you should always consider quality before quantity. If you don't have the resources to post four (or more) times per week, decide how often you can and want to put out new content. Then focus on creating top notch posts. The key is to post consistently.
Tip:
You've had a busy week and didn't manage to create new content for Instagram (or any of your other social media channels)? Use social media automation to your advantage! Recycle your existing content by
quickly and easily resharing it
. That way you can keep amazing older content alive and give it a new boost. At the same time, you're keeping your social media feeds consistently fed without having to produce new content for every new post. And the cherry on top: you're saving yourself lots of time that you can invest in creating engaging new content.
Consistency in posting not only keeps you visible to your audience. It can also lead to a delayed boost in reach. Once the Instagram algorithm has ranked you, your older posts will show up on users' explore feeds. This gains you even more visibility.
Tip: It's easier to keep a consistent schedule when you have an overview of your social media activity. Blog2Social's social media calendar helps you keep track of that.
Best Time to Post
It is important that you always publish new posts when your audience is the most active on Instagram. Your account insights are a great way to find out when the best time to post is.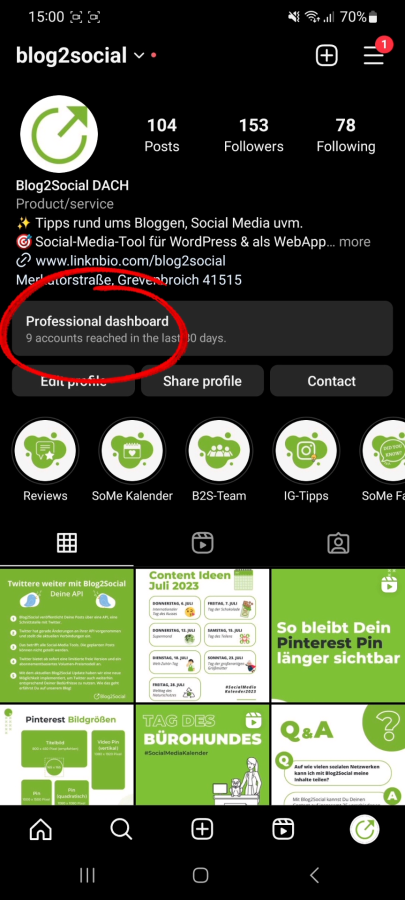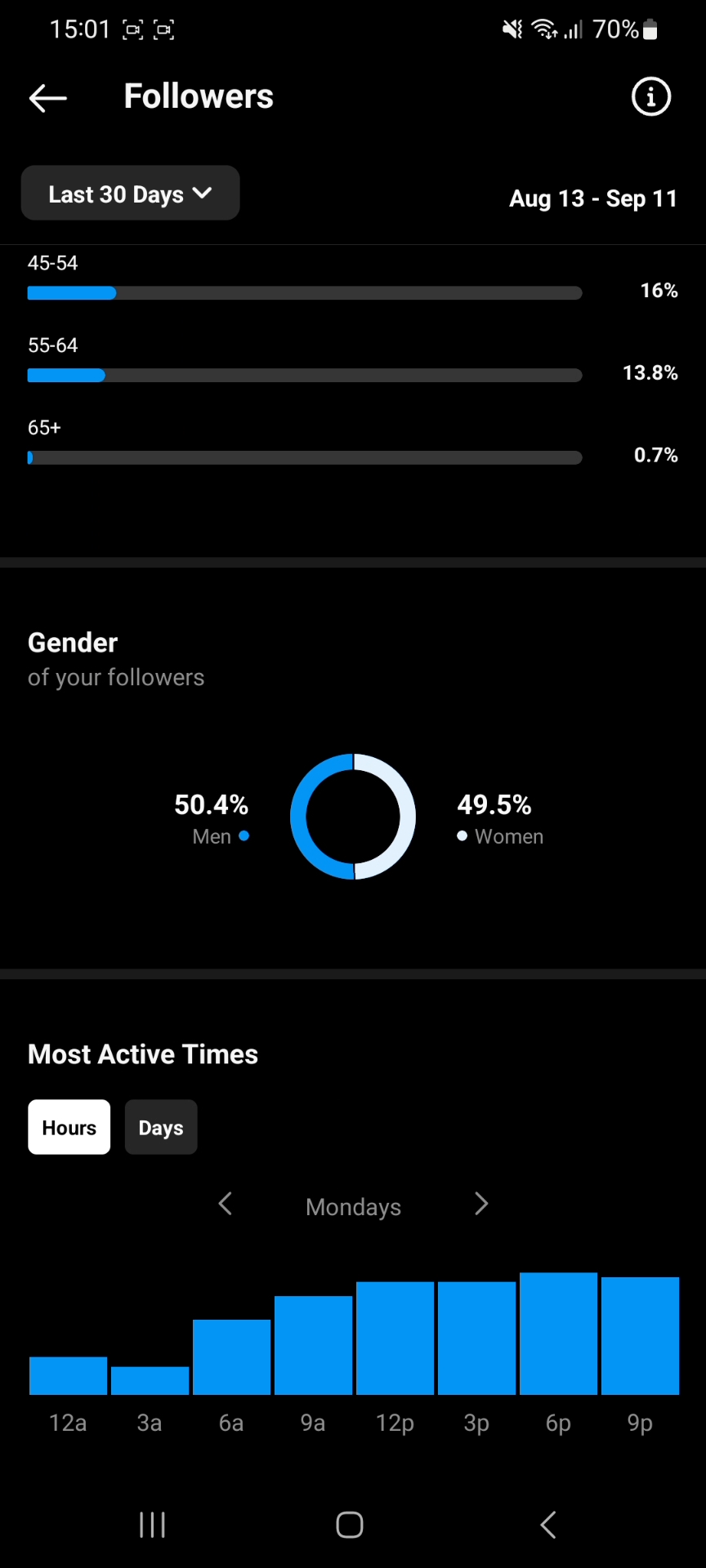 Scroll to the bottom of your total follower count to access the most active time of your followers.
Josh Ryan recommends posting your content 30-60 minutes before your audience is the most active. This helps push early engagement. Early engagement is an important signal the Instagram algorithm considers when ranking your post.
Tip: With Blog2Social you can schedule your posts for the right time with the Best Time Manager.

Building Relationships
As mentioned, Instagram wants to foster connection and community. That's why the main factor in ranking is engagement. But it's not only the relationship to your followers and your audience that's important. Nor is it only them engaging with you.
You should also work on building relationships with accounts from your niche. Interact with their content. Comment on a particular juicy bit of info they shared. Drop a like on one of their updates. DM them if you have an idea for a collaboration or even save one of their posts that can be helpful to you later.
Don't forget to engage with people who have interacted with you either. Answer comments and respond to DMs. It shows your audience that you pay attention to them. Make them feel seen and they will keep coming back to you. Build trust.
Another important aspect is who you follow. Make sure that you exclusively follow accounts from your own niche. Build relationships with them. This is another way that can help you widen your reach. Because if a user follows an account you're "friends" with, your account will pop up as a recommendation for who else to follow.
Notes and Broadcast Channels
Instagram has introduced two new features within the last few months. They are Notes and Broadcast Channels. Both of these are designed to get in touch with people, though in very different ways.
Notes
Notes are a sort of static status update on Instagram. They appear at the top of your inbox in little bubbles above the account's profile picture. Like stories, they remain there for 24 hours. But notes are only visible to followers who you follow as well, or people on your "Close Friends" list. So keep that in mind when you create a note as your audience is limited here.
Notes are an easy and casual way to share your thoughts and start a conversation with your mutuals. Your followers can reply to your note directly by clicking on it. That way you can dive into a discussion straight away.
Keep your notes concise and to the point – you only have 60 characters for it.
Broadcast Channels
Instagram has rolled out Broadcast channels worldwide in June 2023. They are a one-to-many public messaging tool. Like notes, broadcast channels appear in your inbox along with other message threads.
To see the channel's content, your followers have to follow it first. Here's how they can join:
One-time notification. Your followers get a one-time notification when you first create a channel. They can choose to follow it right then.
Story sticker. You can create a sticker in your stories that, by clicking on it, allows the viewer to join your channel from there.
Pinned link in your profile. You can pin a link to your channel in your profile, so people can see you have one (or several), and join it.
Anyone can find your broadcast channel; however, only followers can join it. Creating a channel is another way that can help you gain followers. Once a follower has joined your broadcast channel, they will receive a notification whenever you post an update.
As a creator or a brand, you can share news and updates, or create polls in the channel. Followers cannot reply or post themselves, but they can react to your messages and vote in your polls. Despite the limited interaction, broadcast channels are a great way to keep your audience updated about exciting new things in your pipeline.
You may consider reserving your broadcast channel for exclusive content as only your followers have access to it. You can also give your new posts a boost by notifying your channel followers about them.
Wrapping Up
Instagram is an ever evolving social media network that offers your brand a huge opportunity for growth. As a marketer you need to be aware of the ins-and-outs of the platform, newest developments and exciting new features. But especially how to use them to your advantage.
With Instagram's shift to engagement, discovery, connection and creativity, it's more important than ever to focus on creating engaging content. Engagement is key. It gets you out in front of more people, it grows your reach, and thus helps you to keep building your brand or business.
This means that now more than ever you need to know what is relevant to your audience. Create content that draws their engagement to stand out in the sea of other brands.
Blog2Social can help you maintain not only your Instagram activity but your presence on all your social media accounts. Manage your images and videos, captions and hashtags, and automate your posting schedule from one single place – your Blog2Social dashboard. Simplify your social media workflow with smart social media automation. Save yourself a bunch of time, reach more people and gain more visibility. Use the time you save for building your community. Use it to engage with your audience. Or simply create captivating new content that will leave your followers clamoring for more.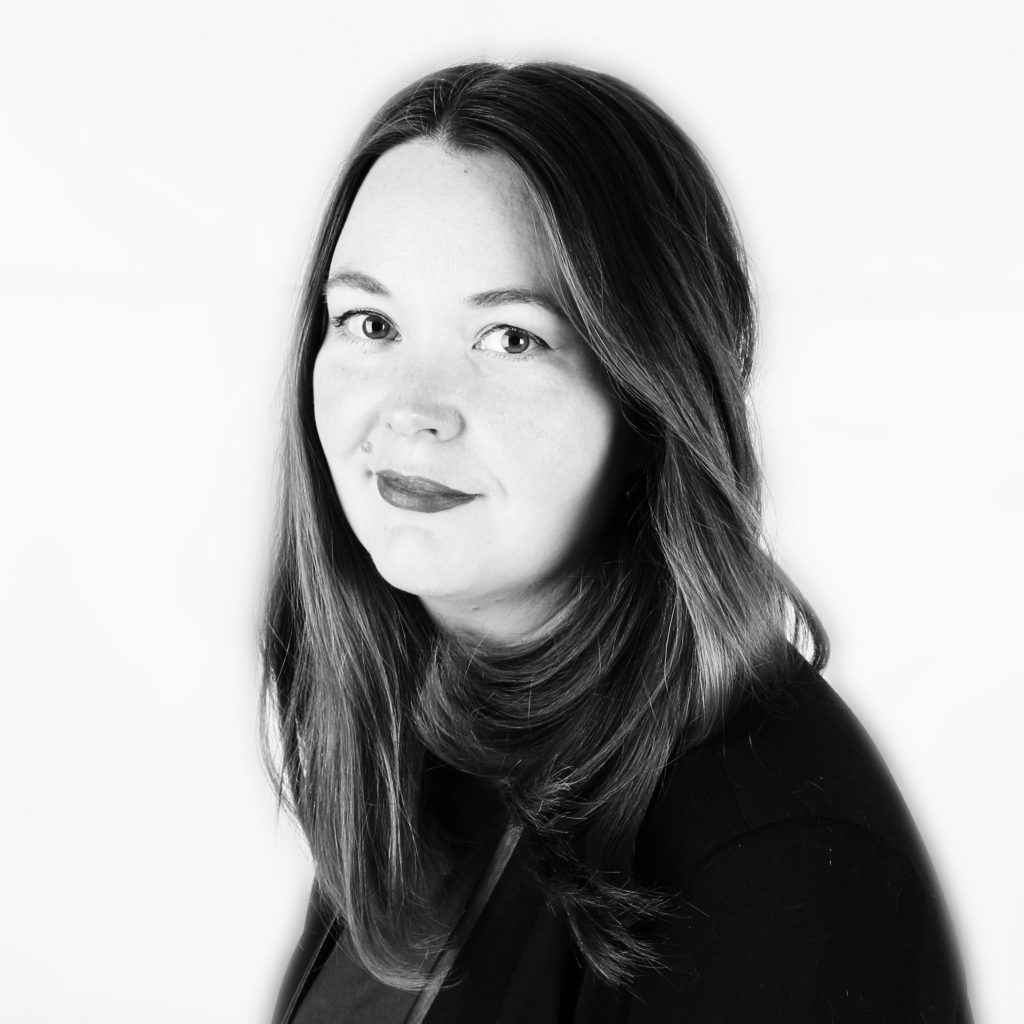 Anastasija Zado received an M.A. in English literature and then trained in content marketing management. She now uses her skill and knowledge from both courses as an online marketing manager working for ADENION GmbH, a company that specializes in online marketing and social media automation.