Video content is all the rage and a highly effective way to gain organic reach on social media. According to Cisco's 2022 report, 82 % of global internet traffic generated from either video streaming or video downloads. Whether it's for personal use, brand promotion, or advertising, video content is a powerful tool for engaging with audiences and driving engagement. With the availability of user-friendly video creation tools on various platforms, you can easily create videos on the go without requiring expensive equipment. Social media users value authenticity and vulnerability highly, so have fun and create content without getting too caught up in the technicalities.
With so many different social media platforms available, each with their own unique video specifications, it can be challenging to create content that looks great on every platform. In this blog post, we will take an in-depth look at the video sizes for the most popular social media platforms, including YouTube, Vimeo, Instagram, TikTok, Twitter, Facebook, Pinterest, and more. By understanding these video sizes, you'll be able to optimize your video content for each platform and ensure that your content looks its best and performs well, no matter where it's shared.
First things first
Social media has various video formats that you may come across, and it is essential to know which formats work best for each platform to ensure your content performs well.
To ensure that your videos are effective, there are a few important things to keep in mind before you start recording:
When producing your video, choose a frame that works well in both landscape and portrait modes. This allows you to share your video on multiple social media platforms.
Turn longer YouTube videos into 15-second snippets to provide a sneak peek on different platforms.
Engage viewers in the first few seconds to keep their attention. This can be achieved through humor or by providing informative content that adds value to the user.
Include a call to action to encourage engagement with your video.
Use a tripod to ensure steady footage.
By following these simple tips, you can make the most out of your videos and increase engagement with your audience.
Why you should use the right video sizes for each platform
Using the appropriate video sizes for each social media platform is essential for several reasons. Firstly, each platform has its own unique specifications for video formats, including aspect ratio, video size, and resolution. Failing to adhere to these specifications can result in poorly optimized videos that do not display correctly on the platform, leading to a reduction in engagement and viewership.
Secondly, using the correct video sizes ensures that your content will be displayed in the best quality possible, which can increase the chances of users sharing, liking, and commenting. When videos are displayed correctly, they are more visually appealing and can grab the attention of viewers more effectively.
Lastly, using the right video sizescan help to increase your organic reach on social media. Platforms like Facebook and Instagram, for instance, prioritize videos that are optimized for their platform, which can result in your content being displayed to a larger audience. By adhering to each platform's video format guidelines, you can ensure that your videos are displayed correctly and reach the maximum number of users possible.
Get the Cheat Sheet: Social Media Video Sizes!
Download the cheat sheet with all the social media video sizes for the major social media platforms.
YouTube Video Sizes
YouTube is the world's largest video-sharing platform, allowing users to upload, share, and view videos on a variety of topics. With over 2.6 billion monthly active users, YouTube has become an indispensable tool for creators, businesses, and viewers alike. From educational content to music videos and vlogs, YouTube offers a vast range of video content that can be accessed by anyone with an internet connection. In this day and age, YouTube has become a cultural phenomenon and an essential part of our daily lives.
It's a good idea to make your content:
Clear, consistent, and representative so that people who find your channel will instantly understand what your videos are all about.
As simple as possible. Think of logos or the branding of products you like—they're likely a singular image or style that sticks in your brain.
Something you're proud of. Remember—your content will become an extension of you, especially if you star in your channel.
https://support.google.com/youtube/troubleshooter/2888402?hl=de&ref_topic=9257782
YouTube Video Guidelines
File type: MOV, MPEG4, MP4, AVI, WMV, MPEGPS, FLV, 3GPP, and WebM
Resolution: 3840 x 2160 (max)
Aspect ratio: 1:1, 2:3 or 9:16
Video length: 12 hours (max)
File size: 128 GB (max) or 12 hours
YouTube Shorts
YouTube automatically creates a short from your content when you post videos in a 9:16 asprect ratio shorter than 60 seconds.
Things to keep in mind
You don't need any special equipment to get started! You can record, edit, and upload all from your phone.
After you get your first upload out of the way, try sticking to a posting schedule you can maintain. Remember, consistency is key!
Short videos are fun, and Shorts make it easy for anyone to get started immediately.
File type: MP4 and MOV.
Resolution: min. 720 pixels and max 1080 pixels.
Aspect ratio: 9:16
Video length: up to 60 seconds
Vimeo Video Sizes
Vimeo is a video-sharing platform that was founded in 2004, a year before YouTube. However, Vimeo has distinguished itself by focusing on high-quality, professional-grade videos that are often used by filmmakers, artists, and other creative professionals. Vimeo offers a range of tools and features that allow users to upload, share, and collaborate on videos with ease. With a community of over 260 million active monthly creators and viewers, Vimeo has become a popular choice for those who value quality and creativity in video content.
Vimeo Video Guidelines
File type: MP4, MOV, WMV, AVI, and FLV
Resolution: 1280 x 720 px up to 8k
Aspect ratio: 16:9
Video length: 24 hours (max)
File size: 500MB per week with the basic free membership, with a total of 5GB storage
TikTok Video Sizes
TikTok is a social media app that has taken the world by storm since its launch in 2016. With over one billion active users, the platform has become a hub for short-form videos that are often humorous, creative, and entertaining. The app allows users to create and share videos ranging from lip-syncs, dance videos, comedy skits, and more, all set to a background of popular songs and sounds. What sets TikTok apart from other social media platforms is its algorithm that suggests personalized content to users, making it easy to discover new creators and trends. TikTok has revolutionized the way people consume videos and is by far the number one platform that generates the most engagement with users.
TikTok Video Guidelines
File type: MP4 or MOV recommended
Resolution: 1080×1920 pixels
Aspect ratio: 9:16 (1:1 with pillarboxing)
Video length: 15 seconds recorded in-app, 60 seconds in-app (4 sections of 15 seconds), or over 60 seconds when uploaded from another source
File size: max. 287.6MB
Instagram Video Sizes
Instagram is one of the most popular social media platforms that was launched in 2010, initially as a photo-sharing app. Since then, it has grown to over 1.2 billion active users, making it one of the largest social networks in the world. Instagram allows users to share photos and videos, and has become a hub for creative expression and visual storytelling. With features such as Instagram Stories, and Reels, users can share their content in a variety of formats and engage with their followers in new and exciting ways.
Instagram Video Guidelines
File type:MP4 and MOV
Resolution: 720-1080 pixels
Aspect ratio: 16:9, 1:1, 4:5
Video length: 15 to 60 seconds
File size: 4GB
Instagram Reel Guidelines
File type:MP4 or MOV
Resolution: 1920 px
Aspect ratio: 9:16
Video length: 3 seconds – 15 minutes
File size: 650 MB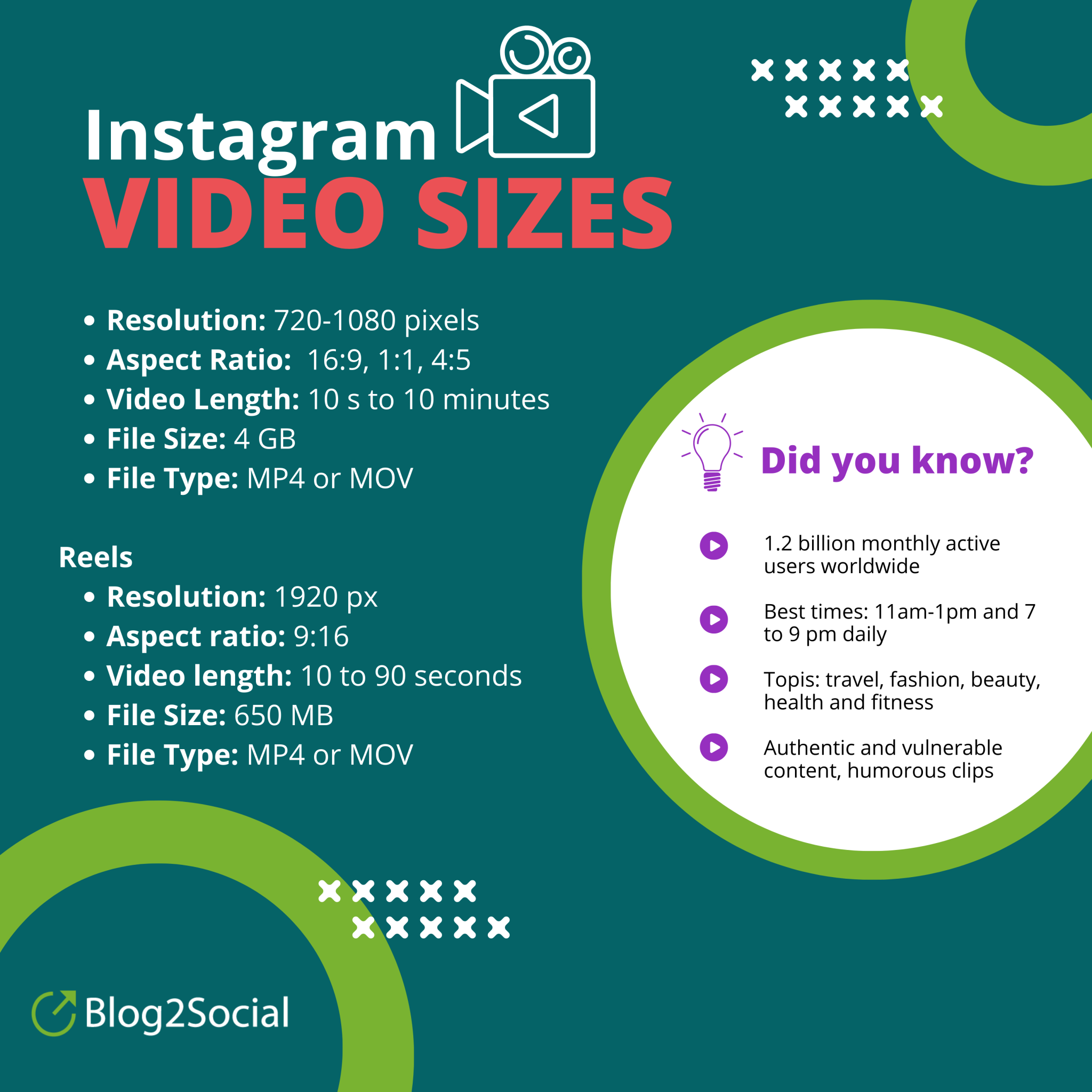 Pinterest Video Sizes
Pinterest is a social media platform that has gained popularity as a visual search engine, allowing users to discover and save ideas for everything from fashion and home decor to recipes and travel. Launched in 2010, Pinterest now has over 433 million active users worldwide, making it a valuable platform for businesses looking to reach new audiences. With features such as Pins, Boards, and Story Pins, users can create, organize, and share content in a visually appealing way.
Video Pin Guidelines
File type: MP4, M4V, MOV
Resolution: min 240 pixels max 2160 pixels
Aspect ratio: 1:1, 2:3 or 9:16
Video length: 15-30 seconds
File size: 2 GB (max)
Story Pin Guidelines
File type: MP4, M4V, MOV
Aspect ratio: 9:16
Video length: 15- 60 seconds
File size: 16mb Android and iOS, 100mb Web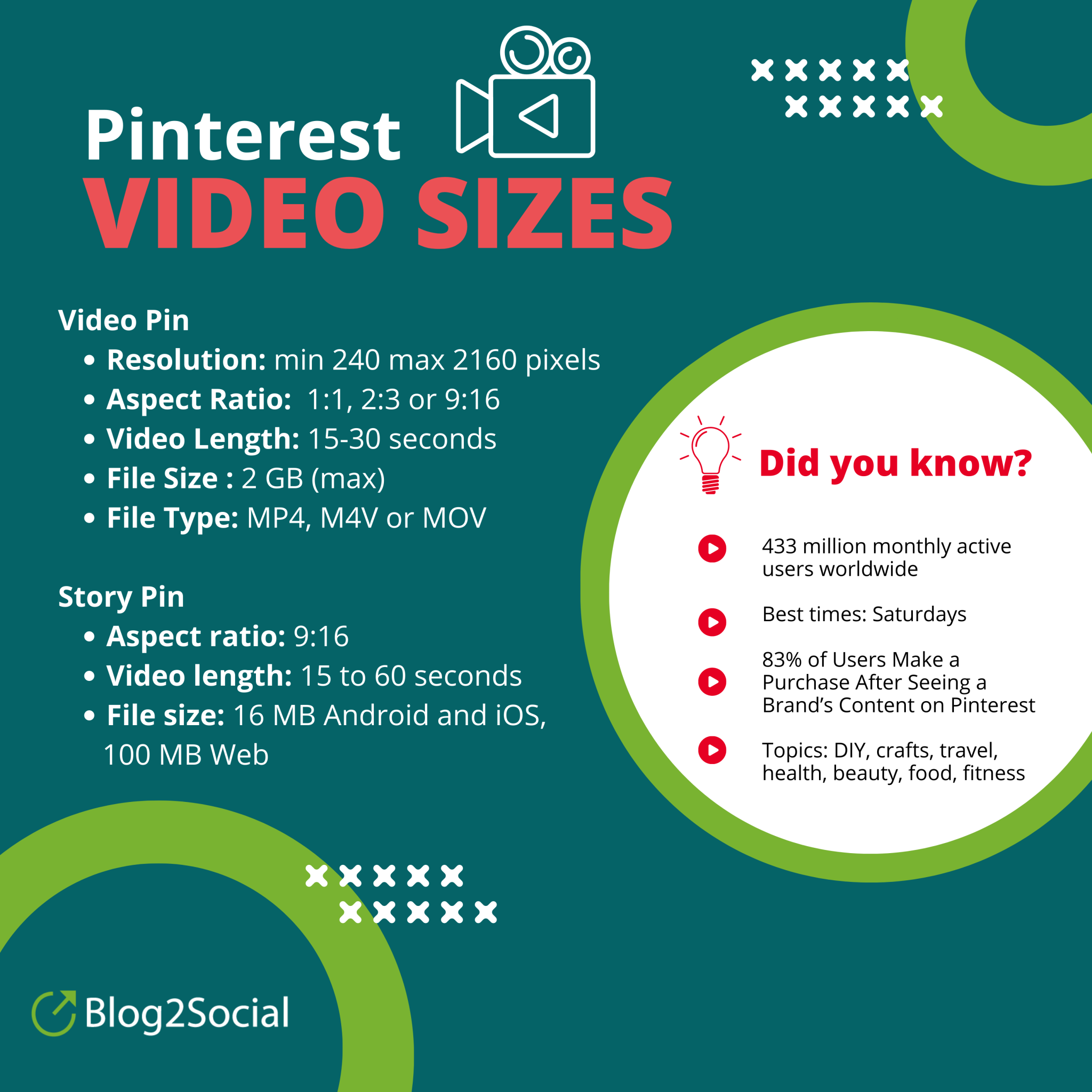 Facebook Video Sizes
Facebook is a social media platform founded in 2004. It quickly grew to become the largest social network in the world with over 2.9 billion monthly active users. Users can create profiles, share content, connect with friends and family, and join or create groups to share common interests. Facebook has evolved over the years to include features such as live video, 360° videos, marketplace, and advertising options for businesses. It continues to be a powerful tool for connecting people and businesses worldwide.
Facebook Video Guidelines
File type: MP4 or MOV
Resolution: 1280 x 720
Aspect ratio: 16:9 to 9:16
Video length: max 240 minutes
File size: max 4.0 GB
Facebook 360° Video Guidelines
File Type: MP4 container
Video dimension for Monoscopic videos: 5120 x 2560 maximum, aspect ratio 2:1
Video dimension for Stereoscopic videos: 5120 x 5120 maximum, aspect ratio 1:1
Maximum Length: ½ hour
Maximum File Size: 10 GB
Video with 360 metadata embedded
Facebook Reels and Stories
File type: MP4 or MOV
Resolution: 540 x 960 (540p) minimum (1080×1920 or greater recommended)
Aspect ratio: 9:16
Video length: 4 seconds – 60 seconds (Stories 4 minutes)
File size: No file size limit
Twitter Video Sizes
Twitter is a social media platform that allows users to share and discover information and news in real-time. With over 330 million active users, Twitter is a popular platform for businesses, celebrities, and individuals to connect and engage with their audience. The platform's unique feature of limiting posts to 280 characters makes it a hub for concise and effective communication. From breaking news to personal opinions, Twitter offers a platform for anyone to join the conversation and stay up-to-date with the latest trends and topics.
Twitter Video Guidelines
File type: MP4 or MOV
Resolution: min 32 px max 4096 px
Aspect ratio: 16:9, 1:1, 9:16
Video length: 140 seconds
File size: 512 MB (mobile) 1 GB (web)
Publish and share your videos automatically with Blog2Social
Sharing your video content across multiple social media platforms can be a hassle, especially when you have to do it manually. With Blog2Social, however, you can easily automate the process and publish your videos across all your social media accounts straight from your WordPress media library. Whether you want to share your videos on YouTube, Vimeo, Instagram, Facebook, Twitter, Pinterest, or TikTok, Blog2Social has got you covered.
The integrated video feature seamlessly integrates into your social media scheduling and sharing workflow. All you have to do is upload or select a video from your WordPress media library, add a compelling title and description with relevant keywords, and publish it across your chosen social media accounts with just a few clicks. Streamline your workflow and simplify your content sharing process all in one place.
Blog2Social also imports your video title and description from the meta text in your media gallery and automatically adapts it to the format required by each platform. Plus, you can easily add or customize your title, description, and hashtags for each network individually to ensure your video content is optimized and ready to reach a wider audience.
Get your sneak peek!
Check out our quick tutorial on how to get started with the new video function. Find out how to connect your channels, upload your videos and send them out to your channels to go viral. Make sure to leave your feedback in the comment section and follow for more updates!
Start the free trial today!
Sign up for a free 30-day video trial and experience all the premium features of Blog2Social (no automatic subscription). During your trial, you can upload up to 250 MB of video content per day, with a total limit of 2.5 GB. When you reach the limit, simply choose a premium license and unlock the video add-on.
Wrap-up
Social media video content has become a crucial aspect of digital marketing and personal branding. Understanding the video sizes for each social media platform is essential to create content that looks its best and performs well on each platform. By optimizing your videos for each platform, you can increase your organic reach, drive engagement, and ultimately achieve your marketing goals. Remember to keep in mind the aspect ratios, resolutions, and video sizes for each platform, as well as the recommended video length and content type. With this knowledge, you can create high-quality video content that resonates with your audience and helps you stand out on social media.
Get the Cheat Sheet: Social Media Video Sizes!
Download the cheat sheet with all the social media video sizes for the major social media platforms.
Sabrina successfully completed her Bachelor's degree in German and Anglophone studies as well as her Master's degree in Communications and American Studies at the University of Duisburg-Essen. She is now responsible for Online-PR, Marketing and Social Media Management at ADENION GmbH.