The best WordPress themes add uniqueness, style and usability to your website with colors, fonts, individual formats and more.
WordPress itself makes it easy to set up your website and manage your content, but when it comes to front-end design, you might want more than the default look. This is where themes come in. They allow you to set-up intricate navigation menus and headings, membership forms for community websites or online shops without the need to have any expertise in coding yourself.
Are you wondering which theme could be the best for your website? Then you've come to the right place!
Do I need a theme for WordPress?
Technically, no. For example, if you use WordPress as a test environment or to learn how to code. If you are already proficient at coding, you might want a completely custom design for your website. However, I would nonetheless recommend basing your website on a template to save yourself unnecessary work.
Overall, most website admins, developers, agencies and bloggers use a WordPress theme as an easy way to start a website design.
With a theme you can even change the look of your website quite easily. You are not stuck with it once you've chosen a WordPress theme: Themes don't change the underlying structure of your website content – they only change the look and feel of your site.
For example, if you've already published several blog posts, changing your WordPress theme won't remove or edit any of the content in those blog posts. It will only change the appearance of that content.
One way or another: Using a responsive WordPress theme is a great idea for beginners, intermediates and even for WordPress pros.
What makes a great WordPress theme?
There are thousands of themes on WordPress. It's really hard to decide on the best one for your website, but here are some things to keep in mind when you are on the lookout.
Look either for a multi-purpose theme with a general, versatile design or a theme with a niche design that is tailored to your business or topic. Make sure to choose a modern design: Take a look at your favorite websites for inspiration.
Elements that make a good WordPress theme
Fast loading times, so your website runs smoothly and doesn't take long to render
Lightweight and clean code that doesn't conflict with plugins
High quality, fast responding support and helpful FAQs
A responsive layout that works on multiple devices, including phones and tablets
Content, like images and menu design, that fit your style
Options to work with either the built-in WordPress block editor Gutenberg or one of the many reputable page builders
Options to add your own branding and design elements such as typography and colors
Free vs. Premium Themes
WordPress is an open source CMS. That means WordPress and many of its add-ons, like themes and plugins, are free to use and customize. However, there are so-called premium themes which do cost money. Is it worth spending some of your budget on a premium theme?
Free WordPress Themes
Pros:
It's free – You will have to spend absolutely none of your budget on a free WordPress theme.
High quality – The free themes you will find on wordpress.org are bound by and committed to a high quality standard by WordPress. Every theme you can find there has gone through a strict theme review process.
Trial and error – Of course, it is much easier to try out free WordPress themes until you find one that you like. However, most premium themes offer a basic free version or a free trial to try and see if it matches your expectation.
Cons:
Limited support options – Some of the developers offer support through WordPress forums for free themes, but they are not obliged to help you out.
Not very unique – If you use a popular free theme, your website will probably look like many other websites out there. Also, there are usually limited options to customize the visual appearance of a free theme.
No warranty – Free themes are distributed without obligations, so if it doesn't work as expected, you're on your own.
Premium WordPress Plugins
Pros:
High flexibility – Premium themes almost always come with more features and customization options: Shortcodes, images, buttons or even complete page builders for custom design creation.
Ongoing support and updates – A great advantage: the ongoing support provided by the developers and the communities that comes with a premium theme.
Showstopping design – In general, premium themes tend to have a higher design quality. Even though free themes are held to high standards, the standards for premium themes are much higher.
Plugins & extras – Many premium themes come with a bundle of plugins. This way, they make it much easier to handle your design and even add options such as SEO, marketing and more with just one purchase.
Cons:
The cost – Of course, premium themes are not free. They can be quite expensive, actually. Especially for beginners it might be hard to assess if a theme is worth its price. However, look out for free trials that will help you with your decision.
High complexity – Some premium themes are quite complex, if they were not specifically made for beginners. This gives you more customization options, but it will require a little more expertise in coding.
Switching – If you set-up your website using an intricate theme, switching themes and creating a new cohesive layout might be more complicated. Also, when switching premium themes, there is also the added cost.
Find the best WordPress theme for your website
There are thousands of WordPress themes out there, for every business, topic, and style preference. But for now, we've gathered some of our favorites for you. All of the themes have been tested and rated by users around the world. They are all available in the WordPress theme database, which makes them easy to install. They have all been reviewed and approved by the WordPress team. All of these themes offer a basic version for free, with more options at affordable prices in the premium versions that you might find worth looking at.
We've selected multi-purpose and very customizable themes that are well supported and have already been proven by thousands of active installations. While being popular, the themes will still give you plenty of options to make your website look unique. Take a look and find the best WordPress theme for you!
Make sure to give us your feedback on these themes in the comments. Do you use one of these themes and want to share your experience? Do you have another favorite theme that we should feature in this list? We'd love to hear from you!
| | | | |
| --- | --- | --- | --- |
| Developer | Price | Active Installations | Rating |
| Brainstorm Force | $ 49.00+ | 1.000.000 + | 5/5 (5.054 ratings) |
Astra is suitable for blogs, personal portfolios, business websites and WooCommerce storefronts. It is very lightweight (less than 50KB on frontend) which means it offers unparalleled speed. Built with SEO in mind, search engines will love your site. It offers special features for designing your own headers, footers and much more. Through templates it is fully customizable even if you have no experience with coding. Astra works perfectly with all page builders like Elementor, Beaver Builder, Visual Composer and more. Astra is regularly updated and the Brainstorm Force Team offers support to the users. It is compatible with WooCommerce, responsive & translation ready, also for all languages that are read right to left.
| | | | |
| --- | --- | --- | --- |
| Developer | Price | Active Installations | Rating |
| Theme Isle | $ 59.00+ | 300.000+ | 5/5 (876 ratings) |
Neve is a super fast, easily customizable, multi-purpose theme. It's very popular, because you can do so many different things with it. The theme's perfect for blogs, small businesses, startups, agencies, e-commerce shops (compatible with WooCommerce) as well as personal portfolio sites and most types of projects. A fully AMP optimized (for mobile) and responsive theme, Neve will load in mere seconds and adapt perfectly on any viewing device. While it is lightweight and has a minimalist design, the theme is highly extendable, it has a highly SEO optimized code, laying the groundwork for resulting in top rankings in Google search results. Neve works perfectly with Gutenberg and the most popular page builders (Elementor, Brizy, Beaver Builder, Visual Composer, SiteOrigin, Divi). Neve is also WooCommerce ready, responsive & translation ready.
| | | | |
| --- | --- | --- | --- |
| Developer | Price | Active Installations | Rating |
| wbcomdesigns | $ 59.00+ | 4.000+ | 5/5 (12 ratings) |
BuddyX is an ideal theme for community and membership website providing a solution to all kinds of communities. Thanks to it's BuddyPress support, your website can now have member profiles, send a private message, create groups and so much more. It is a lightweight, fully responsive, seo-optimised, RTL & translation ready theme. BuddyX provides support for WooCommerce and many other plugins.
It is highly customizable and works perfectly with page builders such as Elementor and Gutenberg. BuddyX is perfect for creating social learning, marketplace and blogging websites using BuddyPress integration. BuddyX is built using the latest best practices for progressive web content and optimization. It is well tested with the latest BuddyPress version and popular BuddyPress addons. It is developed, maintained, and supported by Wbcom Designs.
| | | | |
| --- | --- | --- | --- |
| Developer | Price | Active Installations | Rating |
| Theme Ansar | $ 59.00+ | 20.000+ | 4,5/5 (100 ratings) |
NewsUp is a fast, clean, modern-looking responsive WordPress theme. It's great for any newsfeed or magazine style website. The theme is fully widgetized, so users can manage the content easily by using widgets.
It is SEO friendly, WPML, Gutenberg, translation and RTL ready. There are many child themes based on NewsUp,for example NewsTalk, so you have many beautiful pre-made designs to choose from.
| | | | |
| --- | --- | --- | --- |
| Developer | Price | Active Installations | Rating |
| Pixelgrade | $ 70.00+ | 900 + | 5/5 (15 ratings) |
Rosa 2 is a freemium WordPress theme designed for Gutenberg, the block editor from WordPress. This makes it very beginner-friendly. The beautiful theme will allow any type of small business, from restaurants, coffee shops, bakeries, beauty salons, hotels, and more, to capture the attention of online visitors. With just a few clicks, you can add a gallery of images, a slideshow gallery to showcase your location's hot spots, and even a background video on each section of the page. The built-in Food Menu lets you quickly add menu items, highlight the important ones, and display special discounted prices for each item. This saves you a lot of time and makes this theme worth the money. The predefined color palettes from the Style Manager offer a fast way to customize your site's overall appearance and design. In case you get stuck, you can use the help section to look for the right FAQ or contact the support team directly.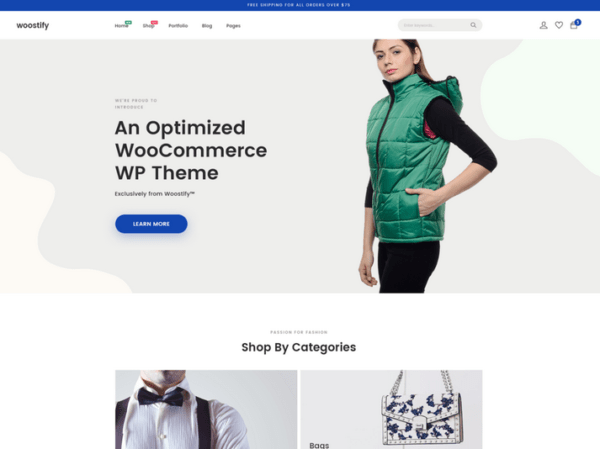 | | | | |
| --- | --- | --- | --- |
| Developer | Price | Active Installations | Rating |
| Dylan NGO | $ 49.00 | 10.000+ | 5/5 (67 ratings) |
Woostify is the theme for beginners who want to start their own online shop in an affordable and easy way. It is a fast, lightweight, responsive and super flexible WooCommerce theme built with SEO, speed, and usability in mind. They offer Add-Ons, so you only pay for the features you really want to use. The theme works great with any of your favorite page builders like Elementor, Beaver Builder, SiteOrigin, Thrive Architect, Divi, etc. Therefore, you can build many types of websites with it. They also have a 24/7 support ticket system, which will come in handy, if you have any questions or problems with the theme. Woostify is compatible with all well-coded plugins, including major ones like WooCommerce, OrbitFox, Yoast, BuddyPress and Blog2Social.
| | | | |
| --- | --- | --- | --- |
| Developer | Price | Active Installations | Rating |
| WP Zoom | $ 79.00+ | 30.000+ | 4,5/5 (54 ratings) |
Inspiro is a professional & lightweight photo and video-focused WordPress theme with a modern design. Of course, it is not only a great fit for photographers and filmmakers, but also for agencies, companies and bloggers who want to make their site more lively and engaging. Packed with features including a fullscreen area that supports Vimeo, YouTube & self-hosted video background, Page Builder integration, Inspiro is perfect for showing off your photography and video portfolio. Moreover, the theme is compatible with WooCommerce and popular Page Builders such as Elementor, Beaver Builder.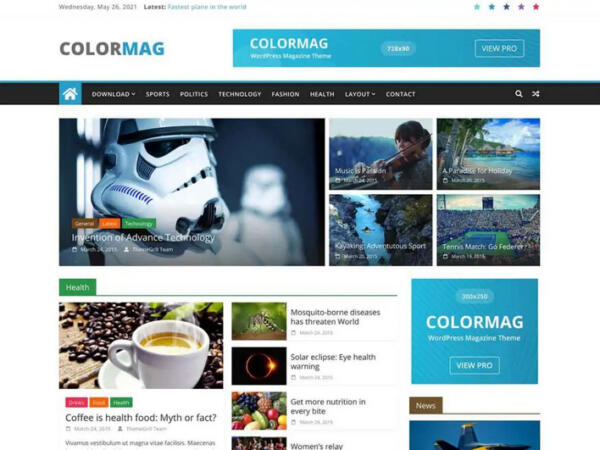 | | | | |
| --- | --- | --- | --- |
| Developer | Price | Active Installations | Rating |
| Theme Grill | $ 59.00+ | 100.000+ | 5/5 (1.366 ratings) |
ColorMag helps you to create your blog or magazine site with ease. Perfect for news, magazine, newspaper and any kind of publishing sites. Fully compatible with Elementor page builder plugin to create any layout imaginable.
It loads in under 1 second, is fully search engine optimized and has been tested with multiple speed testing tools. What is also great about this theme is the many customization options it comes with. You can choose out of many templates and customize the theme with just one click.
The theme is compatible with WooCommerce and many page builders, like Gutenberg, Elementor, Brizy and more.
| | | | |
| --- | --- | --- | --- |
| Developer | Price | Active Installations | Rating |
| Kadence | $ 45.00+ | 100.000+ | 5/5 (145 ratings) |
Kadence is a lightweight yet full featured WordPress theme for creating beautiful fast loading and accessible websites, easier than ever. It features an easy to use drag and drop header and footer builder to build any type of header in minutes. It features a full library of gorgeous starter templates that are easy to modify with our intelligent global font and color controls. With extensive integration with the most popular 3rd party plugins, you can quickly build impressive ecommerce websites, course websites, business websites, and more.
Next steps to your website success
Your website just got a successful style make-over, thanks to the amazing theme you picked out. What more is there to do but leaning back and watching the traffic and sales come in?
A lot, actually. A great-looking website alone will not give you traffic and sales. You need to give people the chance to find it in the depths of the internet. For example by improving your visibility in the search engines. This way, people will find your website e.g. by googling "Vegan Food Berlin" or "Dentist in Bristol". You could create backlinks so people come to your site from related sources or start a social media presence to showcase your services. To do that, of course, you need to create more content: Videos, graphics, blog posts, articles, studies, the list goes on.
Sounds overwhelming? The good thing is, you don't need to do it on your own. With WordPress, plugins are your best friend and will help you out with all kinds of daily tasks. For example SEO, visuals and even list building and social media marketing!
Download the list
In this list of essential plugins, you will find some real treasures for your website marketing. For example a free editorial calendar for your website or amazing social media buttons and forms. Essential plugins like Yoast, EWWW, Rainmaker, and Blog2Social help you out with SEO, fast loading visuals, email- and social media marketing.
Additionally, all recommended plugins and themes are highly compatible because all meet the high standards of the WordPress environment.
That way, you can have new website visitors from social media every day and show off the hard work you put into creating your dream website.
Learn more about creating your perfect online presence with WordPress
Christine has been a social media manager, online marketer and blogger for Blog2Social since 2019. She studied Marketing Management at IU International University in Cologne and graduated in 2023.