The ongoing coronavirus crisis is still forcing many businesses and organizations to work remotely. We have compiled a list of essential tools to help you streamline your daily work and communication fast and efficiently – from your home office.
The call for social distancing and self-isolation to prevent the spread of coronavirus and the fear of a second wave encourages businesses to keep their staff to home office wherever possible. Many businesses are still struggling with the additional challenge of organizing communication from whipped up home offices and with remote working teams and clients.
Reorganizing the work environment and setting up new collaboration structures with remote working teams is an additional challenge for businesses when the dynamic of the crisis requires a fast and efficient response and ongoing updates of information as developments unfold.
To respond quickly and consistently, you need marketing and social media strategies for your crisis communication. And you will need smart tools to help you to reach out to your audiences fast and efficiently.
The coronavirus crisis does not stop regular marketing tasks such as:
planning and organizing content
creating content
proofreading, optimizing and approval of content
creating visuals
scheduling and publishing content
promoting content: sharing, seeding, and re-sharing
capturing and converting leads
analyzing performance and results
and many more things to do. A crisis only requires to fulfill these tasks with even more speed and efficiency.
Essential tools to manage your communication throughout the COVID-19 pandemic from your home office
Like many other teams, we are now working remotely from our home offices. To streamline our team communication and collaboration, we use digital tools for online meetings and cloud services to make sure everyone has access to all processes, media, and documents needed.
We have compiled a list of tools that help us to manage our marketing communication during and beyond the coronavirus crisis. We are sure they will help you as well. Please feel free to add any of your favorite tools and recommendations in the comment section.
1. Organizing remote work from the home office
Who does what, when, and how? A remote work situation can make it hard for a business and a team to organize tasks, projects and access to documents and files or to share and collaborate on documents.
Basecamp helps to organize our teams and projects and to get more done in less time.
With Basecamp, you can set up a virtual workspace for your company with separate spaces for each team. You can break up your work into separate projects. Each project provides a place to collect everything related to the work, all the people involved, every discussion, every document, file, task, dates, and you can even forward emails.
Basecamp projects help you to keep everything organized and at hand where you expect them. This makes sure, everyone knows, what's happening and where to put and find stuff.
Basecamp allows you to integrate other productivity apps into your workflow. For example, we integrate our Google Drive / OneDrive documents or images from Canva for discussion, collaboration, and approval.
Basecamp syncs your projects across all of your devices and enables you to collaborate with your team from anywhere and from any device.
Where most project management tools sell a per-user fee, Basecamp offers a flat fee for unlimited users and projects. That's it. Check out Basecamp here.
Alternativ tools for project management: Asana, ClickUp, Confluence, Hive, MeisterTask, Microsoft Office 365 (incl. Microsoft Teams) Podio, Taskworld, Trello, Twist
Tools for software developer teams: Assembla, Git Hub,
2. Chat tools for working with teams and clients from the home office
Slack is a messenger app that simplifies communication, giving everyone a shared workspace where conversations are organized. It's much faster and easier than email, especially for remote working teams or for working with clients. This chat tool is accessible from everywhere and every device.
Slack enables us to communicate in real-time, create group chats for specific needs, and share images, documents, or links.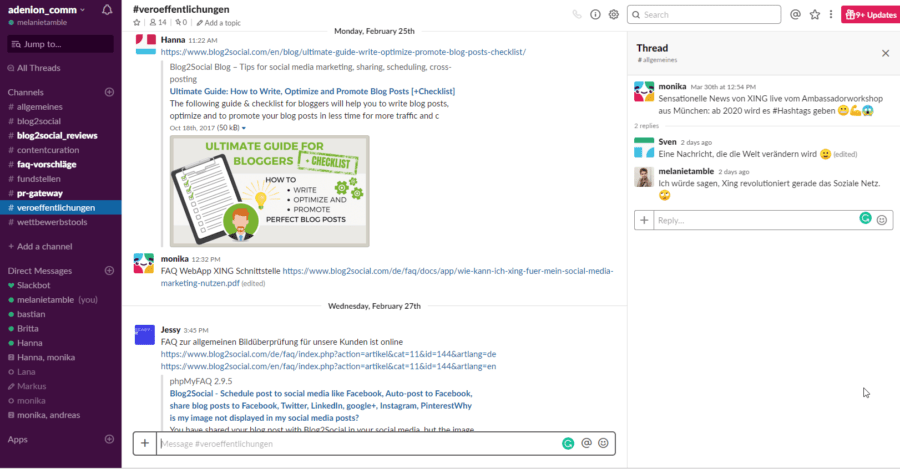 With Slack, we create separate channels for specific brands or topics and we share important information on current developments. We collect content for reading or content curation and we assign content for approval and for seeding. With Slack, we can assign channels to all team members or to selected members, or we can chat with specific team members via direct message.
Slack lets us integrate other productivity apps like Google Drive / OneDrive or Canva to streamline your workflow even more.
Alternative tools for team chat: Microsoft Teams, Hangout Chats (Google Suite), Flowdock, HeySpace, Rocket.Chat, Riot, Samepage, Wire, Zulipchat
3. Tools for video-calls and remote team meetings
For our daily stand-up meetings and individual meetings and discussions with colleagues and clients, we use Skype, Jitzi, and Zoom.
Zoom enables video-calls between 2 people or entire teams, on the desktop or smartphone. Even in the free version, up to 100 people can participate in a video call. However, the duration of a meeting with three or more participants is limited to 40 minutes. All video calls can also be recorded. Zoom can also be used for streaming interviews and converting them into videos quickly and easily.
Alternative tools for video-calls and meetings: Blizz (by Team Viewer) (bis 5 Personen), Skype (by Microsoft), Jitzi, Lifesize Go, Facetime, Google Hangout, Google Meet, PukkaTeam, Glip, Join.me, Webex, GoToMeeting
Tools for lifestreaming and broadcasting: YouTube, Facebook Life Broadcast, GotoWebinar
4. Tools for remote support and desktop-sharing
For supporting our team and clients, we usually use Jitsi. Jitsi is an open-source tool, that makes remote support and desktop sharing super easy. You don't need to register an account or download any software. You just set up a session and send a link with a PIN code and a password to your client. Alternatively, a client can dial in with a phone number.
However, Jitsi is even more than a mere desktop sharing tool. You can also easily organize online-meetings, video-calls, presentations, as well as remote conferences and webcasts. And you can record your meetings, presentations, and screencasts to turn them into videos. And the best thing is: Jitsi is absolutely free.
Tools for remote support and desktop-sharing: Teamviewer, Smartsheet, Anydesk
5. Tools for editing, document sharing and data storage
Drafting, collaborate editing, and approving documents and posts can become a tricky thing when teams are working remotely. Google Drive, OneDrive, or Evernote are excellent tools for drafting and collaborating on texts and documents.
Online-editing and collaboration for remote work from your home office
If you are looking for an alternative, try the web-based word processor Draft for drafting and collaborating on documents and presentations with a distraction-free interface.
Draft provides all the features you need for sharing and collaborating on documents, like version control, commenting, accepting, and declining changes made by others, as well as approving documents for publishing. But Draft can even do more. The tool provides many cool features for making you a better writer by simplifying your writing tasks.
To help you simplify your text for better readability, you can use the Simplify feature and the Hemingway Mode to get suggestions on writing more concisely.
You can even let Draft analyze any publicly accessible RSS/Atom feed to report trends in your writing. For example, if your audience prefers short or longer posts, simple or sophisticated writing, specific days or times for publishing.
Texts, images, or videos can be imported from many popular cloud services such as Dropbox, Evernote, Box, or Google Drive. You can publish your approved work directly to WordPress, Tumblr, Ghost, Svbtle, Blogger, Twitter, LinkedIn, Basecamp, and even Mailchimp from inside Draft. Check out Draft here.
Alternative Cloud-Service for collecting, organizing and collaboration on documents of all kind: One Drive (Microsoft) Google Drive, Dropbox, Box, Evernote
More tools for text optimization
Tools for checking readability, spelling and grammar mistakes: Grammarly, Hemingway App
Tools for converting documents into PDF: PDF24, PDF2Go, Smallpdf
Cloud-Service for transferring large volumes of data or big files: Wetransfer, Firefox Send, Terashare
6. Tools for creating images
The power of visuals for messages cannot be overstated. Using images in your COVID-19 communication can have a huge impact on the visibility and performance of your content.
As we don't have a professional designer on our team, we use Canva to help us with our visual tasks. The tool makes it easy to create images, infographics, and share pics for our blog and social media posts.
Canva offers a huge variety of templates, layouts, photos, and icons you can use to create professional-looking images and infographics. You can also upload any photo or graphic from stock photo collections or any other graphics to embed them in your Canva design.
Another tool we recommend is PosterMyWall to help you out with all kinds of visual design tasks. The online graphic design tool allows you to easily create your own menus, social media posts, schedules, posters and flyers.
Alternative tools for visuals: Visme, Piktochart, Venngage, Easel.ly
Libraries for stock photos: Pixabay, Prexels, Unsplash, Freepik.com
Online-tools for image compression: EWWW Image Optimizer, Compressor.io, Tinyjpg
7. Tools for creating videos and screencasts
Videos can also impact the power of your crisis communication, i.e. for interviews answering important questions or for explaining your safety measurements for your staff and clients.
Moovly is an easy-to-use tool to help us creating animated videos, how-to videos, and tutorials. Moovly provides graphics, objects, backgrounds, and sounds we can use to create appealing videos. Depending on the version you have purchased, you can use your content for personal and commercial purposes.
Alternative online-tools for screencasts and animated videos: PowToon, Prezi, Vyond, Lumen5
8. Tools for publishing and seeding your content from your home office
Besides your website, social media are the most important places for publishing your coronavirus updates. However, for regular updates and a consistent flow of information, managing multiple social accounts for sharing, scheduling, and re-sharing posts can become time-consuming work. And, in a crisis, speed and efficiency are your most valuable resources. Social media automation can help to make your job easier and reach more people in less time.
Smart social media automation
Blog2Social is a very powerful tool to automatically schedule, share and cross-post your content on all popular social media channels, directly from the WordPress dashboard: Twitter, Facebook (profiles, pages, groups), LinkedIn (profiles, pages), XING (profiles, pages, groups), Instagram, Pinterst, Imgur, Pinterest, Medium, Tumblr, torial, Diigo, Reddit, and VK.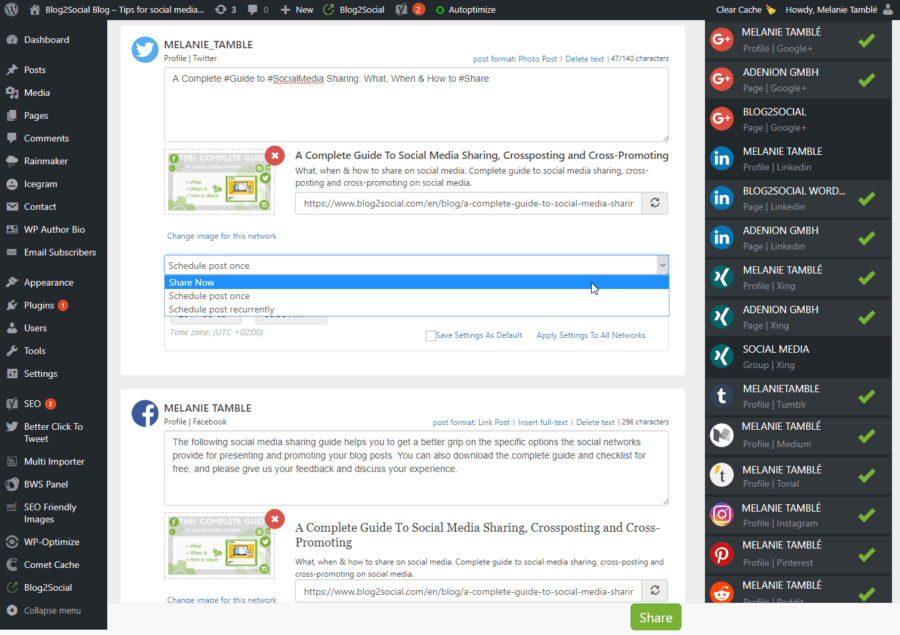 You can work with multiple authors or editors or you can assign social media accounts to other team members for post promotion and seeding.
The plugin automatically turns all post into an adapted format for each network and includes blog post tags as hashtags. You can auto-post per default or you can preview and customize your posts with personal comments, images or post formats.
The tool provides a "Best Time Manager" to-schedule your posts per default or to define your own settings for scheduling each post on each network. You can also re-post old post and pre-schedule your scheduled post for auto-posting.
A social media calendar helps to keep track of all scheduled posts and allows you to easily edit, change or re-schedule your posts per drag & drop.
Blog2Social is free to use it for sharing your posts on social media but you might also find it worth to try the premium version for the more elaborate features for customizing and scheduling.
Check out the Blog2Social social media automation plugin for WordPress websites and blogs here
Check out Blog2Social Web Apps for browser-based social media management.
9. Tools for crisis monitoring
Consistent monitoring of official news and updates from your government, leading industry associations, as well as public health organizations, enables your business to respond quickly to new developments concerning your business or your audiences.
Monitoring your communication channels in traditional and social media is important to analyze how your audience is reacting to the crisis as well as to your communication strategy.
Collect all important official information channels on a dashboard to stay alert for any breaking news, for example:

WHO daily bulletins on the status of the virus and instructions for dealing with the virus
COVID-19 myths for your strategies to respond to fake news and rumors
Travel advisories and safety information from national health authorities and ministries for foreign affairs
Official announcements from ministries for embargoes, civil unrests or disruptions of supply chain management as far as they affect your business

Listen to current discussions on your brand as well as on your customers' current concerns and needs to adjust your communication strategy as the situation develops.
Tools for monitoring social and traditional media: NewsRadar®, Cision
Dashboard tools to collect and monitor newsfeeds from all sources: Feedly, Inoreader
Keyword and hashtag research: Google Keyword Planner, Keywordtool.io, WordStream, Hashtagify, Top-Hashtags, Tagdef, Trendsmap
10. Tools to stay focussed and productive in your home office
Working in a home office has its downsides. Staying focused at work is, even more, a challenge, if frequent interruptions are breaking in on you, increasing our stress level and lowering our productivity.
In times of coronavirus crisis, many parents and families have tackle working and childcare in one place. Or, they have to share one workspace with a partner or spouse. The children are playing in the background, the dog is hauling, or the neighbors are just starting a new noisy garden project.
Noisli helps you to drown out distracting background noise with relaxing and calming sounds.
You can select from ready-made playlists or you can mix and save your own favorite sounds. The timer helps you work in sessions to maximize your efficiency.
Alternative tools for noice distraction: Brain.fm
Alternative tools for more focus and productivity for remote team work: RescueTime, Freedom, Hocus Focus, Brain Focus, Stay Focused, HelpMeFocus, TimeDoctor
Wrap up: 10 proven tools for working efficiently in your home office
There are thousands of tools and plugins that promise to help you organize and work working remotely, but not all tools work for you. We hope this list helps you to pick out some proven tools to make your daily work easier and more organized, even when working from your home office. And now it's up to you. Let us know which tools work for you?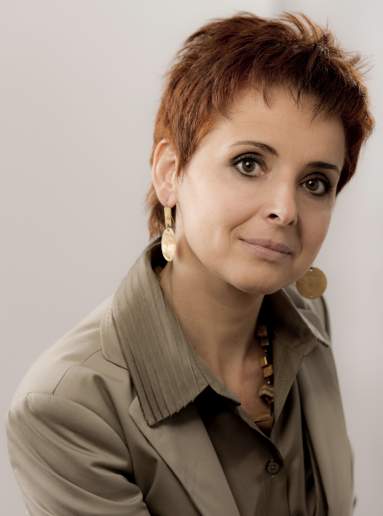 Melanie Tamblé is co-founder and co-CEO of Adenion GmbH. She is an experienced expert in content marketing and social media.
Adenion GmbH specializes in online services and tools for bloggers, businesses and agencies of any size to support their online marketing and content seeding tasks on the web.
Blog2Social as WordPress Plugin and WebApp enable fast and easy auto-posting, scheduling and cross-promotion of blog posts, articles, links, images, videos and documents across multiple social media sites.
Social media posts will be automatically turned into a customized format for each social platform and auto-scheduled for the best time. Social media post can be previewed and tailored with individual post formats, images or personal comments – all in one easy step.