The COVID-19 outbreak caught us all more or less off-guard. Crisis communication is now a critical lifeline for both, humans and organizations.
Editor's Note: This article is part of a series to help you navigate your marketing strategy during the current COVID-19 crisis. To explore a more strategic set up of your communication master plan, please take a look at:
Essential Tools for Crisis Communication (coming soon)
Tips and Tools for Working in HomeOffice (coming soon)
Whether you have an emergency plan for crisis communication in place or not, there are always essential steps you can take to respond to a crisis situation.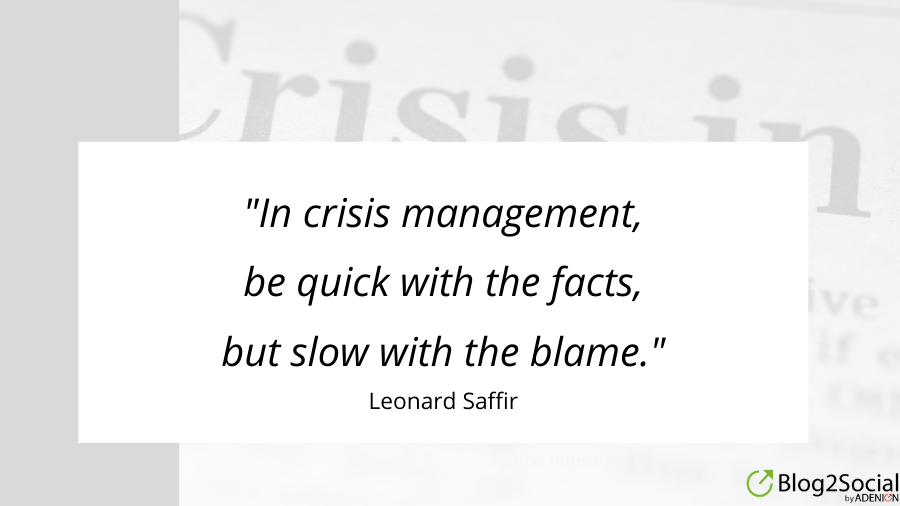 The economic and social shutdown in the wake of the Covid-19 outbreak will affect all businesses in different degrees.
Some businesses may find it easier than others to cope with the situation, or will even thrive.
Other companies may have to temporarily suspend their operations, which will produce financial hardship for the company and employees.
Some people and organizations will try to look for different business opportunities and need to respond with fast and efficient change management.
But most organizations will be faced with reorganizing the work environment by setting up digital collaboration structures, such as home office, video conferences, virtual meetings and events.
However your business is affected by the coronavirus crisis, providing transparent and ongoing crisis communication is the hallmark of a professional response to the crisis.
A crisis situation is not the time to hide facts or to blame someone or something else for the disaster. If you don't tell the truth and if your message is not deliberate and clear, you will risk an uncontrollable communication crisis on top.
6 pillars of crisis communication
A professional communication strategy in a crisis situation must be based on:
Honesty
Transparency
Reliability
Compassion
Consistency
Current updates
These pillars of crisis communication help you to stay in control of the situation. Regular updates of the current situation and ongoing adjustments will make sure you stay ahead with your line of communication as developments unfold.
Your first priority in a crisis situation should be to tie your team and your customers to the important lifeline of communication to create trust, confidence, and loyalty.
How to manage your internal communication in a crisis
A large percentage of your colleagues and staff will be faced with some kind of disruption to their daily routines or even their financial situation.
Rumors are spreading through the grapevine and via social media almost as fast as the virus itself. To prevent fake news, conspiracy theories, anxieties, and panic make sure everyone gets the information they need to stay calm.
In a crisis, most people are looking for orientation, facts, and someone to tell them:
What is happening and how does it affect them?
Which measurements will you take to cope with the current situation?
What can each and everyone do to stay safe and to contribute?
And, that there will be a day after the crisis and what will happen in the meantime.
However, humans react very differently in a crisis situation. Make sure your communication is compassionate and everyone knows where to turn to with personal issues and anxieties.
Remember that employees are also influencers and an important channel to colleagues and to the world. If you provide them with the right information and empower them to spread the right news, they can extend the reach of your information. Employees can also add credibility to the information and this will build trust and strengthen your overall reputation.
Streamline your internal and external communication to make sure your company speaks with one voice.
How to master external crisis communication
The first priority of your external communication is to build trust and confidence throughout the crisis to maintain customer loyalty.
Whether the business transaction with your customers is directly or indirectly affected by the crisis, they will want to hear from you about how you handle the situation and how the impact will affect them.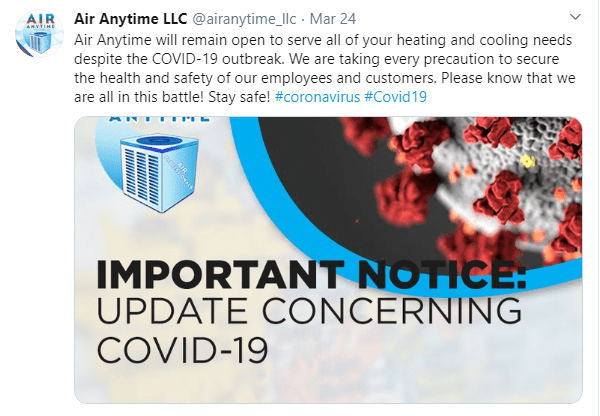 Facing the needs and concerns of your customers and assuring them that your organization does everything to cope with the situation is critical, for example, that you:
will ensure a consistent delivery of products and services they need and expect,
have changed your opening hours or,
moved your staff to home office but still provide service and contact via telephone and email,
keep on providing online-services or digital events,
have to suspend operations until further notice and provide alternatives,
keep customers informed about further developments.
However, be honest about any expected disruptions such as delays or changes in processing and timing to make sure your customers are informed at any time.
Update information in real-time
You will never find yourself in the situation to have all the answers in place. Don't wait. Sharing facts and current updates in real-time will help to keep contact, build trust and to stay ahead of the situation as developments unfold.
Use all traditional and online media and social media channels available to you for publishing, seeding and cross-sharing your information and messages.
Also consider new ways of communication, such as live broadcasting, podcasts, video-conferencing, push messaging and real-time alerts.
Use content marketing for crisis communication
Think about sharing other helpful information and advice on problems your customers may be affected with during the crisis, such as:
current information on the virus and how to prevent or fight it.
tips and experience from employees working at home.
tips for home training, healthy eating, and cooking, or how to cope with social isolation and quarantine.
remote collaboration with online-tools, live-streaming and video conferencing.
These types of information are a safe way to interact with your customers and business partners. They help to keep up the conversation with your audience when you have no current business updates to report.
Also, if your business is not directly affected by the crisis, this kind of information helps to create loyalty and trust in your community.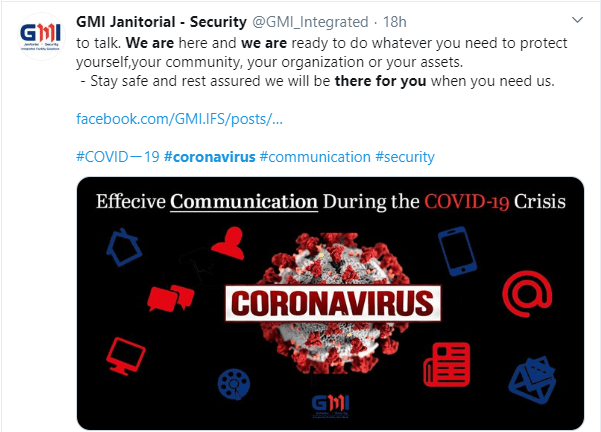 Communicate with empathy
Keep in mind, that all media outlets are covering current topics considering the virus. This is no time to release regular company news or salesy marketing messages. Even if your business is not directly affected by the impact or is coping well with the crisis make sure you announce valuable and emphatic messages. Providing and publishing valuable information and offers, that informs and helps your audiences cope with the current situation is the order of the day.
Look out for corporate social responsibility
If you have the time and resources, look for opportunities to demonstrate corporate social responsibility. If your company can contribute to supporting local communities or public welfare to cope with the crisis, take your chance to do the right thing and talk about it.
Monitor alerts and response
Consistent monitoring of official news and updates from your government, leading industry associations, as well as public health organizations, enables your organization to respond quickly to new developments affecting your business or your audiences.
Monitoring your communication channels in traditional and social media is important to analyze how your audience is reacting to the crisis as well as to your communication strategy.
Collect all important official information channels on a dashboard to stay alert for any breaking news, for example:

WHO daily bulletins on the status of the virus and instructions for dealing with the virus
COVID-19 myths for your strategies to respond to fake news and rumors
Travel advisories and safety information from national health authorities and ministries for foreign affairs
Official announcements from ministries for embargoes, civil unrests or disruptions of supply chain management as far as they affect your business

Listen to current discussions on your brand as well as on your customers' current concerns and needs to adjust your communication strategy as the situation develops.
How to set-up and roll out your communication masterplan
Review your audiences' needs for information. Who needs to be informed? What information is needed and who needs it first and what ist the purpose of your information?
Step 1: Roles and responsibilities
A crisis is not the time for unnecessary bureaucracy and regulations. Instead, focus on empowering your staff. A pragmatic approach, efficiency, and speed are now your most critical resources.
Mobilize all forces and empower your staff.
Assign roles and responsibilities for all tasks.
Tear down all communication barriers.
Merge internal and external communication.
Step 2: Collecting and compiling information
Make sure everyone gets and spreads the right information in time and that your company speaks with one voice:
Identify the most likely questions your customers, employees and stakeholders might have:

What is the most important information for each specific audience?

How is your audience affected by the crisis, economically as well as emotionally?

Provide answers and reassurance about the measures being taken and outline your expertise in crisis management.
Make sure your communication and customer service teams have all the information, statements and updates in place as the situation develops.
Prepare and provide links to more detailed information.
Keep all information updated in real-time.
Step 3: Channels and seeding
Review all the traditional and social media channels available to you and identify the best channels to reach out to your audiences, for example:

your website and blog
Google My Business and Google posts
press releases and ad hoc news
email und newsletters
push messages and in-app messaging
online-chat
social networks: Twitter, Facebook, LinkedIn, Pinterest, Instagram, YouTube
message boards in communities, groups, and online-forums
news websites and industry sites
podcasts and video channels

Tailor your message to your audiences.
Prepare for a consistent flow of information.
Use tools for press-distribution and social media automation to help you to manage your publishing, scheduling and distribution process fast and efficiently.
Summing up
Responding to the current crisis with transparency and compassion will help your business to build trust, loyalty, and commitment from employees and customers. Organizations that miss out on this opportunity will create uncertainty or damage the reputation they have built.
A crisis communication plan will help you to roll out your message machinery fast and efficiently. This will make sure to stay in control as developments unfold. Use tools for press-distribution and social media automation to help you to manage and your publishing and distribution process fast and efficiently.
We will provide you with more information for the coronavirus crisis communication (shortly):
Essential Tools for Your Crisis Communication
Tips and Tools for Working in HomeOffice
. . .
We would love to hear your feedback and whatever is on your mind these days.
Communication is particularly important in all phases of the crisis in order to maintain contact with your community. Use your social media channels faster and more efficiently for your crisis communication.
We still support you: Save 10 % when purchasing any of the Blog2Social Premium annual packages Smart, Pro or Business.
Use the coupon code and save 10 %:
SocialSpirit
Available for: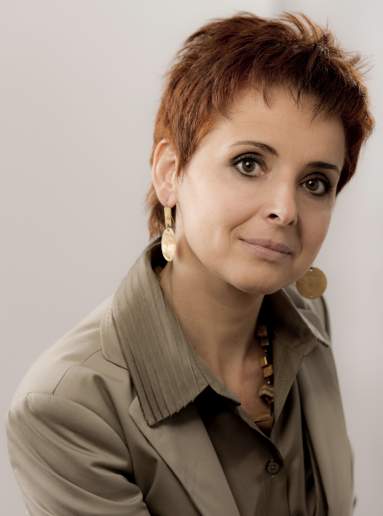 Melanie Tamblé is co-founder and co-CEO of Adenion GmbH. She is an experienced expert in content marketing and social media.
Adenion GmbH specializes in online services and tools for bloggers, businesses and agencies of any size to support their online marketing and content seeding tasks on the web.
Blog2Social as WordPress Plugin and WebApp enable fast and easy auto-posting, scheduling and cross-promotion of blog posts, articles, links, images, videos and documents across multiple social media sites.
Social media posts will be automatically turned into a customized format for each social platform and auto-scheduled for the best time. Social media post can be previewed and tailored with individual post formats, images or personal comments – all in one easy step.