No matter if you have various blogs, different authors or simply more than one Twitter profile by yourself. Cross-Posting is ofttimes useful to share your blog content to multiple Twitter accounts. This way, you can tailor the same content for different target groups and various occasions with the benefit of maximizing your outreach. After all, it's your objective as blogger to reach as many people as possible while they browse by.
What are the best ways to do so? First of all, an eye-catching, engaging and valuable Tweet. Easier said than done, for sure, but there are several points that are distinctive for a well written Tweet. But even the best content and the most engaging Tweet can fail due to a very specific fact of Twitter: The average lifetime of a Tweet is about 18 minutes. So you have an 18 minute time window to address and reach your target group, which itself is just browsing by thrice a day in a very scarce time span. The answer to that challenge leads me right to option number 2: Cross-Posting your content several times a day or week over a set schedule and on multiple Twitter accounts, tailored for their respective target audience. This way, you ensure that a maximum of your followers really has the opportunity to read and engage with your content and you can further maximize your performance.
The easiest and fastest way to do so, is right from your WordPress dashboard, using the plugin Blog2Social.
Step 1: Install the Blog2Social Plugin on Your WordPress Blog
If you are already a Blog2Social veteran, you can skip the first steps and head right to  step 3, where I talk about cross-posting your content on multiple Twitter accounts.
For everyone else, let me tell you what Blog2Social is all about. It's a social media automation plugin for WordPress. Reads, that you can download, install and use it right from your WordPress dashboard. Once installed you can automatically share your blog posts on Twitter and other social media networks by using an intuitive dashboard. So, copying and pasting each of your posts onto several social media networks will be obsolete.
Step 2: Connect your WordPress Blog to Multiple Twitter Accounts for Cross-Posting

Before you start and spread your awesome content to the social web, you have to connect your blog to Twitter. If you have already installed Blog2Social you will find it in your WordPress navigation bar. Just two clicks, first on the Blog2Social icon and then on networks, will lead you to the network settings. Here you can connect your WordPress with up to 15 different Twitter accounts. Especially useful for corporate blogs or blogs with various authors. Just type in your login data and your Twitter accounts will be connected automatically.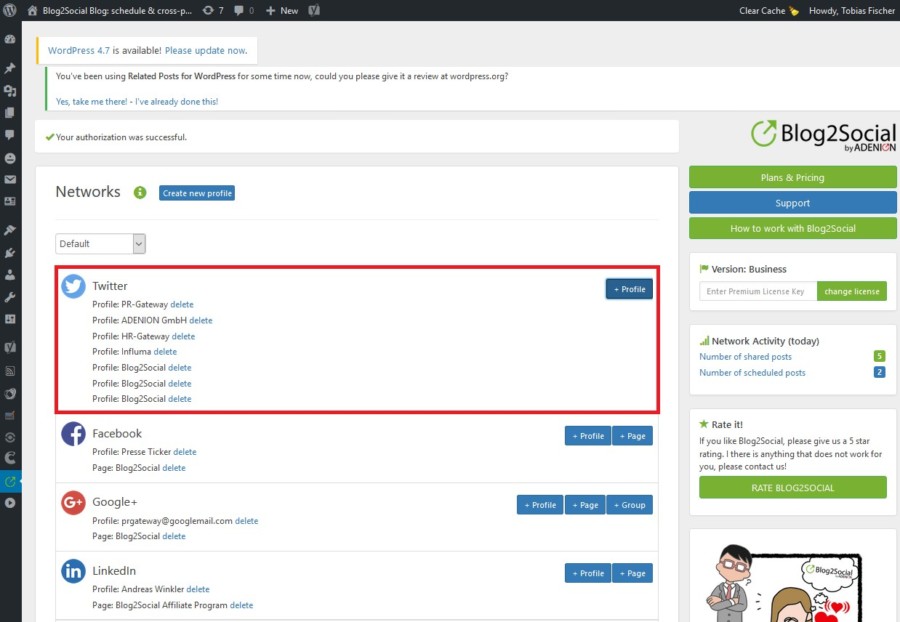 Step 3: Auto-Post & Cross-Post Your WordPress Blog Post on Multiple Twitter Accounts
As I said at the beginning, it is crucial for your success on Twitter to be online when your followers are online. If you are not a roboter or accustomed to a really scarce amount of sleep, that task might be challenging. Especially if you keep the different time zones in mind.
You should become familiar with your followers preferred times. This way, you gain the most outreach and engagement. But community analytics take their time. So the best times to post on Twitter might be a basic orientation for the beginning. However,  Blog2Social provides you with every option to address your followers, how- and whenever you like.
If you want to save even more time, you can simply enable the auto-posting function on the right sidebar of your WordPress editor. This way, your content will be shared immediately on every connected network, including your Twitter accounts, as soon as you publish your post.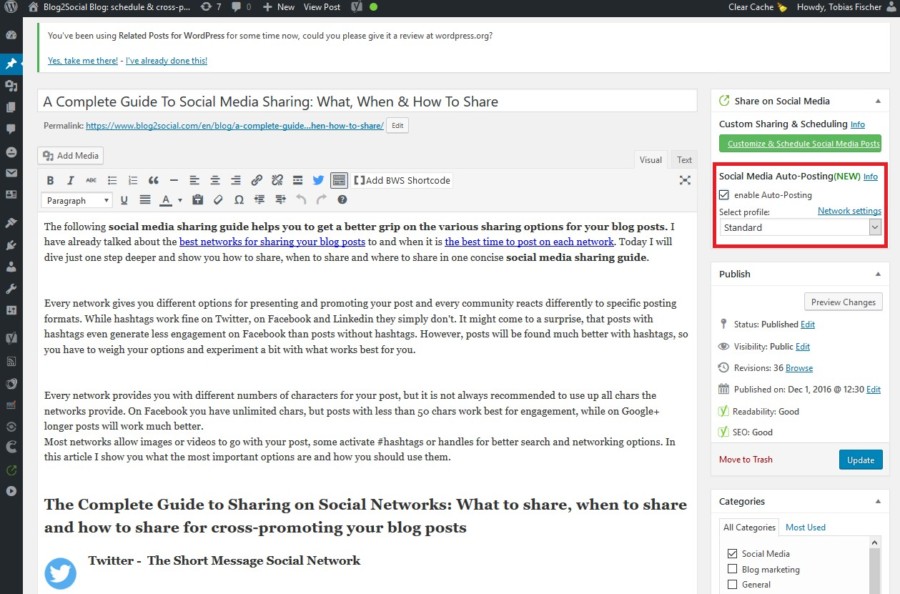 If you want to follow a specific scheduling scheme, schedule your postings in advance or  would like to customize your content, you can do so by clicking on "Customize & Schedule Social Media Posts".
You can customize the pre-filled text and add hashtags and handles, separate for each Twitter account. You can either publish your postings immediately, or schedule them once or on a recurring scheme to multiple accounts. This way, you can develop your personal and individual publishing plan.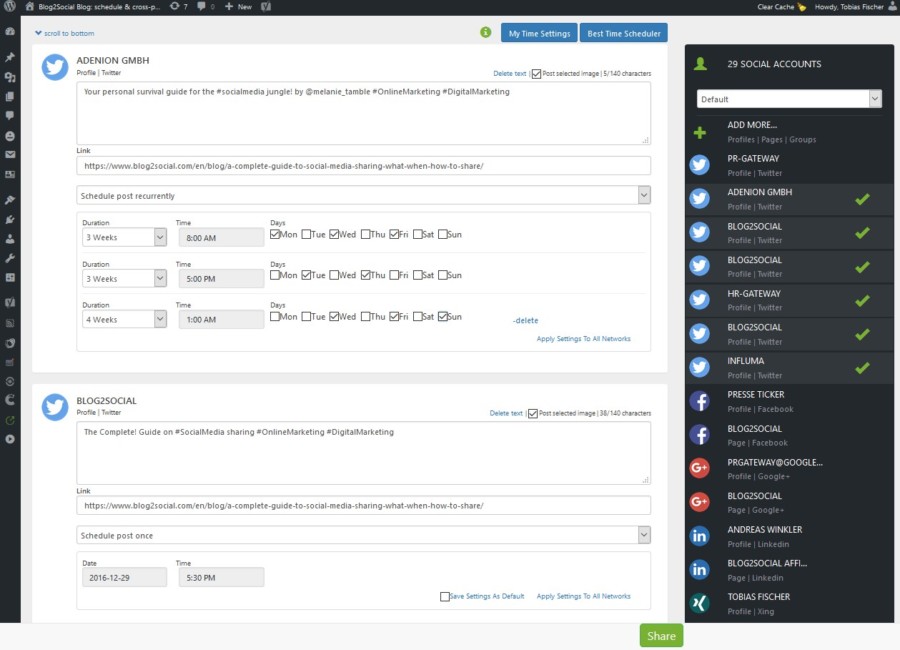 You can auto-post your posting to any other connected social network, as well. I recommend this short video for an overview of all available social networks:
A click on "Post & Schedule" in your Blog2Social dashboard leads you to an overview of all published and scheduled social media posts.
You can view your published posts in the report.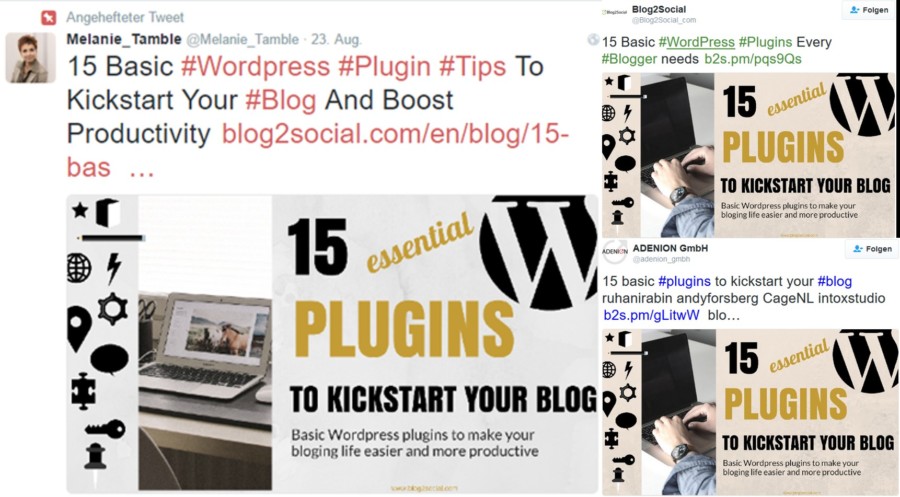 How To Automatically Re-Publish Old Blog Posts To Multiple Twitter Accounts
As I mentioned before, Blog2Social grants you the option to re-publish your old content on various Twitter accounts. You can either do so directly in your WordPress edit mode, by the way explained above, or go straight to your Blog2Social dashboard. There you choose "All posts" and click on "Re-share this post". Now, you can select the networks you wish to re-publish your content to. And again, you may schedule your posts according to the best times of each network and target audience.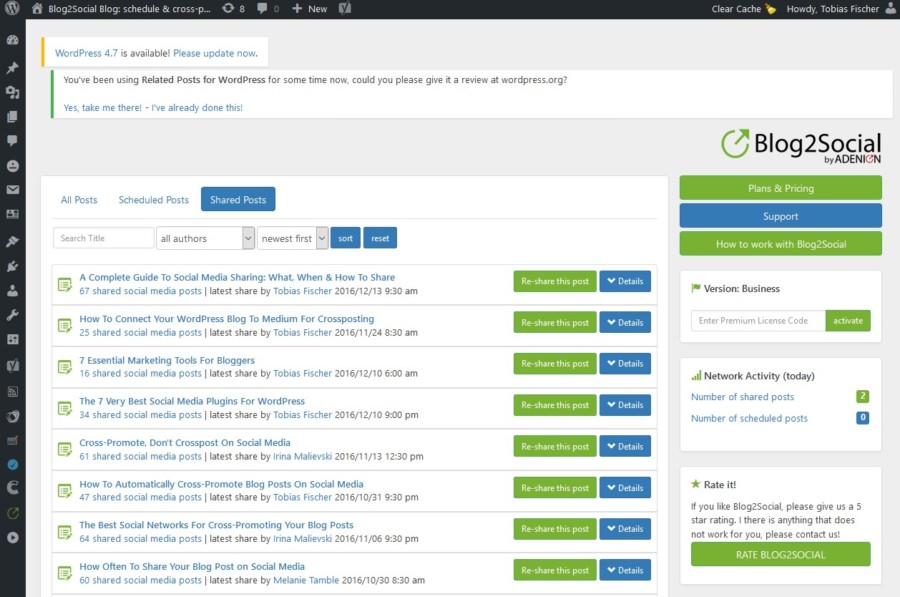 These easy steps work for your planned but not yet published posts, as well. As soon as you have planned your blog post to be published at a specific time, you may also schedule the post for multiple Twitter accounts, as described before.
Conclusion
Social media are the most powerful sources to drive traffic to your blog. The more value your blog content provides, the more likely your followers will like your blog and your business. Especially Twitter allows you to easily address different target groups over multiple channels. Blog2Social empowers you to use this potential and let you integrate up to 15 different accounts. Besides Twitter, also consider other networks provided in the plugin to put your WordPress posts in front of an engaged audience.