Twitter announced several significant changes in their
terms of service (TOS)
. The new Twitter rules impact all users and social media automation tools and will be enforced starting March 23th, 2018. We will explain what's changing and how the new Twitter rules will impact your social media marketing and scheduling practice. And, we will also show you what you can do about it.
To make sure our users are in compliance with the new Twitter policies, we will also be introducing a couple of adjustments we have applied and will continue to apply to Blog2Social. However, we will make sure to provide you with many great features for your Twitter marketing in accordance with the new Twitter rules, now and in the future.
Why Twitter is changing rules
Spambots and fake news have become a major problem for Twitter over the last couple of years. The flooding of fake news by fraudulent accounts has shown to influence elections, manipulate public opinion, and even destabilize democracies. This malicious practice is used by fraudulent governments as well as by shady businesses:
"One of the most common spam violations we see is the use of multiple accounts and the Twitter developer platform to attempt to artificially amplify or inflate the prominence of certain Tweets."
This is why Twitter is placing a couple of new limitations on what users are allowed to do when using social media automation tools for auto-posting and scheduling. Enforcing these limitations, Twitter means to eliminate messages sent by fraudulent bots. However, these limitations will impact all Twitter accounts. This means, many common and effective marketing practices are no longer allowed, even if they rely on totally legitimate Twitter users and legitimate contents. So please make sure to familiarize yourself with the new rules and follow them carefully. By violating the new Twitter rules you risk that Twitter will suspend or even close your account.
This is what you need to know about the new Twitter rules and terms of services
Posting the same content across multiple accounts
If you manage more than one Twitter account, it can make sense to share your content across all your accounts.
However, with the enforcement of the new rules, Twitter will restrict accounts in posting the same or even substantially similar original content to multiple accounts. This limitation applies regardless of whether the Tweets are published at the same time, or are scheduled for future publication.
"if you post duplicative or substantially similar content, replies, or mentions over multiple accounts or multiple duplicate updates on one account, or create duplicate or substantially similar accounts."
"You may not post duplicative or substantially similar Tweets on one account or over multiple accounts you operate."
"Your service should not permit a user to select several accounts they control from which to publish a given Tweet."
So all serious social media automation tools will no longer allow you to post the same content on multiple Twitter accounts.
While Twitter continues to permit cross-posting outside information (such RSS feeds) to Twitter using automation, you should only post this content to one account you control.
Performing simultaneous actions across multiple accounts
Another common practice in social media automation is the to perform actions such as Likes or Retweets across multiple accounts.
If you are using TweetDeck you will have noticed that Twitter has already implemented these rules, and you will no longer be able to select multiple accounts through which to perform an action such as Tweeting, Retweeting, liking, or following. In the cause of action Twitter has also shifted and removed scheduled tweets from some accounts:
Again, the direction for all other social media automation tools is quite clear:
"Do not (and do not allow your users to) simultaneously perform actions such as Likes, Retweets, or follows from multiple accounts. For example, your service should not permit a user to select several accounts they control to follow a specified account."
If you are using social media tools to automatically follow, like or retweet posts, you will be no longer allowed to do this without risking that Twitter will suspend your account.
Regardless of the new Twitter rules, the use of social media automation to share and schedule tweets will stay common practice in social media marketing and management. However, the focus will shift from 
cross-posting to cross-promotion on social media.
What the new Twitter rules mean for Social Media Marketing
The new Twitter rules are aimed at disarming fraudulent bots and fake accounts in the first place. But they will also impact those publishers who have several valid Twitter accounts or publish content to several valid Twitter accounts. The restrictions make sense for a SPAM-free Twitter universe and a better user experience. But they will also force all individuals and brands to re-think their Twitter marketing strategy.
So what does this new policy mean for your social media marketing and the use of social media automation tools?
First, it's important to note that the new Twitter rules won't impose a point zero to all your Twitter marketing activities. The scheduling and posting of information as real-time updates, as well as RSS-feeds, will still be permitted through the use of automation. And, you can also still share the same content to multiple accounts by using Retweets and individually tailored Tweets and comments for each Twitter account. By diversifying the content shared across multiple accounts you will provide a better user experience
Quality content will ultimately win the game, on any social network. Learn about 15 Killer Tactics to boost your engagement on Twitter.
How we applied the new Twitter directives to Blog2Social
While many social media tools simply no longer allow users to select multiple Twitter accounts for posting, Blog2Social will provide you with a whole bunch of features for doing so in accordance with the new Twitter rules.
We originally built Blog2Social for tailoring social media messages as a key feature. And this is what we are still specializing in.
With the "Customizing & Scheduling" option Blog2Social enables you to add individual comments, selecting images and post formats, and even edit meta tags for your Twitter Cards. With these options, you can fully customize your tweets for each Twitter account and still automate the process of scheduling and sharing.
If using the Auto-Poster option or import RSS feeds for auto-posting, you can select your primary Twitter account.
How to automatically re-post and recycle tweets across one or multiple Twitter accounts
You can still recycle your tweets as retweets to your other Twitter accounts, using different comments and hashtags. We will refine this options with the upcoming Blog2Social releases.
By using the Blog2Social link shortener we currently vary your existing tweets automatically. However, this is not a bombproof solution to automatically generating individual tweets and will not work in the long term. We still recommend to varying your comments individually for each of your tweets.
Spinning hashtags is another option for varying tweets. So if you're using multiple tags and keywords in your blog post, Blog2Social will automatically include these hashtags in your Tweet. By changing places and vary hashtags in your tweets this provides multiple options for diversifying your tweets for reposting.
However, with Blog2Social you can very easily vary and customize your tweets by adding individual comments, selecting individual images and post formats, and even changing your
Twitter Card meta tags
.
Add individual comments, hashtags, handles or emojis to your Tweets
To make your tweets more personal and engaging, you can customize your tweets with individual #hashtags and @handles. The "Custom Sharing & Scheduling" option of Blog2Social allows you to individually edit multiple tweets at a time in a one-page preview editor. You can customize the pre-filled text and add hashtags and handles, separately for each tweet and each Twitter account.
Blog2Social also provides you with individual comment fields for each of your tweets. This allows you to schedule and share multiple posts on one Twitter account or across multiple Twitter accounts with individually tailored comments and retweets.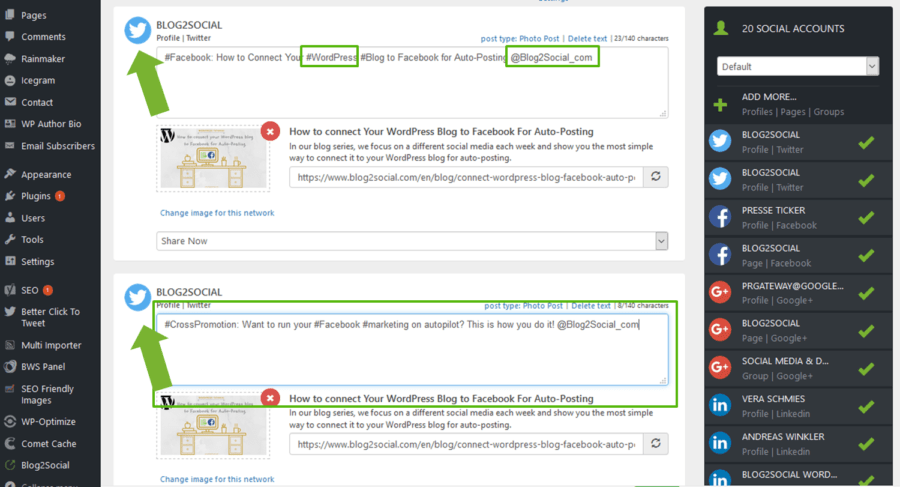 If you are ready to go, just click "share" and Blog2Social will share your tweets with an automatic delay mode to prevent mass posting, or at your scheduled times.
Select individual images for your tweets
By standard sharing, your blog posts will be shared with your featured image or the image defined in your Twitter Card parameters. If you want to share the same blog post more than once or re-share your evergreen content repeatedly, you can vary your posts by selecting individual images for every tweet or scheduling unit.
Blog2Social lets you select any image from your blog post or media library for your tweet and even gives you the option to upload more images from your computer or device. With a simple click on the displayed image, you can change the pre-selected image for any of your preferred photos or graphics to trigger attention and engagement.
Select different post formats for your tweets (link posts and image posts)
With Blog2Social you can share your blog post as link post or image post tweet.
An image post tweet clearly focuses on the image. The image tweet enables your followers to view your photos or infographics right in their feed. All images from your image posts are automatically uploaded to your Twitter media gallery. So, your followers can still find your graphics even if your tweet has long vanished ways down in your stream.
A link post tweet generates an automatic preview and forwards your followers straight to your website as soon as they click.
Both formats work great for Twitter, but for some purposes, you might want to make sure to use a specific post format for your post. And, this option also gives you more choices for varying your tweets for reposting your content legitimately on one or across multiple Twitter accounts.
To do so, simply go to "Settings" in your Blog2Social dashboard and select the tab "Network Settings". Here you can select whether you want to share your blog posts with a link preview or as an image tweet. Your images tweets will automatically contain the link to your website. You can select the post format as default setting. You can also select to change the post format for each individual tweet on the preview editor.
Schedule your tweets at the best times to maximize engagement
By sharing your tweets at the best times you can catch the time slots when followers are most active. This will increase the likelihood to grab their attention when you appear in your follower's feeds. To tweet during Twitter's peak hours, you can schedule your tweets automatically with the Blog2Social Best Time Scheduler. For your convenience Blog2Social provides a ready-to-use pre-configured Best Time Scheduler you can apply with a simple click.
If you know which times work best for you, you can also save your own preferred times as Best Time Settings. You can then automatically schedule and share your tweets according to your custom time settings.
This can be handy, especially if you promote your products or brand internationally and across various time zones.
Schedule multiple tweets in advance to re-share evergreen content
If you want to set up recurring tweets for your blog post, you can set up various recurrent scheduling schemes for up to one year. You will be asked to add multiple tweets with variations for each comment to prevent duplicate content on Twitter. You will also be able to re-share each tweet once to your own account and once to other accounts you manage.
Schedule and manage multiple posts and tweets with the Social Media Calendar
The Blog2Social Social Media Calendar helps you to keep track of your tweets and to edit and add them per click or to change times and days per drag & drop. This makes it easy for you to plan and promote your content with multiple tweets across multiple social media accounts.
We want to help you to familiarize yourself with the new Twitter rules
See here for more information in our FAQ:
Conclusion: How Twitter is changing the game
The new Twitter rules will provide many headaches for social media marketers. But they will provide a better Twitter universe for all of us. However, it is most probably that other networks will follow the lead, simply to prevent bots from moving on. So, expect to hear from other networks enforcing similar rules and regulations pretty soon. We will keep you updated on current events and adopt any changes to Blog2Social.
However, there are still multiple options to share and reshare and schedule your content on Twitter.
Blog2Social will always support your activities with as much automation and as much individualization as possible for marketing your content successfully across multiple social platforms.
Now over to you. What do you think of the new Twitter rules regulations? Do you think they make sense or do you think Twitter is overreacting and overstretching all common sense?
How will the new Twitter rules change your social media marketing? Are you moving along or giving up in despair? Let us know what you think?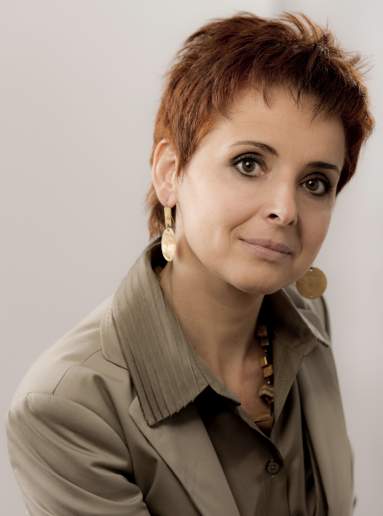 Melanie Tamblé is co-founder and co-CEO of Adenion GmbH. She is an experienced expert in content marketing and social media.
Adenion GmbH specializes in online services and tools for bloggers, businesses and agencies of any size to support their online marketing and content seeding tasks on the web.
Blog2Social as WordPress Plugin and WebApp enable fast and easy auto-posting, scheduling and cross-promotion of blog posts, articles, links, images, videos and documents across multiple social media sites.
Social media posts will be automatically turned into a customized format for each social platform and auto-scheduled for the best time. Social media post can be previewed and tailored with individual post formats, images or personal comments – all in one easy step.