The social landscape is diverse and each platform comes with its own unique style and presentation. For instance, on Facebook, I can write a lengthy post but on Twitter, I have to restrict myself to 280 characters.
When you are planning your social strategy, the uniqueness of each platform comes into play. But, so do the similarities. While I can write a lengthy Facebook post, short form content is always preferred, something that Twitter already restricts you to do.
On social channels, engagement is a crucial metric. And this engagement can suffer because of common mistakes; mistakes which can either occur due to lack of channel's knowledge or simply because of negligence.
Here are 6 such social media mistakes that hamper engagement:
1. Responding only to positive feedback while avoiding negative reviews
Social media gives your users the power to demand transparency. And in the last few years, transparency has gained a major significance in establishing your online image and building trust.
In such a scenario, avoiding negative feedback from users can really backfire. If you are actively commenting on the positive inputs but the negative response remains unaddressed, it shows that you are 'willingly' avoiding a confrontation. And when the user demands are genuine, it can cause people to believe that you aren't focusing on resolving grievances.
It is important to not escape bad reviews. Acknowledge the negative feedback. Show your users that you are committed to improving your product/service in a manner that benefits them. Be positive and friendly in your response. Here's an example: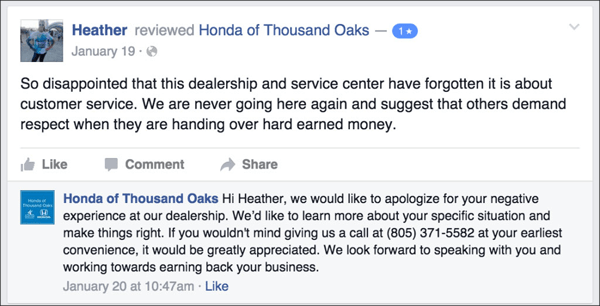 Key Takeaway:
Accept the negative feedback, respond politely and after resolving the concern, go back and let the user know about it. Never commit the mistake of deleting a user comment.
2. Not using your social listening skills
A great hack to social media growth is "social listening". Social listening helps you gauge your audience's expectations on a particular platform, their reaction to your content as well as that of others. In fact, it also helps you understand their pain points for which they want a solution.
Social listening doesn't just involve looking out for conversations where your brand is mentioned. It goes beyond to include threads where relevant pain-points are being discussed or where competitors are being mentioned.
Through social listening, you can gain an edge over others by finding topics on which you can create content that is really useful for your audience.
Additionally, social listening goes beyond 'listening' to include responding. Are you actively participating in comments where your brand is being discussed? Are you providing useful information to users looking for a solution? If you aren't doing these things, it's a mistake.
Key Takeaway:
Use social media to gain a better understanding of your audience so you can deliver the right content and give solutions for the most relevant pain-points.
3. Not distributing your content on enough channels
The social landscape is vast and each platform adds its own value to your marketing efforts. So your content must be distributed in an optimal manner.
One of the key mistakes made by brands is that they limit their presence to one or two platforms. This limits your reach and hampers your social efforts.
For a B2C brand, Facebook might be a much more appealing option than LinkedIn (most preferred channel for B2B) but it doesn't mean that they should avoid the latter. As the platform changes, so does the quality of your reach. To target a wider audience, it is crucial to be present on multiple platforms than restricting yourself to just one or two channels.
Key Takeaway:
Social reach is your biggest social asset. Restricting yourself to a few platforms can narrow your target audience. Make sure to be present on more than one or two platforms. 
4. Not optimizing your automation process
Automation can bring good results for you but without optimization, automation completely falls flat.
When you are automating your social strategy, it makes sense to personalize it. Don't use automation to bombard your users with generic messages. Try to be specific in your interactions.
Additionally, when you are scheduling your social content through automation, always remember to monitor the posts that go out and see if they are relevant. For instance, if you have scheduled a post that talks about a video SEO technique, but an update has been rolled out, you must make required changes to your content to suit the latest trend.
Also, check the best time for posting.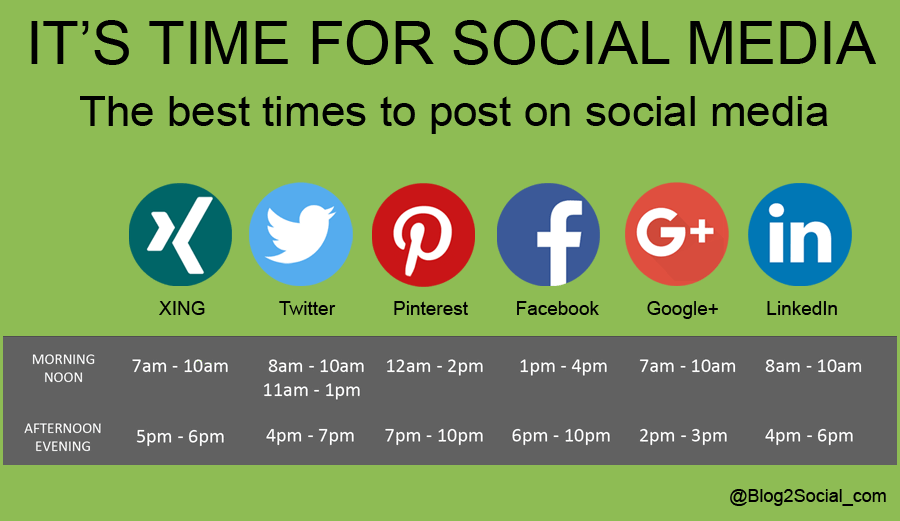 Key Takeaway:
Automate your social strategy carefully. Be sure to schedule your posts in those time windows where you can get the most engagement.
5. Erring grammatically
What's the last thing that a business wants to avoid?
Trolls.
While social media puts you in front of your audience, it also makes you accessible to everyone else, including trolls. And in such a scenario, if you commit mistakes, they won't go unnoticed.
Social channels work on short form content. So your users expect your social content to be error-free. Grammatical errors are usually forgivable but they also reflect a lack of attention to details. And this can hamper not only your engagement but your brand image as well.
Key Takeaway:
When you post anything on social media, don't just verify your facts, remember to run a 'grammarly' check. 
6. Not tweaking your content depending on the platform
Each platform has its own mood. And while your audience can be the same on these platforms, the platform mood governs their behavior on it.
For instance, when someone accesses LinkedIn, they don't expect to be bombarded by sales content but useful, informative posts. But when users shop on Pinterest, promotional content isn't a problem.
So when you are sharing writing posts on different platforms, the nature of that platform must be taken into account. Additionally, the posts should be optimized to suit the requirements (your LinkedIn post might have 500 characters, but they need to be trimmed to 280 characters for Twitter).
Key Takeaway:
Understand the best practices for content sharing on different social platforms and then tweak your posts accordingly.
Closing thoughts
Social channels bestow upon us the opportunity to 'socialize' with our users. But this opportunity comes with a certain level of responsibility. 'Socialising' becomes a bit formal on LinkedIn but on Instagram, it can be much more casual.
So when you are creating your social content, remember to put your social listening skills to use and watch out for the above common mistakes that hamper engagement.
Suggestions for further reading:
Dos and Don'ts of Social Media Automation and Rules for Getting it Right
Steps to Writing Effective Social Media Content
How To Unleash the Power of Social Media Automation
The Best Social Networks for Cross-Promoting Your Blog Posts
Sahil is the CEO and Founder of Rankwatch – a platform, which helps companies and brands stay ahead with their SEO efforts in the ever growing internet landscape. Sahil likes making creative products that can help in automation of mundane tasks and he can spend endless nights implementing new technologies and ideas. You can connect with him and the Rankwatch team on Facebook or Twitter.