With the right strategy, social media automation can help make your social media marketing more professional and consistent and boost your efficiency. If you understand the secret triggers of each social channel, social media automation will help you to tackle your tasks in no time and boost your visibility and engagement.
Social media networks are great for communicating, networking and engaging with your audience. But chances are that your "to do" list will become longer than your time for getting things done. Often enough you will be so busy with sharing your posts, that you end up with having not enough time for engaging with your audience. Posting content on multiple social media channels is time consuming and tedious work. This is when social media automation may sound like a pretty good solution. Social media automation is tempting to free you from the pain of sharing your posts on multiple social platforms.
Benefits of Social Media Automation
Basically, social media automation tools will help you to:
save time for manually sharing your post on each of your social platforms and social communities,
maintain a consistent content stream on multiple social media platforms,
become more productive and efficient,
extend the outreach of blog content on a regular basis,
find out and set up a plan to post at the best times for each network,
With automation tools, you will get more time to brainstorm your content and to become more creative in producing valuable content for your audience.
However, the convenience of social media automation can turn your social media feed into lifeless, robotic streams of the same ever repeating posts. So, before you start looking for a social media automation tool, consider your social media strategy carefully and understand that people on Twitter react differently to content than your audience on Facebook. There are several dos and don'ts of social media automation and there are of course several rules you should stick to when automatically sharing your posts.
What You Should Not Do With Social Media Automation
#1: Don't sound like a robot
Don't automate everything. Don't automate the same content in the identical way for all social platform. Try to make some changes and personalize the content as per the requirement of the respective social medium. Don't repeat your posts ever and ever again. Mix automated content with personal content and curated content to give your social feeds a lively and personal appearance. Customize your posts and personalize the content as per the requirement of the respective social media channel. Avoid automating posts that should be personal like messages, comments or replies. Auto-replies and auto DMs are not engaging and so your followers are very unlikely to engage with them.
#2: Don't schedule too far ahead
Scheduling your posts is a great way to fill your time-lines with a consistent content stream and also to free you from work on weekends and holidays or when you go for a vacation. Nevertheless, I would recommend not to scheduling content way far in time. When scheduling too many posts too far ahead, you will easily loose track. Also, current events can make your content look outdated or misplaced. You may schedule your evergreen content to be re-posted over a couple of month. But, I would recommend not to schedule your regular posts for more than a couple of weeks to keep your schedule flexible for current events and fresh content.
#4: Don't automate curated content you haven't read yourself
Don't rely on social media automation for curating content you haven't revised or at least scanned to grasp the relevancy for your audience. You might be posting content not relevant or even annoying for your audience due to a mismatch of keywords or other automation criteria. Don't just curate, but always add a personal comment why you post it and always encourage your follower to engage.
Here is how you can use automation to unleash the power of social media.
3 Golden Rules For Smart Social Media Automation
#1: Know your social media audience
Don't push everything everywhere just because social media automation makes it to do so. Relevant content is still king. And relevancy of content is the backbone and the core rule for your social media success. Always remember why your followers follow you. Only automate content that is relevant for your specific audience and for the specific social channel you are posting to. Always tell your audience why you think this content might be relevant for them to encourage reading and engagement with your posts.
#2: Tailor your social media posts for each social platform and audience
Every network has specific features and provides different options for presenting and promoting your post. And, every community reacts differently to specific posting formats. Understand, that the various social networks harbor a different audience with different preferences. Link posts are the common post format for sharing your post on Facebook and Twitter. However, turning your blog post into an image post instead can boost your outreach and engagement tremendously. Some networks activate #hashtags, handles or emojis for better search and networking options. While hashtags work fine on Twitter and Instagram, on Facebook and LinkedIn they simply don't. It might come to a surprise, that posts with hashtags even generate less engagement on Facebook than posts without hashtags. However, hashtags make your posts easier to search, so you have to weigh your options and experiment a bit with what works best for you. On Facebook, you have unlimited chars, but posts with less than 50 chars work best for engagement.
Social media platform specific features
Every social media platform provides specific features and requirements for presenting your content and promoting your post:
length of your post: maximum numbers of characters vary from 140 to 2000 and more characters for your posts
post format: link post, image or video post or life cast
number and size of images that can be uses for your post
#hashtags: allow you to make your posts search-able for keywords or joint current topics and discussions
@handles: allow you to reach out to other users and let them know you mention them in your post
emojis: make your emotions visible in your post and let your audience know how you feel
 When setting up a social media automation strategy, look out for automation tools that will give you everything you need to spice up your content:
Always add personal comments to introduce your post: tell your audience why they should follow your link and read your post, ask questions to encourage comments and response.
Use visuals where possible. Posts with images and videos get more response than posts without.
Insert a few selective and relevant #hashtags where possible to make it easier for others to find your posts. But remember, posts on Twitter work best with 2-4 hashtags, whereas on Facebook they work better without. On Instagram you may use up to 30 hashtags.
Use handles where possible and relevant in order to give credit or message specific users.
Apply emojis where possible to let your audience know how you feel about your content and make your emotions visible.
Add call to actions where applicable: It's quite easy: ask for shares to get more shares.
#3 Schedule your posts for the right time on each social network
Social media success is all about the right timing. Whenever you share a post, only a fraction of your follower will actually notice your content. Experiment a little to discover the most suitable timing for your posts to get the most traction and attention from your audience. With the introduction of algorithm-driven rather than chronologically ordered feeds, the perfect timing of posts gets more and more difficult. However, not posting the same content at the same time in every social network will also help to stretch the life span of your post. Your audience login to each of their social communities at different times and for different purposes. When posting business related content, chances are that a weekday post gets more traction than a Saturday night post.
When cross-promoting your content to multiple social platforms and communities or groups, always share your content at different times, and even at different days. This helps to expand the lifespan of your post and increases the chances that your content gets noticed. When setting up a social media automation plan, you need to consider particular time slots for your posts in each social media channel. If you don't know where to start, take a look at current research on the
best times to post on social media
 and
the best frequency to post
.
Share this image on your blog and to your social media!
Take this code to embed this infographic on your site:
How to Choose and Work with Social Media Automation Tools
Before you start to look for social media automation tools, think of the various tasks you might want to get automated. For the perfect content mix on your social feeds.
Share your own content: blog posts, images, videos, articles, guest posts
Find and curate relevant content from other sources
Schedule and queue content on multiple social platforms (cross-platform sharing)
Monitor and analyze your shared content
Don't try to get everything in one single solution. This will either become very pricey, but no single solution can specialize to do everything with the very best results. So, you might rather be looking for smart tools, specializing in specific tasks.
Social media automation tools for sharing your blog content across multiple social networks
The power of social media automation can help you drive more traffic to your blog in less time. Social networks are the best sources of traffic for your blog, but sharing your content across multiple social platforms is tedious legwork. If you don't want to make a dull run of the mill every time you publish a new blog post, look out for tools that help you share your blog content automatically. Social media automation tools for cross-platform sharing enable you to post your content on multiple social platforms at once, using a single interface and doing everything more or less in one step. One of the major benefits of cross-platform social media automation is, that you can easily share your content to multiple social platforms and compose your content under a single roof to expand your reach. But beware of becoming too lazy. Don't use social media automation tools to just cross-post the same message to all of your social communities. Don't cross-post, cross-promote your content. Use social media automation tools that give you the full control of each post on each network. Look out for tools that allow you to tailor your posts for the specific features and options of each social network. Add personal comments and introductions to your post with regard to your specific social media audience and schedule your post along specific time slots that work best for each social community.
We have to manage 5 corporate blogs with multiple social media accounts, pages and groups connected to each blog and we share our blog posts every time we publish a new post. So, I know what I am talking about.  I show you, how I tackle my task of cross-promoting our blog posts on our multiple social channels.
Social media automation with WordPress
For cross-promoting our blog posts on my social media accounts I use the Blog2Social WordPress plugin. The plugin allows me to cross-publish and schedule my post directly from the WordPress dashboard. It has an auto-posting as well as a customizing & scheduling feature and I always use the customizing feature to tailor my social media posts before sharing. The plugin turns my blog post automatically into an adapted format for each network I select for sharing my blog posts. A preview editor displays all posts for the selected networks on one page. So I can edit and add everything I want to change in one single step.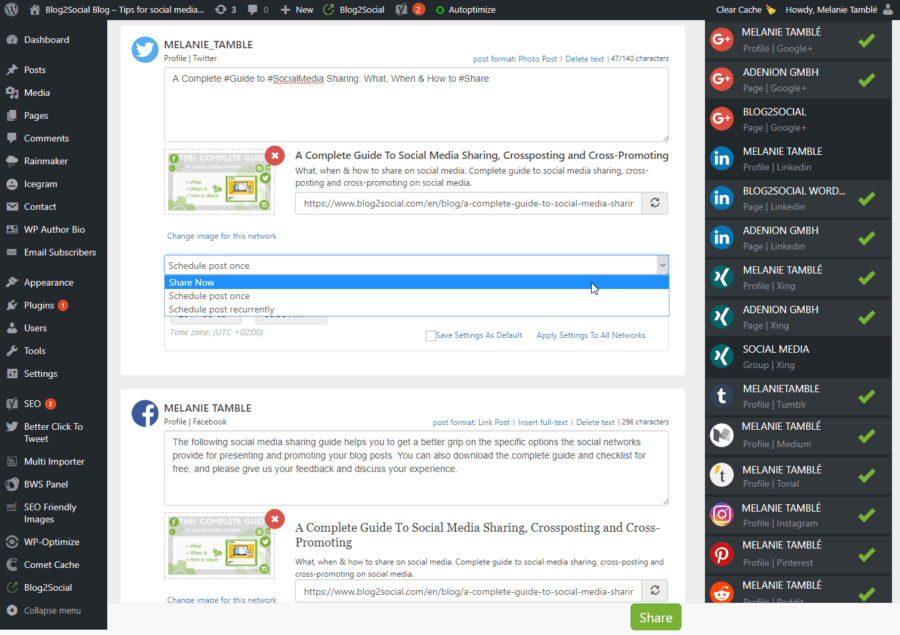 I can do severals changes for each network or social audience:
edit the comment/excerpt for the post
add personal comments, questions, #hashtags, @handles or emojis
change the featured image with any other image from my media gallery
change the post format for link post or image post
schedule my posts automatically with a best time scheduler or with my personal time settings for each network, or I can edit anytime for each post individually
This takes me less than 5 minutes for all of my networks and I would always recommend to do spend this extra time. Blog2Social provides me with a simple one step work-flow for all of my networks. This still saves me the time consuming and tedious work of copy & paste & edit my texts manually on each network.
My social media cross-promotion plan
This is what I do for customizing my social media posts to cross-promote my blog posts:
Twitter: I add #hashtags to keywords. I also add @handles if I want to refer to a specific Twitter user for this post. If I post to more that one Twitter account, I use different tweets and schedule them at different times. I can also add more tweets to each Twitter channel, if I want to schedule multiple or recurring Tweets.
Facebook profile: I add a personal comment to introduce my post. I ask questions or ask to comment on my post to encourage engagement.
Facebook page: I edit my text for my business page slightly to give it a more formal touch. And I schedule it for a different time (the Blog2Social Best Time Scheduler does that automatically).
LinkedIn profile: I do the same as for Facebook, but sometimes tune the text a bit more businesslike.
LinkedIn page or focus page: I do the same as for my Google page and I schedule my post for a different time or date from my profile
Instagram: I sometimes add personal comments or call-for-shares, if appropriate and check the #hashtags. (Blog2Social automatically turns the tags of your post automatically into #hashtags and places them at the end of the comment)
Pinterest: I just check the comment and the #hashtags
Flickr: I just check the text and sometimes add more #hashtags
Medium: I re-publish my post as it is, but I schedule my post with a 3-7 day delay to my original post. Sometimes I make a few changes to the headline and the introduction.  (Blog2Social provides a rich text editor to edit anything you want or even shorten the post)
Tumblr, torial: I do the same as for Medium.
The Blog2Social best time scheduler provides a ready-to-use time set to automatically post at the best times for each network. You can also edit and save your own personal time settings as best time settings. And, you can always edit any time for any of your post or schedule your posts multiple times or recurrently.
Social media automation tools for sharing contents from other sources across multiple social networks
You will also have other contents you should not forget to share and cross-promote across your social channels. Your
images, photos and infographics
videos and audio casts
slides and presentations
whitepapers and ebooks
but also:
guest posts you have published on other sites
reviews, others have written about you or your products
articles, lists or any other mentions of your company, your products or services your would like others to read
This is all content material you can use for sharing with your social communities. The more your content is shared, the more people are likely to read it, and to share it with their communities. So, to make sure to pick up every opportunity to send your reputation across your social communities, social media automation tools can help:
For sharing content from other sources than our own blogs, I use the Blog2Social Web App to tailor my post with personal comments and to cross-share and schedule them across my various channels.
Social media automation for content research and content curation
The perfect content mix for your social feeds is a combination of 5 pieces of your own content (business / promotional content as well as personal content) and 5 pieces of curated content from other sources that you find valuable for your audience.
Seraching and curating content helps you to find:
inspiring content, that helps you to pick up ideas about topics or certain aspects you can take up or follow-up in your own content,
content to reach out to influencers in your industry or niche and discuss certain aspects,
and share content to establish your social feeds as useful resource for your specific topics.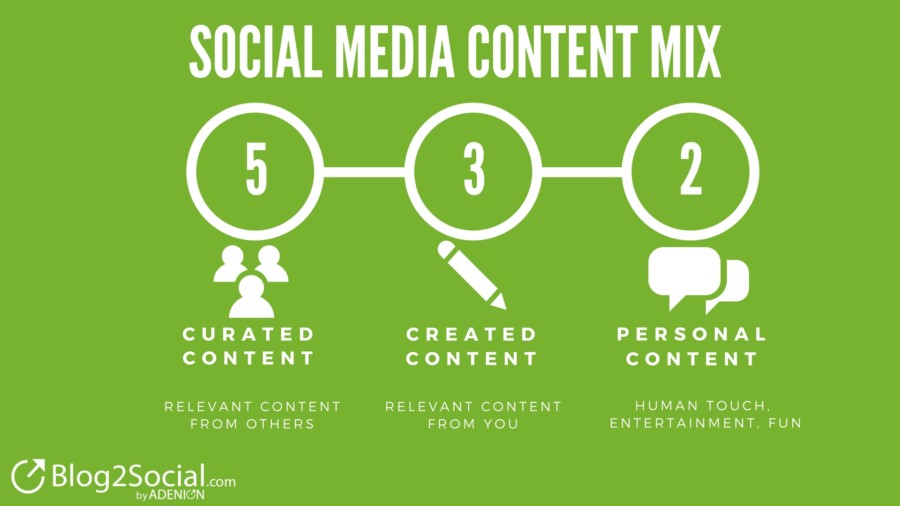 Social media tools for content curation
There are several social media tools that help you to search just the right kind of content in no time. You will find content you can share, content that will inspire your own creativity and content that you can interact with. The following social media tools help me with my content research and content curation process:
Social Media Plugins to encourage website visitors to share your posts
Besides sharing your own contents on social media, you should also encourage your website visitors to share your posts. Make it easy for your readers to share your posts with their social communities, once they are on your website or blog. There are several tools and plugins to help your with this tasks.
We are using the following plugins on our websites and blogs:
Use social media automation for monitoring and analytics
Once you've successfully set up an automation process for consistent presence on your social media platforms, it's time to analyze your performance. There are several social media analytics tools that allow you to measure the performance of your posts. The choice of your tools depends on what your want to look into:
The number of views a post is a good indicator of your reach, but they say little about the attention paid to your posts.
Even the number of like do not necessarily mean that your posts is actually read. Maybe, your followers just liked the image or headline of your posts.
The number of shares tell you that your content was valuable enough for your followers to share them with their audience.
The comments tell you that your followers actually read your post and build their opinion of it.
But, only the sales you generate from your posts tell you that your content performs for your business.
Using analytics helps you understand what works for your audience and what drives traffic to your blog and website and what generates leads and sales. This gives you valuable insights that you can use to improve and adapt your social media marketing strategy.
We use
Google Analytics
 and the 
Google Analytics Dashboard
 plugin for blogs to look at our blog stats. We also monitor our social media stats with the analytics each network provides. This is the basic set up you can use to get a better grip of your post's performance, before you start looking for a sophisticated social media monitoring tool.
Wrap Up
This is, how you can unleash the power of social media automation:
Social media automation is a good idea to save time for routine sharing work, particularly for blogs and businesses with multiple social media accounts.
Social media automation help you to save time, which you can spend better on engaging with your audience.
A solid social media automation strategy helps you achieve a consistent content stream on your social media feeds.
Choose automation tools which give you full control over the content you share, when to share it and how you share it.
Respect the basic rules of automation: don't automate everything everywhere, stay human, be relevant. Tailor your content to the options of the respective social platforms and the preferences of your specific audience.
Social media automation tools can also helps you to find valuable content to share. Also find content to inspire your own content creation process.
Monitoring and analytics help you understand what works for your audience and your business and guide you to how you can improve your social media marketing strategy.
Download the Complete Guide to Social Media Sharing
NEW! Including a Checklist For Your Social Media Cross Promotion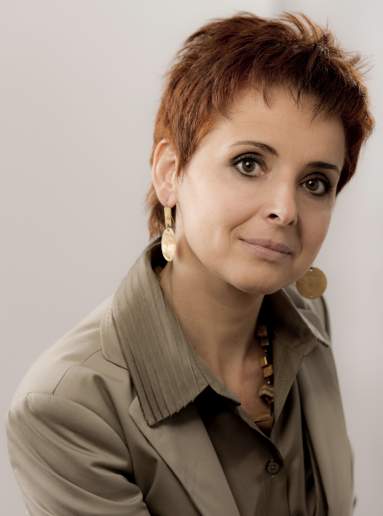 Melanie Tamblé is co-founder and co-CEO of Adenion GmbH. She is an experienced expert in content marketing and social media.
Adenion GmbH specializes in online services and tools for bloggers, businesses and agencies of any size to support their online marketing and content seeding tasks on the web.
Blog2Social as WordPress Plugin and WebApp enable fast and easy auto-posting, scheduling and cross-promotion of blog posts, articles, links, images, videos and documents across multiple social media sites.
Social media posts will be automatically turned into a customized format for each social platform and auto-scheduled for the best time. Social media post can be previewed and tailored with individual post formats, images or personal comments – all in one easy step.