How to share individual images on social media?
Pictures are traffic drivers on social media. Find out how individual images work best with your social media posts for more engagement and visibility. And learn how to automatically share individual photos for your post on Twitter, Facebook, Instagram, Pinterest, LinkedIn, Reddit and many other networks in one single step with Blog2Social.
Why you should share more pictures on social media
Snapchat and Instagram are the new stars among social media. If you think about it, it comes naturally that images are simply more interesting than regular text updates. Visual content catches one's eye faster and stirs up emotions easily. If you see a photo you like, you are much more likely to share, comment, or like it. And in fact, statistics show that social media posts with pictures or infographics perform much better than others. On Facebook image posts even show a 39 % higher engagement rate than status updates. Plus, the Facebook algorithm ranks images posts higher on your followers' news feeds. If you share photos with your posts, you will get more impressions and a greater reach. Especially if you are looking to promote your blog post, sharing your images and other pictures from your media gallery, can help you reach more readers and extend the lifetime of your post.
Why sharing individual images on social media is important
When your blog post contains more than one image, it can make sense to select other images than the featured image to promote your post. Try to think, which image works best for your specific target audience on each channel and post individual pictures with comments and links to your website. And, if you are re-sharing posts, doing so with different images and comments will make your feed look more diverse, personal, and engaging.
How to post individual images across all social media networks with Blog2Social
The Blog2Social helps you to avoid spending the majority of your working hours by posting individual images to all your social networks.
You can select individual images for each social media channel, vary your comments and schedule your posts at different times.  
To do so you have two different options. When you are done with editing your blog post, you can click on "Custom Sharing and Scheduling" in the right sidebar of your WordPress editor.
Or you can go to your Blog2Social Dashboard, select "Site & Blog Content" and select the blog posts you want t to share.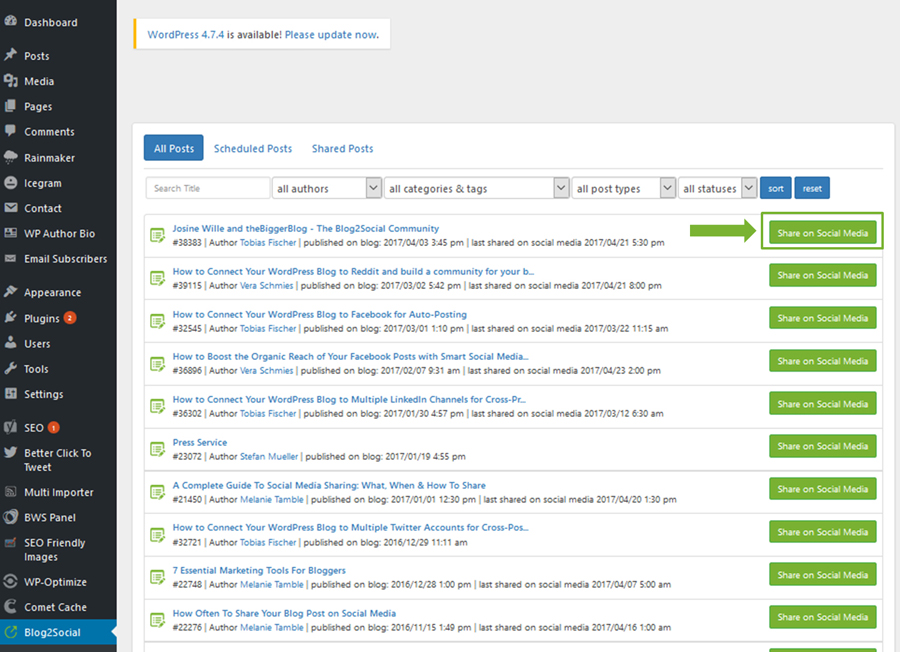 Both options will lead you to the Blog2Social one-page preview editor, where you can customize your posts for each network, elect individual images for each post, and schedule your social media posts.
To change the featured image and select an individual picture to go with your blog post, simply click on the images frame and a pop-up window will open.
Depending on your Blog2Social license you can choose between the following options:
Select one of your blog posts images
Choose your selected as an individual image for this particular social network
Choose to apply this image selection for all connected social networks
Select and upload an image from your media library
With a Pro and Business license you can even upload any new images to share on your social media. Simply click or upload your desired images and click on "Get image".
By selecting individual images you can choose
Individual images for each of your social media profiles, pages, and groups on Facebook, Twitter, LinkedIn, and others and set up a diverse and engaging post plan.
Individual images for custom post formats, such as link posts and image posts. Re-sharing posts as image posts with different images will also upload more images for your blog posts to your photo gallery on Facebook and Twitter.
Different images for re-sharing old posts or setting up recurrent sharing schemes on various social networks and channels to extend the lifetime of your blog posts.
Upload images or import other images from your media library which you can also apply to posts for all social networks.
More information and tips on sharing images
Troubleshooting solutions for images
Tags:
images