How to automatically re-publish blog posts on Bloglovin' ?
To boost your reach and visibility online and to put your content in front of a great community of readers, you should consider to automatically re-publish your blog posts on Bloglovin'. This posts shows you how to re-posting your blog posts to Bloglovin' immediately after publishing and directly from your WordPress blog.
What is Bloglovin'?
With 8 million active users and 750,000 active bloggers, Bloglovin' is the leading destination for readers in North America and Europe to discover and consume fashion, beauty, lifestyle, home decor and food content by their favorite bloggers on web, mobile and via email.

Bloglovin' originally started out as a blog reader in 2007 to help it's users organize the wast number of lifestyle blogs out there, importing blog posts via RSS feed. In 2013 the platform introduced it's blogging feature, enabling bloggers to publish or re-publish their website content on Bloglovin', driving traffic to their pages. Since then,  Bloglovin' is one of the biggest sources for new and recurring visitor, for many bloggers.
Why should I re-publish my posts on Bloglovin'?
As a blogger, using Bloglovin' is a great way to promote your content and multiply your reach and visibility. All clicks on your Bloglovin' page will go straight to your page views. This way, posting on bloglovin' will drive more traffic to your blog and get you yet another external link to your website, pushing your SEO ranking.

Furthermore, by automatically re-publishing your blog posts on Bloglovin' you can customize your posts to target a specific audience which might differ from your usual Blog audience. If you edit your post slightly before re-publishing it or publish only a specific excerpt or chapter of your post, you might catch the attention of readers you couldn't win with your original headline or copy. To do so you could even vary the introduction to focus on other keywords or use a different header images and graphics.

Tip: Re-publishing blog posts with a different title, copy, images and a delay of 4-5 days will have a positive influence on the google ranking of your blog posts as Google can index the original blog post first.
How to automatically re-publish your blog post on Bloglovin' with Blog2Social
With the WordPress Plugin Blog2Social you can easily auto post and re-publish your blog posts on Bloglovin' to keep your subscribers up to date.

Blog2Social provides you with
To automatically re-publish your blog posts on Bloglovin' from your WordPress blog within a few clicks, you first need to connect your Bloglovin' account with Blog2Social. To do so, install the plugin in your WordPress back end as explained on our website.

Go to your Blog2Social dashboard, click on networks and add your Bloglovin' account, simply by pressing the "+ Profile" Button.
A separate window will open and ask you for your login information.
Provide your
and click "authorize" and confirm your authorization with the respective button in the next pop up window.
After you have successfully connected your Bloglovin' profile to your WordPress blog you can select a post for automatically re-publish all your blog posts and pages on Bloglovin'. With a simple click on "Share on Social Media" you will be forwarded to the one-page preview.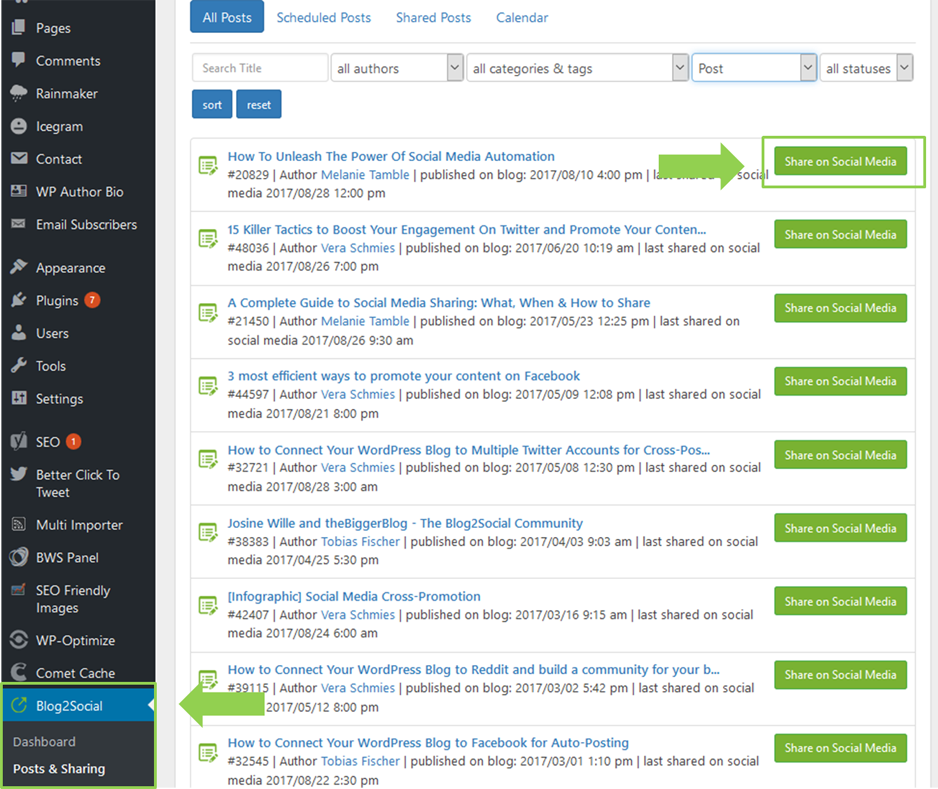 Blog2Social automatically generates your new blog posts for re-publishing on Bloglovin'. Scroll down through the post and check whether you like the format. If you'd like to integrate different images than in your original blog post, you can do this as well by clicking on the image. You can choose any image from your original blog post and WordPress media library or upload a given image from your your computer.
The plugin automatically adds suitable hashtags to your Bloglovin' post. You can edit or change these simply by clicking in the respective field.

After you have customized your blog post to re-publish it on Bloglovin' click on share and it will be published on your Bloglovin' profile.
Learn how apply the advantages of re-publishing blog posts on Bloglovin' on other social media networks and get tips and tricks for your reach and visibility on our blog.
Tags:
Bloglovin'