Update your Blog2Social to version 4.6 and increase your reach in East Europe and Russia by promoting your content on VK.com. Select message content for your Twitter posts and benefit from usability add ons that improve Blog2Social's user experience.
New social network: VK.com
VK.com is one of the leading social networks worldwide. With over 410 million registered users and over 710 million hits per day, VK.com attracts a massive amount of traffic every single day. Similar to Facebook, VK.com allows you to stay connected and share your content on your profiles, pages and in groups.
VK.com is the most used social network in Russia and other Post-Soviet states like Ukraine, Belarus and Kazakhstan. When targeting an audience in these eastern European countries, VK.com is THE network to use.
With the new Blog2Social Release 4.6 you can now easily share your blog posts to your profiles, pages and groups on VK.com. Auto post and re-share your blog posts to VK.com to keep your followers updated. Build your community on VK.com by auto posting valuable content, leaving you more free time to personally engage with your followers.
Drive more traffic to your blog by cross promoting your blog posts and creating valuable backlinks to push your blog's ranking in search engines.
Define the message content for your Twitter posts
You can now define the message content for the pre-filled Twitter message that will be used for your post preview  and  for auto posting.
You can select to pre-fill your Twitter message with the:
Title
Title & Content
Content only
of your blog post.
If you ticked the box "include Wordpress tags as hashtags in my post", hashtags will also be added to each message.  

To use this feature, go to Blog2Social -> Settings  -> General.
Usability updates
You can now see your scheduled posts in the social media calendar directly in your Blog2Social Dashboard
When enabling the Blog2Social auto poster in your WP post editing screen, you can now view your planned posts in the social media calendar
You can now enable "legacy mode" in the Blog2Social Settings. In Legacy mode, plugin contents are loaded one after the other (asynchronous loading) to relieve your blog's hosting server
When deactivating Blog2Social in your plugin overview, you can choose whether you want to delete all scheduled posts or still have them go out as planned despite deactivating the plugin.
2018-01-30 13:30
You can now share your blog posts in Facebook public groups without the need to have admin rights in the respective groups.
To be able to post into a Facebook group, the following two things are important:
The group has to be public. You can not post you blog posts to closed and secret groups.
You have to be a member of the group to post there.

More information: How do I connect Blog2Social with Facebook groups?

2018-01-03 11:46

We have released a new version of Blog2Social to ensure seamless functionality and enhanced usability.
Please, update to Blog2Social 4.5.1 to profit from new adjustments and keep your social media automation up and running smoothly:

- ensure a smooth functioning of the post format settings for Twitter.
- visual enhancements of the "Planned posts" & "Calendar" sections in Blog2Social's post menu  
- your active Blog2Social version is now better visible for you and highlighted in green, so you can easier check on your current user status.
- you can now activate instant caching

And please take a look at the new developments and settings for Instagram to re-connect your account: https://www.blog2social.com/en/faq/content/9/119/en/how-to-connect-and-post-on-instagram.html

2017-12-19 11:48

Instagram recently applied mayor changes to its authorization process.

Our developers have adapted the Instagram interface and we have just released a solution to reconnect and post to Instagram. For more detailed information, take a look at our FAQ: How to connect and post on Instagram.

We apologize for any inconvenience and thank you for your patience.

Your Blog2Social team

2017-12-18 13:31

Update your Blog2Social now to version 4.5 and benefit from a major range of new features to improve your scheduling options, choose your preferred post format for Google+ and automatically add hashtags to all networks that support them.
Social Media Calendar: Sort and add scheduled posts - all in one place
The enhanced Social Media Calendar now makes it much easier for you to keep an overview of your scheduled posts:  
Sort all your scheduled Social Media posts by network and accounts. Know exactly what's happening on your social feeds and when best to add a new post, to keep your followers entertained.
With Blog2Social 4.5 you can now keep track with your editorial plan and manage your entire scheduling in one place:
Easily fill empty slots in your editorial plan by adding new posts with a simple click on the empty space in your calendar. Choose the blog post you'd like to add to your editorial plan from the selection of posts and pages, published or scheduled for publication on your blog, in the pop up window. With a click on "Share on Social Media" you will then be forwarded to the Blog2Social preview to customize your Social Media posts with individual comments, images, hashtags and handles.
New Calendar Button in the Preview Editor
We have also added a "Calendar" button to your Blog2Social Custom Sharing preview editor. When you customize and schedule your posts with the preview editor, you can click on the new "Calendar" button, which will display all scheduled social media posts. The Calendar view makes it easier for you to see how many posts are scheduled for a certain day and take this information into account when setting up your customized scheduling schemes.

Improved Scheduling for recurring posts: Schedule each week, each month or in your very own, preferred rhythm
We have improved  your options to set up recurring scheduling schemes to match your specific needs. You can now choose whether you want to repeat your evergreen content every week, every month or according to your own chosen interval.
To do so simply select your preferred interval in the drop-down menu of your Blog2Social preview and choose the weekday and time at which you'd like to post. For a more in depth explanation and step-by-step guide, take a look at our FAQ: How do I publish blog posts on a recurring scheduling scheme?
Select Link Post and Photo Post Formats for Google +
To increase the impressions, interactions, likes and shares on your Google+ postings Blog2Social has now added the option to choose post formats for the Google network.

You can define your preferred custom post format for Google + in your Blog2Social settings by selecting the tab 'network settings' and choose to either post a link post or photo post.
Link Posts:
The link post format displays the post title, link address and the first one or two sentences of the post. The biggest advantage of this format is that your followers will be redirected to your website or blog right after clicking on the link preview in your Google+ feed. PLEASE NOTE: To have your preferred image displayed in your Google + link post, make sure you select an image from your blog post image gallery.  

Photo Posts:
A photo or image post displays the image you've selected in the Blog2Social preview along with your comment. Blog2Social automatically adds the link to your website to your comment. The main benefit of photo posts is that your image is uploaded to your personal gallery and, thus, generates long-term visibility.
Turn your WP tags into hashtags for more engagement
Blog2Social 4.5 will automatically turn your WordPress tags into hashtags and add them to your comments
in your social media posts for all networks with hashtag-support. You can activate this feature in your Blog2Social settings, 'General', By filling your comments with valid hashtags, your social media posts will be turned into searchable content and are easier to find for potential readers.

For example,  the tag "Social Media Automation" will be turned into #SocialMediaAutomation and will help you to increase your posts outreach, visibility and to address new target readers.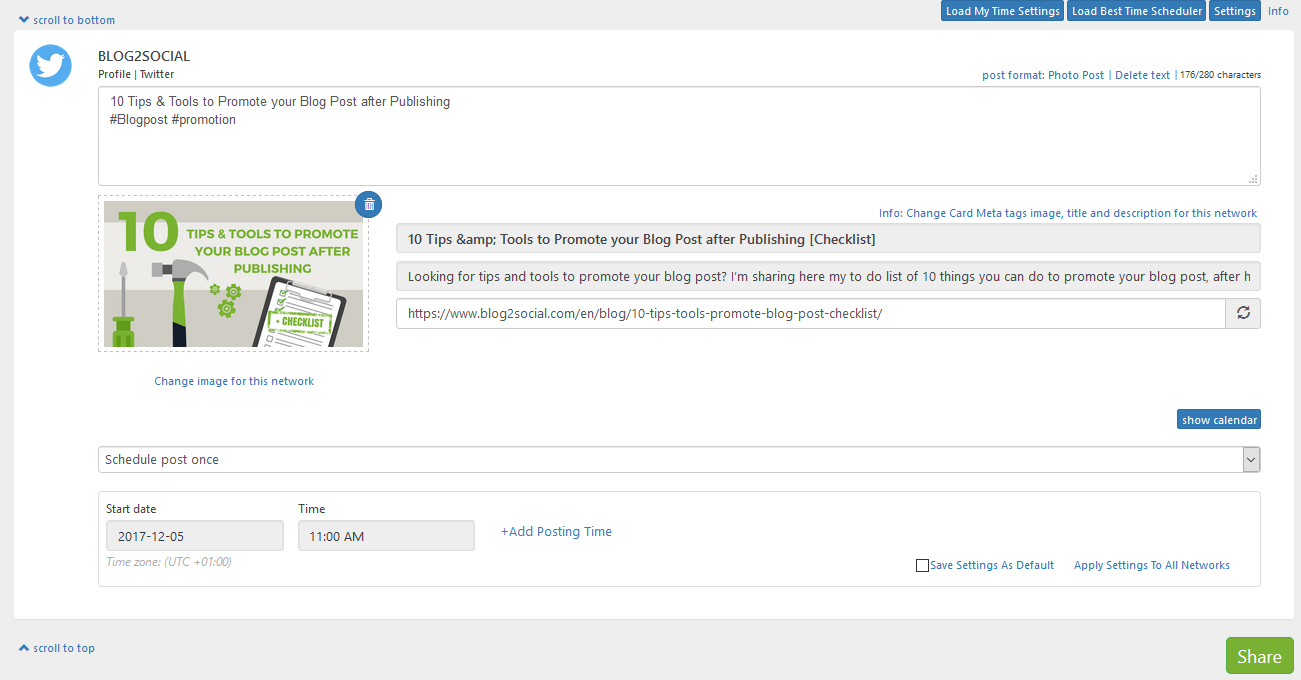 For further information, check out our FAQ: How to Automatically add Hashtags to my Social Media Posts?

Furthermore, Blog2Social 4.5 includes a variety of usability updates to provide you with a hassle-free experience to support your social media marketing.
2017-12-04 17:04
Version 4.4.1 - 280 character limit for Twitter messages
Twitter has doubled the character count per tweet from 140 to 280 characters. But brevity will still be the soul of Twitter messages. During the first phase of testing only 1 percent of tweets hit the 280 character limit, 2 percent were over 190 characters and only 5 percent were over 140 characters. With Blog2Social you can now test the new freedom of characters on Twitter for yourself.
Version 4.4.0 - Auto post RSS feeds and imported blog posts (Premium Feature)
Update your Blog2Social now to version 4.4 and benefit from an improved Auto-Poster function.
Enable the auto poster for imported content via RSS feed or third-party apps (premium feature) and share your imported blog posts, products or events on Facebook and Twitter. Automatically post imported content as soon as it is published on your website. [Here's a link to the detailed How To]
In addition, Blog2Social 4.4 includes a few minor bugfixes and usability updates to provide you with a hassle-free experience and to support you efficiently in your social media marketing:
XING group name display
When you publish to XING groups, the XING group name and the corresponding group forum are displayed more optimally in the network settings. It is now even easier to navigate between groups and forums when posting.
Share to Goolge+ Group sub-categories (Premium Feature)
With the new release, you can now post in sub-categories of Google+ groups you are a member of. Select the sub-category directly in the Blog2Social editor sharing.
Setting the Image Format for Instagram (Premium Feature)
Choose your preferred image format for Instagram. In Settings -> Network Settings you will now find a menu tab Instagram. There you can choose between Frame Images and Pictures without Frame.
Selecting Frame Image means that rectangular images will be displayed in landscape format. A white bar will be shown at the top and bottom of the respective images.
With Picture without Frame, rectangular images are cropped at the edges, but have the advantage that your overview looks more consistent. The selection has no influence on the image display in the preview of your posts.
Post to Medium Publications
(Premium Feature)
In addition to your media profile, you can now publish your blog posts in Medium publications. Select your publications directly in the network settings.

More information:

2017-11-09 09:36

We have released a new version of Blog2Social to ensure seamless functionality and enhanced usability.

Please, update to Blog2Social 4.3.3 to enjoy a smooth functioning of the new drag & drop scheduling calendar, the best time manager and an advanced customization of your social media posts with Facebook Open Graph (OG) and Twitter Card Meta Tags.

Furthermore, you can now display the authorship of your blog posts when sharing them to Facebook, by automatically setting the OG author tag when sharing your posts with Blog2Social.


More information:

2017-09-20 15:02

Some Blog2Social users have reached out to us and brought an error to our attention which occurred during the updating process to Blog2Social version 4.3.
This issue is now fixed.

Please, update to Blog2Social 4.3.1 to enjoy the new drag & drop scheduling calendar, the blogger platform Bloglovin' as well as the customization of your social media posts via OG tags and Twitter Cards.

2017-08-30 10:42