Update your Blog2Social to version 5.5 to make managing a blog or website with multiple users and social networks easier than ever.
Advanced Network Management (Business)
Do you manage a blog or website with multiple users and social network accounts? Whether you share your blog with multiple contributors, work with a blogging or social media team, or with a social media agency - working as a team is now easier with Blog2Social.
Create network collections and move network connections
With a Blog2Social Business version, you can now easily bundle selected social media connections into network collections. If you want to add a network connection to a per-defined network collection, you do not need to re-create the connection. Simply move your existing connection to the network collection.

>> Learn how to create and save network selections
Share network connections (Business)
With Blog2Social 5.5 we make sure that the setup and management of social networks for  multiple  users is easier with the help of shared connection. 
When you share a Blog2Social license with multiple users, you can now assign social media connections to other users to enable these users to manage and post on these network accounts, without each user having to create the network connection themselves. You are able to update and delete the assigned connections as well as select forums (for XING groups) and pinboards (for Pinterest).

This saves time for the setup, while at the same time protecting  persona accounts or accounts with sensible login data as there is no need to share your login data anymore.



Users can still set and save their own best time settings for the assigned connections and share and schedule posts. Of course they can also still use their own social media connections which is especially important for networks like XING or LinkedIn.

Assigned social networks connections enable multiple users and social media teams to share the work of crosspromotion: Writers can create blogposts and your social media team can share them on different networks. Both users are able to see shared social media connections and their status in their network overview.
Activate other users for Blog2Social Premium (all Versions)
You are now able to manage the licenses for other blog users in your WordPress backend. This way you can activate and manage license keys for all blog users, without the need to disclose license key information and have users activate their accounts themselves.
>> Learn how to manage license keys and network connections for other users
Additional Updates and Optimizations
Hashtags can now be automatically generated from WP tags for WooCommerce product post types
Featured images are now automatically updated in the calendar preview when posting multiple identical posts with changed URLs
External Links without Link preview can now also be shared with Content Curation
2019-06-27 15:09
Update your Blog2Social to version 5.4.1 to benefit from usability updates for a better user experience with Facebook, LinkedIn, generated hashtags and the auto-poster.
Changes:
When posting with Facebook Instant Sharing in the photo post format, your link will now automatically added to your quote.
You can now choose your post format for LinkedIn posts.
Special characters (punctuation, apostrophe) are now automatically removed when generating hashtags.
Fix: Hashtags are now correctly generated for auto-posting.
Expired Facebook connections are now shown in the networks overview.
You can now choose your best times in the auto-poster drop down menü.
Process "delete networks" adjusted.
Cononical links are set when they are handed over to blog networks.
2019-05-21 15:26
Update your Blog2Social to version 5.4 to save your curated content as drafts and analyze your blog posts for social-media-readiness with the new Debugger Tool.
Content Curation: Save your curated content as drafts
"Content is king" and Content Curation helps you to collect and post the best content from any source on your social media accounts. We're constantly working on new features to make Content Curation easier for you with Blog2Social.
You can now collect and prepare posts for your Content Curation campaigns, save them as drafts and edit or share them at a later date.

>>> Here is how to share content from any sources with Blog2Social
Share or save your curated content links as drafts with the Browser Extension
Did you find an interesting article in your browser? With Blog2Social version 5.4 you can share the article immediately or save it as a draft for your content curation campaigns with the Blog2Social Browser Extension!
To share it directly with your followers and fans just click on the Blog2Social icon in your browser and share interesting content the moment you discover it. Add a comment, to make your message more personal and engaging.
Blog2Social now also saves the link as a draft in the Content Curation feature of your Blog2Social WordPress dashboard.
Are your blog posts social-media-ready? Analyze your blog post's shareability with the new Sharing Debugger
Debugger tools help to test programs and websites for troubleshooting. They analyze the source code step by step at runtime and control its flow. Sharing debuggers let you preview how your content will look when it's shared to debug any issues with your Open Graph tags. Social networks such as Facebook, Twitter & LinkedIn offer their own debugging tools.
To make this process easier for you we have included all available sharing debugger tools directly into your Blog2Social dashboard. Use the Debugger link preview to see how your blog posts are displayed on social media and to get clues what you can edit to give your blogs posts a better social media look.
Update to Blog2Social 5.4 to use the integrated debugger tools in your WordPress backend. You find these on the Help & Support page in the new tab "Sharing Debugger". On this page, you can enter the URL of your post in the provided text field and use the debugging tools of Facebook, Twitter & LinkedIn to find out if your blog posts are social-media-ready.
Additional Updates and Optimizations
Settings for "Schedule Recurrent Post" are now saved  in your "Load best times"-settings 
Content Curation: Increased compatibility for special characters in link URLs
Updated Pinterest authorization process: Please re-connect your Pinterest accounts to post on Pinterest.
2019-05-06 16:40
The new season is finally here and with it comes a new look for Blog2Social.
Update your Blog2Social to version 5.3 to experience the new look, improved support hub and improved social media calendar.
A new look for Blog2Social
Awesome features at your fingertips
As Blog2Social is evolving and equipped with new features, the former right-hand sidebar menu  was revised with a new and better structured sidebar to take you directly to all major features with just one click. Navigating through Blog2Social is now easier than ever.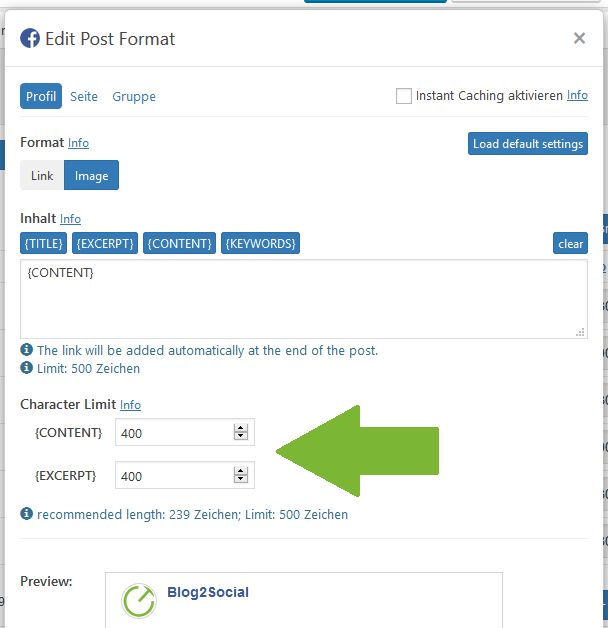 Improved support hub
With every new feature, new questions arise, so it was time to overhaul the "Help & Support" page.
You can now easily access the FAQ and search for your questions directly or check out the support topics to find answers.
Clicking on the "Step-by-Step" Guide will open the Blog2Social manual that takes you through all the important features of Blog2Social step by step. Even advanced users might find some new tips and tricks there.
The new Troubleshooting-Tool assists you with issues regarding the system requirements and the system environment of your blog system. You can find this tool on the top of the new "Help & Support" page. Just click on "Troubleshooting-Tool" to scan your blog and easily find out whether your blog is meeting the system requirements or your system environment is causing any technical obstructions. >> More Information
Please note: Only site admins can access the Troubleshooting-Tool. If you have no admin rights, please ask your site admin to check the Troubleshooting-Tool for you.
Social Media Calendar Update: Shared Posts & Direct Links
You can now see your shared posts directly in the social media calendar and use the integrated social media calendar as your editorial calendar.
Look at all your shared posts by month and click on them to be automatically taken to your shared social media post on the specific network. Filter by shared posts, scheduled posts or all posts.
Are you new to using the social media calendar? Find out how to view, edit or delete scheduled social media posts in the Social Media Calendar.
Additional Updates and Optimizations
Links with country code top-level domains containing .com plus another country code (for example .com.br) are now displayed correctly
OG Meta tags can now correctly be edited after switching post formats
Optimized URL scraping for content curation
Optimized URL scraping for Instagram
Facebook Instant Sharing character limit now visible while planning
Shared Posts can now be sorted by "last shared on Social Media"
Images on LinkedIn are now correctly changed again
Link preview display in the one-page editor optimized
XING group posting limits now refresh when the profile is changed
2019-04-24 12:38
The interface to Pinterest is currently subject to temporary interruptions. We are working with Pinterest on this issue to re-establish a stable connection.
Thank you for your understanding.
2019-04-01 14:13
Update your Blog2Social to version 5.2 to connect to XING with the new XING interface: Connect and post to XING profiles, pages as well as to XING business pages. Benefit from optimized auto-load-performance and the new Portuguese language update.
Connect to XING with the new XING Interface
XING will no longer support existing APIs to third-party tools, so the current interface will be shut down by 31.03.2019. Therefore, we now introduce a new XING interface to allow you to keep scheduling & sharing your social media post on XING.
New: Connect and post to your XING Business Pages
From now on you can connect your XING profile, as well as your XING company pages (Employer branding profiles) and your business pages with Blog2Social via the new XING interface. To do this, go to the Blog2Social "Networks" section and connect your XING account with XING.  

Please check whether you have scheduled social media posts for XING beyond 31st March 2019. Make sure to reschedule these posts with the new XING interface so that your posts will be published after 31st March 2019 on your XING accounts. Make sure you schedule and share all new posts with new XING connection.
Learn how to connect and post to XING
Google shuts down Google+ for private consumers
Google will shut down Google+ for all private accounts  (profiles, pages, groups) on 2nd April 2019. Here you can find further information and the next steps, including how to download your photos and other content:
https://support.google.com/plus/answer/9195133?hl=en

Please check whether you have scheduled social media posts for Google+ beyond 2nd April 2019. Make sure to reschedule these posts for other social networks.


Additional Updates and Optimizations
Blog2Social is now available in Portuguese.
Auto-load-performance has been optimized.


2019-03-20 09:28

The Medium API is available again and Medium is back in the Blog2Social networks overview.
You can now reconnect your Medium account to Blog2Social and post your blog posts on Medium.

>>How to connect Blog2Social with Medium
>>How to automatically publish blog posts on Medium

2019-03-19 12:17

Medium has announced that there are  currently problems with their API for third-party tools.

This is why posting on Medium or connecting a Medium account with Blog2Social is not possible at the moment. 

We are in constant contact with Medium and we will let you know as soon as Medium has fixed this issue. and a stable connection can be ensured.


More information:

2019-03-12 16:24