How do I schedule the posting of not yet published blog posts in advance?
If you want to schedule a blog post that you have not yet published, please make sure beforehand, that the blog post is scheduled to be published on WordPress.

To do so, please
Go to your post editor and check in the sidebar on the right hand side, whether the post is "Scheduled" or a "Draft".
Click on edit and change the date and time according to your editorial scheme and click on "OK" afterwards.
Now remember to click the blue "Schedule"-button, to make sure your WordPress has indeed scheduled the post.
Now you can schedule your WordPress post which is not yet published in two ways.
1. Choose to enable the auto-posting so you can decide if the post should be shared immediately after the WordPress post is published on your blog, or if the post should be shared at the best times.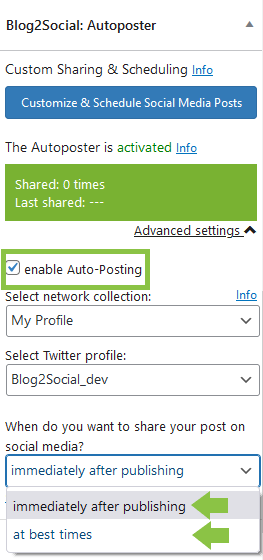 2. Click on "Customize & Schedule Social Media Posts" to be forwarded to the usual editor mask, where you can schedule the post for a specific date and time or in a recurring scheme. You can also individualize your post for each social network and social media account.