Optimize Your Content For Search
Pinterest is an amazing tool for generating traffic to your blog.
This visual platform is perfect for connecting with like-minded people, giving your followers even more content, and getting inspiration for new blog posts.
The average Pinterest user can enjoy creating their own boards and pinning things like recipes, products they like, or inspirational quotes they've found on the platform. But if you want to grow your blog traffic, you'll have to work a little harder.
Below, we're providing you with some top tips on how to use Pinterest strategically so that you can grow your traffic.
Why Optimizing Your Pinterest Content is Crucial?
You'll notice in the tips below that they're all about "optimization."
SEO – search engine optimization – will likely be a term you're familiar with when writing your blog posts or creating ads on Google. SEO is equally as important on Pinterest, as this is how your pins will get noticed.
If you've already been dabbling on Pinterest and are looking for ways to increase viewership, getting a blog going and linking your posts to Pinterest would certainly help with optimization and increase traffic. There are many wonderful online tools such as this guide on how to start a blog which will have your new blog up and running in no time! If you are visually orientated and enjoy spinning a yarn, blogging can be the perfect accomplice to your Pinterest profile. The more optimized your content is for Pinterest, the more relevancy you'll have in searches, and the higher you'll appear on the page.
Pinterest is more a visual search engine than a social media platform. Its users search for products, recipes, or lifestyle tips and pick from a page of results presented as images.
This means that, unlike your Instagram or Facebook feed, your content can be seen by just about anyone searching on Pinterest – they don't need to be following you.
It also means your images and content have a much longer shelf life as they can be continuously searched for, rather than only appearing on someone's feed when it's first posted.
This is why optimizing your Pinterest content is so crucial. Everything you upload should be optimized: The imagery, pin descriptions, and even your display name.
Display Name
This is different from the username you've used to sign up.
A display name will appear on your profile next to your picture. It's a good idea to add a little detail into your display name about what users can expect to see on your profile and within your different boards.
This is a prime place to include keywords and phrases that will help your profile be discovered through search.
Pin and Board Descriptions
If you want to use Pinterest to gain traffic to your blog, unfortunately, it's not as simple as just pinning and repinning things that take your fancy.
You should be optimizing the pin and board titles and descriptions as you go along.
Try to include keywords just about everywhere you can. This will make your pins more search-friendly, and boost your ranking on the page.
Hashtags
Just like other social channels, hashtags are great for gaining new traffic.
Unlike Instagram, hashtags on Pinterest are purely functional, so using a funny hashtag won't work. Hashtags are good for categorizing your pins into common search terms.
If you're not sure about what hashtags or keywords to use, Pinterest has a built-in keyword research tool. Type a phrase or word into the search bar, and you'll notice a list of predicted phrases below. These are other keywords people have searched for and are listed in order of popularity.
Aim to include 3-5 hashtags and keywords in your pin and board descriptions. And if you have a smaller following, it might be worth going for a few of the lower-ranking searches rather than fighting for the top spots.
Image Sizes
As people predominantly use their mobiles for online searches now (80% of Pinterest users access the site via mobile), it's important to make sure your pins are in the right format and size.
Pinterest used to accept long images or infographics, but has now deprioritized them as they are difficult to read on a smaller screen.
The optimal image size for Pinterest is now 600 x 900 (2:3). This will ensure that your image and text overlay are responsive on any screen size.
Use Rich Pins
Rich Pins are perfect for encouraging click-throughs. Rich pins are an SEO-focused aspect of Pinterest and they are designed to spread brand awareness in order to contribute context to your posts.
The primary function of Rich Pins is to transfer information from your website to Pinterest. You automatically create Rich Pins when you link your blog to your Pinterest account. If something changes on your website, the Rich Pin will be modified to mirror that update. Rich Pins are identified through their additional contact information and bold titles.
They offer Pinterest users more information about your content in an easy-to-digest way and add more detail to your pin.
There are four types – recipe, product, article, and app – and each is specific to its content type. For example, recipe-rich pins have the ingredients and prep time readily available in the description, while a product pin will have the price and a click-through shopping button.
Rich Pins are a really valuable tool for increasing traffic to your site. According to Marketing Land, 2million people a day are saving product-based rich pins, so they are worth taking the time to set up correctly.
Use Attention-Grabbing Text On Your Images
While pin titles and descriptions will help with Pinterest algorithms, these snippets of text are super hard to read on a small screen. That's why you'll see most pins have the headline on a text overlay on an image.
This makes it really easy for people scrolling through their feed to see what the pin is about and click through to find out more. The smartest and easiest way to find out what kind of text on images people are using in your niche is by reviewing other people's content.
This carefully selected list of home improvement and decor blogs, introduces you to different styles of imagery text and captions. Some are quirky, some informative and basic while others hip and trendy but all effective and suited to the image described.
Use tools like Adobe Spark or Canva to create beautiful imagery with text to help you grab the attention of Pinterest users. Avoid being too clickbaity and confusing.
Oberlo suggests using just 4-5 words on a text overlay to portray your message.
Create Seasonal Content
If there's one thing Pinterest users love, it's seasonal content.
Christmas decor ideas, Halloween costume inspiration, or Easter Sunday recipes all work incredibly well.
If you're a frequent blogger, you'll likely already be tapping into these seasons, so make sure to optimize your imagery to be pinned by you and your readers.
According to Pinterest themselves, their users start planning for seasonal events at least 30-45 days in advance, so make sure you're not leaving your seasonal pins to the last minute.
Create Video Pins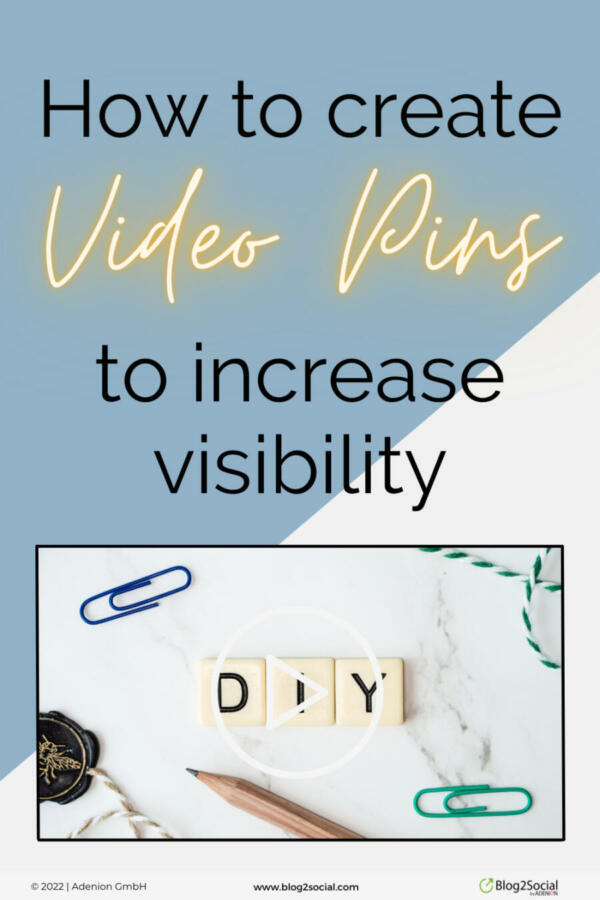 The Pinterest algorithm prioritizes video pins – especially on mobile. When someone searches on the platform, typically, a row of videos will appear at the top of the page, meaning they're the first things that will gain impressions.
On desktop, video pins automatically start playing in the feed – making it easy to attract the attention of scrollers.
If you can create videos for Pinterest, you have a much more likely chance of getting click-through. Optimize your videos to a square format and don't forget keywords in the description!
It's also worth making sure your video can be understood without sound. Add text to your video to make it easier to watch while people are on the go. Videos that require sound – like those with a commentary – will quickly be scrolled past as users aren't always in a position to listen to videos out loud.
Pinterest recommends using short videos of 6-15 seconds to achieve the best results.
Consistently Upload Pins
Like any social platform, more recent pins or repins are found higher up in the search on Pinterest, so it's important to regularly upload content. Whether you dedicate time to do this every few days or use an automation tool like Blog2Social, frequent posting will help create a consistent thread of content for people to discover.
By having an active presence on the platform, new visitors to your profile will also have more reason to follow you. What's also important, however, is making sure your Pinterest activity doesn't seem too 'spammy'. Pinterest penalizes accounts that seem overactive, so limit yourself to under 30 posts a day maximum.
Invite People to Collaborate on Your Boards
The success of your blog is highly dependent on your community and following. The best way to build your community is by collaborating with other bloggers, which you can also do on Pinterest. Look under the Suggested Accounts for a list of fellow bloggers that you can invite to create a group board with a shared interest or to organize a Pinterest campaign together.
Boards can be for single publishers or groups, so you can invite your favorite blogging friends to join and pin together. Here, you can promote your own blogs, pin inspiration, and tag branded content for any brands you're working with.
Repurpose your content
Creating great content costs valuable time, resources, and money. So make sure to repurpose your content by turning the post images into multiple formats. This way you can share it across multiple social networks and get more reach and visibility.
An easy way to crosspromote your content is by using a social media automation tool like Blog2Social. Simply upload your different image formats customize it and schedule your posts for the most important social networks.
Conclusion
By using these tips, you should notice a huge difference in the traffic to your blog. The great thing about Pinterest is that – unlike Instagram – you'll continue to reap the benefits of your efforts.
Once your post is repinned, you will experience a new flurry of traffic to your site.
Make sure to optimize your pins, boards, and profile for search so that you can continue to gain traffic from your Pinterest regularly.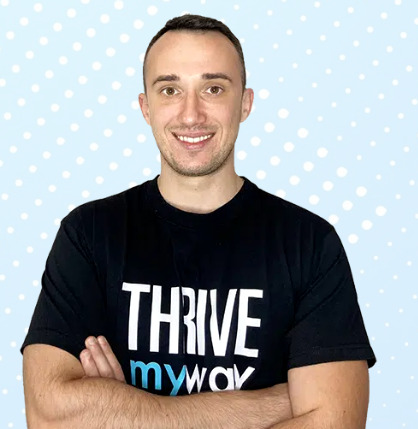 Georgi Todorov is the founder of ThriveMyWay, a website dedicated to teaching successful digital marketing strategies. Georgi is regularly called upon by companies seeking to develop and enhance their SEO and link-building strategies in order to achieve hockey stick growth. When Georgi isn't working, you can find him getting close to nature, learning online or traveling.