How to share your blog posts on Google My Business automatically
Your Google My Business listing is your digital business card and can be a primary touchpoint when clients and prospects search for your company. As soon as someone searches for your company on Google, your Google My Business listing appears in the top right-hand side of the search results and is in the focus of attention. Presenting your latest posts from your business blog directly on your Google My Business listing allows you to share your latest news and draw attention before people even visit your site.

Blog2Social allows you to share your blog posts on your Google My Business listing with just one click directly from your WordPress dashboard. The plugin automatically converts your blog posts into a Google My Business Post. Your featured image will be converted to the right format automatically and a link to your blog post will be added.
How to connect Google My Business to Blog2Social
To connect your Google My Business account to Blog2Social, go to "Blog2Social -> Networks" and scroll down to "Google My Business". Click on "+Profile" on the right side to open a new window.
Choose the Google account that is linked to your Google Business listing.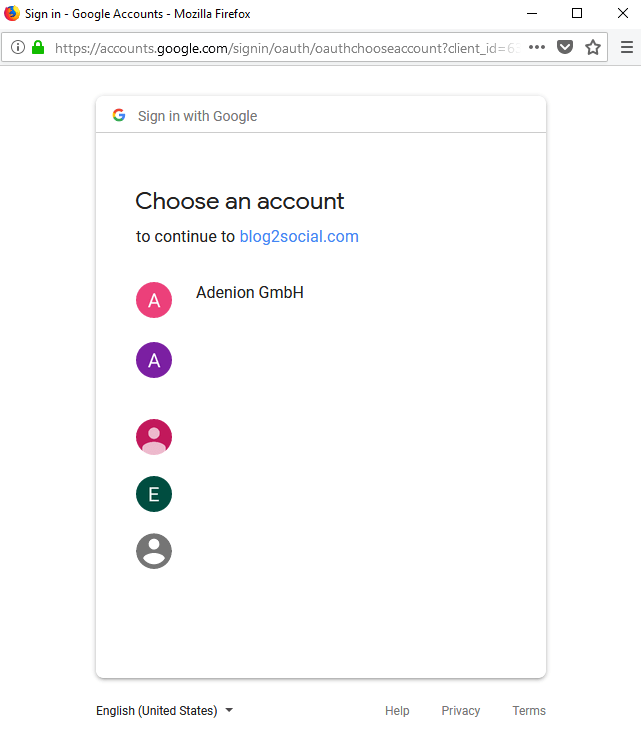 Choosing your Google account will take you to the access confirmation page. Please make sure to click "allow" to grant Blog2Social the rights to publish on your Google listing.  
Then select the locations where you want to publish your content too. (Locations and location groups)
Please note that you will need verified locations in Google My Business.
After you've successfully connected your Google my Business listing to Blog2Social, you can find the location listed in Blog2Social -> Networks.
You can now share your blog posts on Google My Business. This >>FAQ shows you how to share individually tailored your blog posts.

Your articles will appear as posts on the main page of your business listing on Google and link to your full blog post or landing page. This allows you to keep your business listing on Google up to date without additional work or time.
Please note:

Blog2Social uses the official Google My Business API, with secure oAuth authentication to ensure your Google account is safe, to send your content to your business listing. You can connect Google My Business accounts with up to nine different locations to Blog2Social and choose which location you want to share your content on.

Google currently allows access to the API for all companies with up to 9 locations connected to their Google My Business account. However, Google plans to extent the API access in the future for companies with more connected locations.
More information


Want to learn more about Google My Business? >>

>> You can't connect Google My Business? Please take a look at our Google My Business solutions FAQ
Note: Read our Google My Business Guide to see how Google My Business can help you gain more visibility and reach for your business with the latest content.
Tags:
account
,
Business
,
connect
,
Google
,
listing
,
My