How much time can you save on sharing your blog posts on social media with Blog2Social?
Every blog post needs promotion. Sharing blog posts on social media is one of the most important tasks to generate attention and drive more traffic to a blog or website. Cross-promoting a blog post on multiple social platforms and channels consumes a lot of time and work. Every blogger and social media manager knows what I am talking about. So, how can you save time on marketing your blog post on social media?
Social media automation tools can save time and routine work for sharing. In this article I will show you how, the WordPress plugin Blog2Social saves me so much valuable time every day in my job to publish and promote blog posts across 14 social media channels. With Blog2Social you can plan ahead to share blog posts directly from the WordPress dashboard. You can also customize and schedule your posts to have them automatically shared and re-shared at the best time on each social network.
However tempting social media automation is to share the same message to all social networks, social media posts get more outreach and engagement, if you customize your posts to each social network and each community. By using personal comments, asking questions, adding hashtags or refering to current discussions with @handles, a social media message encourages readers to engage with the post. People are more likely to like, share or comment a social media posts with personal comments than unpersonal and robotic posts. Blog2Social allows me, to customize each social media post for each network and community in one place and one easy workflow, so that I can still save time, a lot of time, compared to manually sharing my posts.
For me this is a perfect help for my daily work routine jobs with our corporate blogs and social media accounts. To show you how I tackle my daily work and how I can save time, I have simply ventured on a self-experiment to compare the manual sharing of blog posts on social media with the automatic posting process via Blog2Social. Of course I did protocol this with a stopwatch. You can read the results as follows.
The tedious work of sharing social media posts manually on each network

For my self-experiment, I started with the manual work of sharing my blog post separately on each social media account. I wanted to see how much time I actually need for marketing a blog post on each social platform. I stopped the time starting after publishing my blog post and then I started with the promotional work.
First, I tackled Twitter, quickly and easily to be done, isn't it? Just 280 characters to go. As a practiced Twitterer myself, the text actually came to me quite easily, putting in hashtags and handles without much hassle. But then the tricky part started: 49 characters left but still no link and no image included. So I opened a new tab, entered the blog URL, opened the post, copied the link and pasted in my Tweet. I wanted to post an image post, so I still had to past in the image. What size works best on Twitter?
Good to have a guideline, such as a Social Media Image Sizes Cheat Sheet attached to your monitor to quickly grab this information.
So I had to quickly trim the image, 440 x 220px is moreover the minimum, attach and Tweet it out.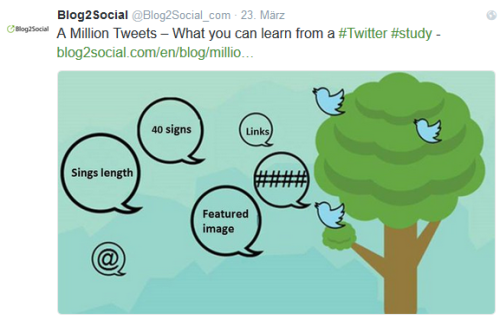 Sample post for Twitter
Tip: How to create a perfect tweet, please read on: "1 million Tweets – What you can learn from a Twitter study".
A quick look at the timer: 4:01 minutes gone for Twitter.
On to the next network!
Now it was Facebook's turn. For Facebook,  there is no character limit. So I added a short introduction to my post, resized the image and hit sent. And that was the first mistake. I forgot the link! I will credit the time the manual way that I've wasted by this little faux pas.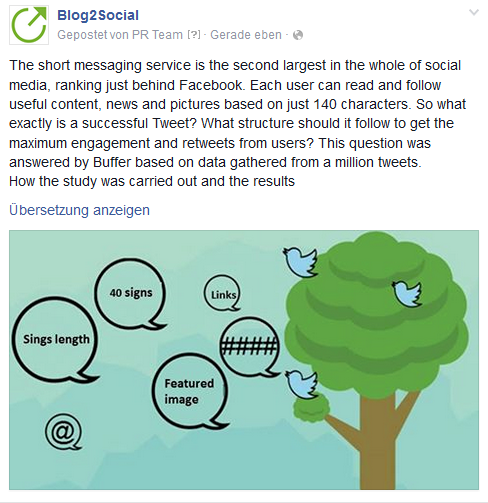 Sample Facebook post
The score: After Facebook the stopwatch shows 11:43 minutes.
No, I will not bore you now with how I worked all networks, but rather highlight what I did. After finishing Facebook, to save time, I copied and changed my comment a bit for the business contacts on LinkedIn and Xing.
A quick look at the timer after working 5 social media networks: 26:17 minutes.
Now I realize that pasting links and images is most time-consuming. Additionally, I have to open each network in a single tab and switch between tabs to copy an paste texts for re-using them. Blog post, social networks, image folder, infographics, Photoshop – you can very quickly lose the rhythm.
Pinterest, Instagram were next in line. In these two social networks you need a key visual to grab the attention and drive targets to your post. So, to save time, you should make sure to prepare graphics that work on both networks. However, again, you have different images sizes that work best on each network.
With Pinterest there is also the choice of the right wall to pin it to. With cropping images, texts and looking fort he right pinwall to post to, the timer tells me I am at 31:22 minutes. I did not account the time I need to also share my images on Flickr, which I usually do.
Only two networks now left to work for this experiement: Tumblr and Diigo. Diigo is simple, because I have only my link to share. But, Tumblr usually takes more time, because I can actually re-publish my post there. However, I usually prefer to edit my post a bit for Tumblr, so this takes up quite some time. But I did not account this additional editing time for this experiment.
After sharing my post on Twitter, Facebook, LinkedIn, Xing, Pinterest, Instagram, Tumblr and Diigo, I stopped the time again and had a final time of 35:30 minutes.
At a first glance I thought 35:30 minutes for 9 networks was not bad, but if I want to promote 2-4 posts a day, I am busy for more than 2 hours with just promoting blog posts.
However, I did not acount the additional time I usually need for re-publishing my post also on Medium, Torial, Bloglovin, and Reddit. And, I also did not account the additional time I usually need to share my post on Facebook, LinkedIn and Xing pages and groups.
Let's see what the timer tells us for the same procedure by using Blog2Social.
Social Media Automation: Sharing blog posts with Blog2Social
The starting point here is the same: The timer starts after the blog post is published and the promotional work can begin. In the WordPress back-end, I can click on the green Blog2Social button to share any of my previously published post.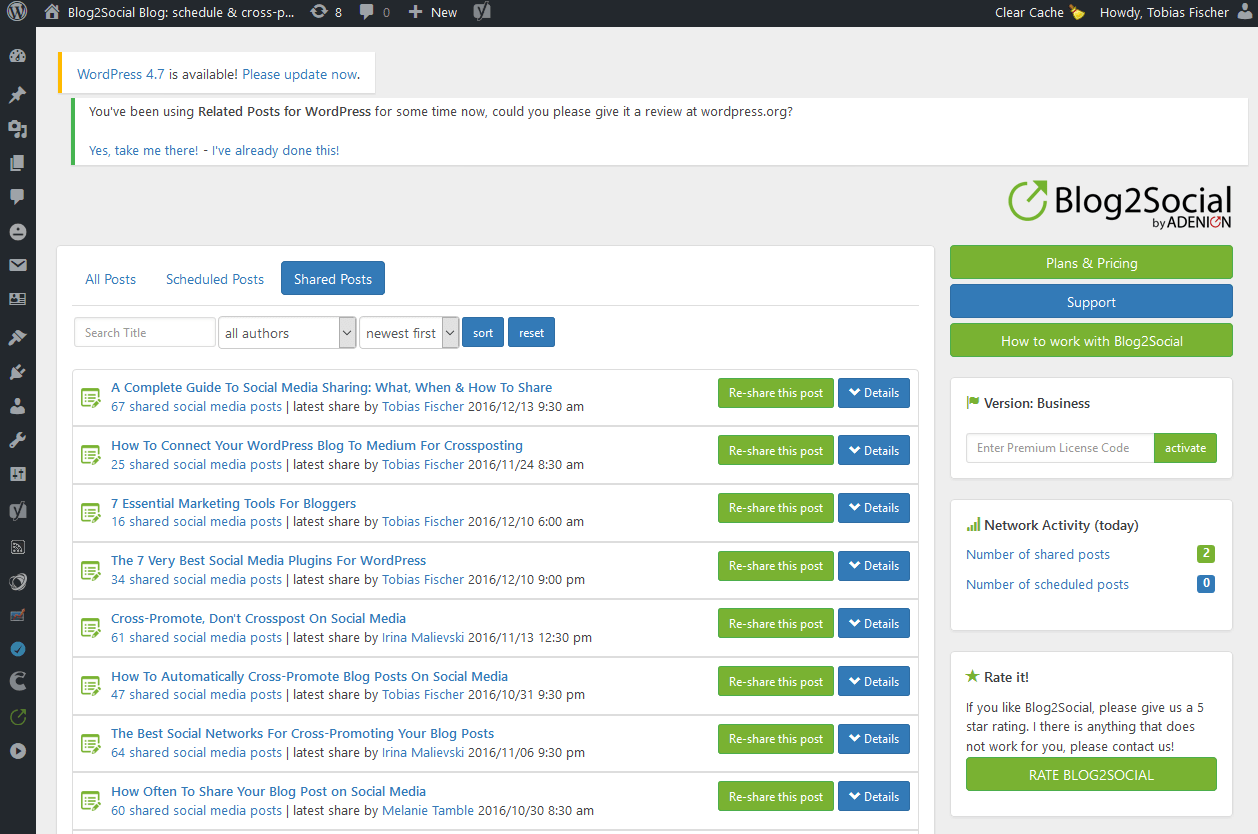 Blog2Social automatically adapts the post format, images sized and comment to the requirements of each network. I can preview and edit each post for each network and community. Since I don't want to make it too easy for this experiment, I will become more creative and customize my comments for each of my communities. Same game as before: Short and with hashtags on Twitter, a bit longer for Facebook, a bit more business-like for Xing and LinkedIn. I can also do my pages and groups in the same step, add hashtags and handles as needed.
If you want to learn more on how best to share your post on each network, read our complete social media sharing guide.
I can select image post or link post format. I don't have to insert the link to my post for images post formats as Blog2Social inserts it automatically into the comment test field. The plugin allows me to select an individual image for each network and the tool will automatically resize the image for the requirments of each social platform. Therefore, I can remove my sticky notes with image sizes from my screen. Also, my keywords are automatically turned into hashtags for networks such as Pinterest and Instagram.
I can also change the preview link and image for Facebook and Twitter Cards, by adapting the meta tag parameters.
The tool also counts the available characters for me. On top of each editing field I can see how many characters I have available in total and how many I have used up already. This is how it looks like:
For re-publishing my blog post on editorial networks such as Tumblr, Medium, Torial or Bloglovin', I can even edit everything I want to change in a HTML rich text editor.
Since all editing fields for all connected networks, profiles, pages, and groups are displayed on one editing page, I save time for switching between the individual tabs.
The one-page editor also allows me to schedule my posts to be shared at a specific time on each network and community. I can do this by using a pre-configured best time scheduler to schedule the times automatically for each network or I can edit each time seperately for each network. I usually use the best time scheduler and then edit some of the suggested times, if I think it necessary. With this I can save time on scheduling every post individually.
The only thing I still had to do is to press the green button "Share." One click and just 30 seconds later, I got this reporting.

Et voilá – a green check mark shows that all posts have been published. By clicking the green button you a direct link to the social media post on your networks and you can take a look, if everything is ok.
Although now I know from experience that I can trust Blog2Social to correctly publish my posts, I've picked Pinterest and Twitter to double check.
Sample post on Pinterest
Sample post Twitter
What can I say? Everything looks like it is supposed to look and everything is great! A glance at the stopwatch tells me: 5 minutes and 22 seconds. Even without a calculator, I know that it was much less than in the first round. Blog2Social just saved me 30 minutes and shared my post to even more social channels, because this time I also posted to our Facebook, Xing and LinkedIn pages!
The Benefits of Scheduling Social Media posts for Sharing your Blog Posts on Social Media
Blog2Social enables you to share your blog posts on all social media at once or to schedule your social media posts for each or of channels. By sharing your posts at different times the posts are likely to get more outreach and attention. Every network has a specific time when communities are most active and at which posts achieve higher interaction rates. By sharing your post at the best time for each social network your post is more likely to get attention and engagement from your community. By sharing your post at different times across social networks will also extent the life span of your post.
How to Save Time for Scheduling on Social Media
For scheduling your posts you can use the pre-configured best time scheduler, or configure and save your own best time settings to do you scheduling with just one click. Or you can schedule your posts for multiple times or recurrently and plan ahead for up to 52 days. That allows you to refresh your evergreen posts from time to time without lifting a finger. Knowing that the lifetime of a Tweet is less than 19 minutes, this can be quite useful.

A Drag & Drop Calender makes it easy to keep track of your shared and scheduled post and to re-schedule them if necessary.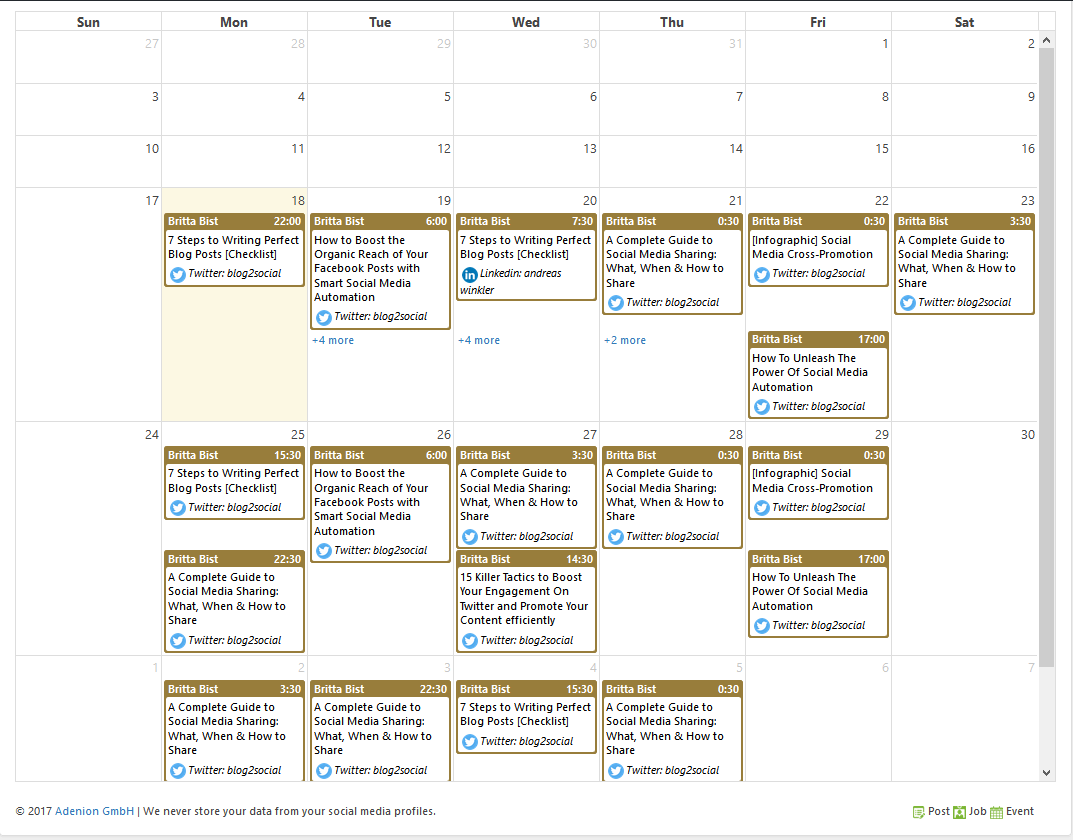 Wrap up: Save Time on Social Media Management and Cross-Promotion with Blog2Social
35:30 minutes manual sharing vs. 5:22 minutes automatic sharing. With Blog2Social I can share my blog posts much faster and even customize and schedule my blog posts to more than 14 social networks profiles plus groups and pages. all posts will automatically be adapted to the requirements of each social network and I can additionally custimize my posts with individual comments, images, port formats. Links and hashtags are inserted automatically. A little arithmetic shows it clearly: Blog2Social saves more than 30 minutes of your valuable time for promoting your blog post on social media.