How to share multiple images in one post?

Photos and graphics are an essential asset of content marketing. Visual content is an eye catcher. Images are irresistible for the reader to look at your social media posts. Images do not only amplify text messages, they also communicate on their own. They attract more attention, can evoke emotions and trigger associations.
Sharing more than one image in a post improves the visibility of your content. You can create image series, show sequences, and level up your storytelling.
With Blog2Social you can easily share multiple images in one post (image post) on the following social media networks:
Facebook (pages & groups) - Up to 4 images
Twitter - Up to 4 images
Instagram Business - Up to 10 images
LinkedIn - Up to 4 images

To do this, you have two options: You can
create a new image post or
select a WordPress post that was already published
Step 1: 
Please click on "Social Media Posts" in your Blog2Social menu. Now you can choose your preferred WordPress post and click on "Share on Social Media" or click on "Share New Image Post" to create a new social media post.
Step 2:
Now you can see the editor mask and start editing your post. You can select the networks Facebook (pages & groups), Twitter, Instagram Business and LinkedIn to share your multiple-image post.
Please note: To share your post with multiple images on Facebook (pages & groups), Twitter and LinkedIn please change the post format from "Link Post" to "Image Post" first.
If your WordPress post or page already contains an image, it will be shown as the first image of your gallery. If you like to change it, you can click on "change image" and select another image from your post gallery or select or upload another image from your media gallery.
Step 3:
Add more images for your multiple-image post

To share more than one image, you can click on the blue button with an image icon below your gallery image.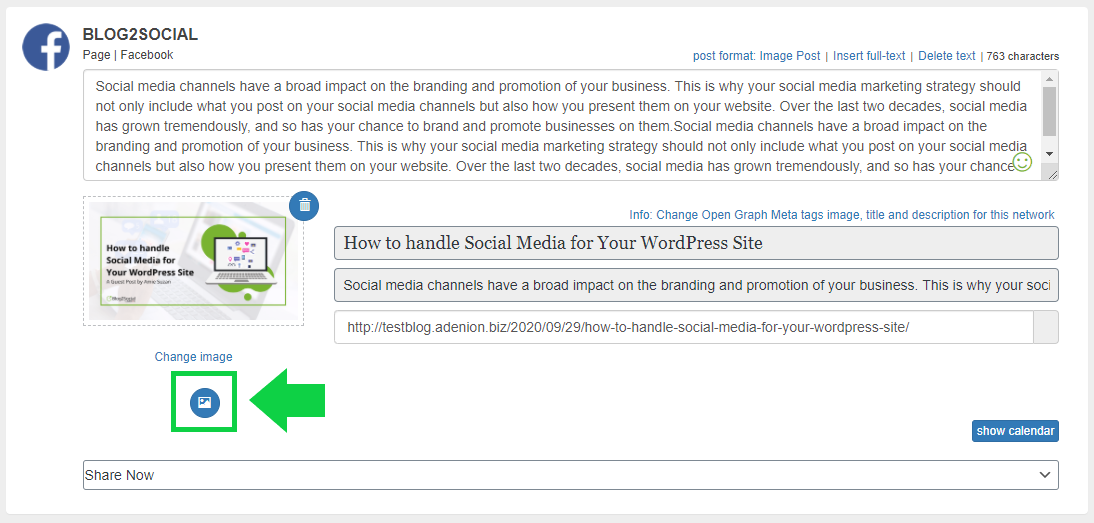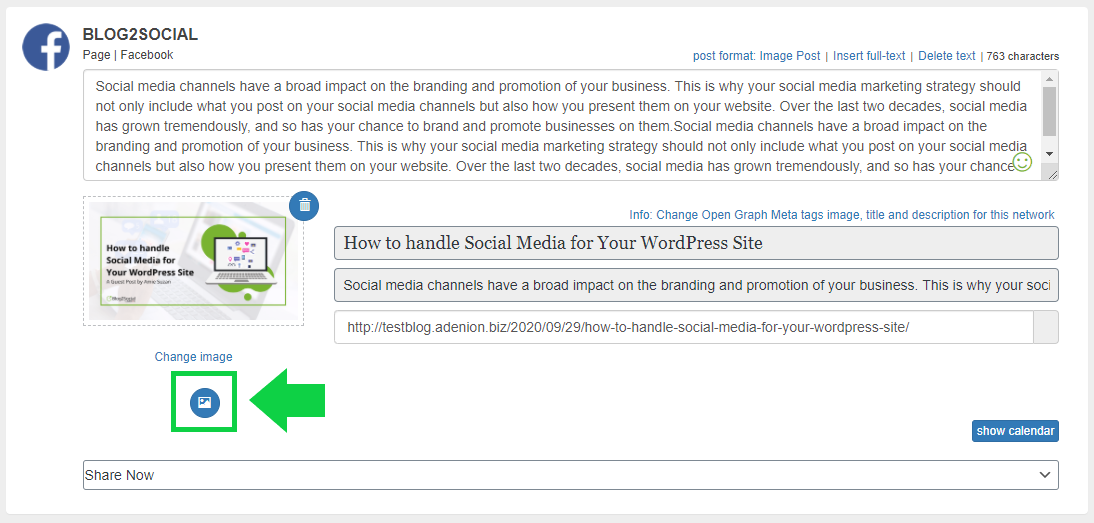 A window will open, where you can choose between 
1) the images from your blog post if available or
2) upload an image from your media gallery.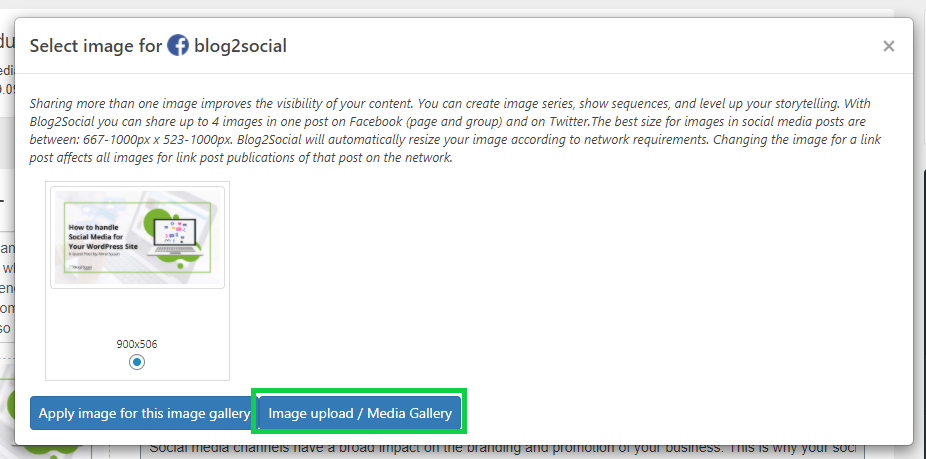 When you have chosen an image, you can click on "Apply image for this image gallery".
Now your gallery contains 2 images.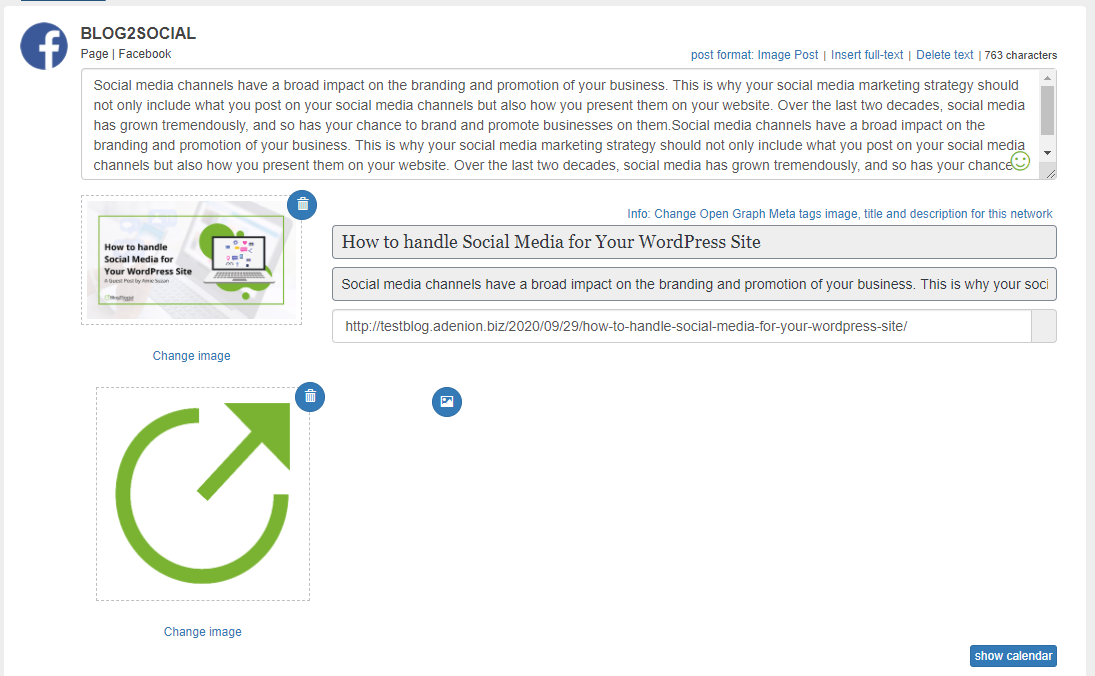 To add more images, you can now repeat this step until you have selected the maximum number of 4-10 images depending on the requirements of the social platform you wish to share your posts.
If you want to share on Instagram and Facebook and Twitter your can either select individual images for each network, or you can apply your primary selection on all networks. If you select a maximum of 5-10 images for Instagram and apply this selection for all networks, your first 4 images will be automatically saved for your Twitter and Facebook posts. All other networks will show your gallery image.  
When you have completed your post gallery and you are happy with your post, you can click on "Share".
You have now published an multiple-image gallery, fantastic!
Find more options for customizing your social media posts and messages
>>> How do I select the image I want to share on social media?
>>> Social Media Post Formats - The differences between Image Post and Link Post
>>> How do I customize my social media posts individually?
Tags:
carousel
,
image
,
image gallery
,
image series
,
multiple images
,
storytelling
,
visibility